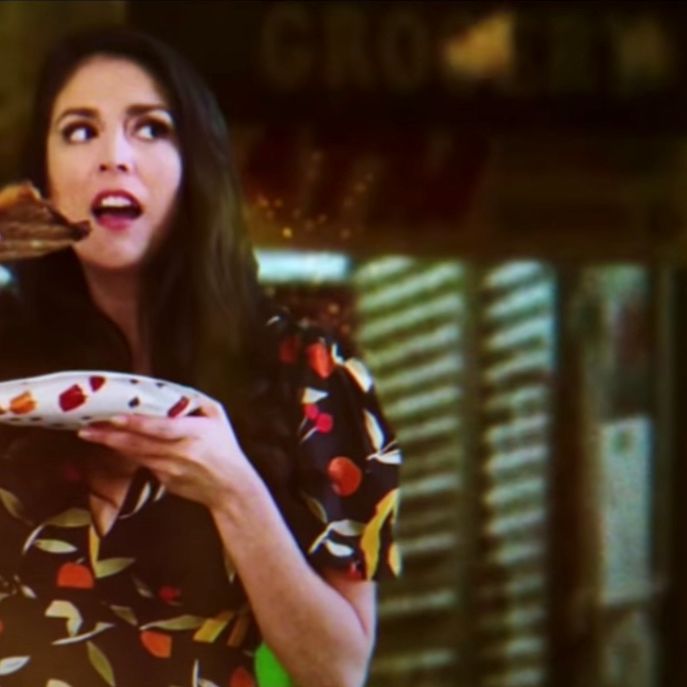 The spring of 2020 will go down in the annals with a massive, corona-like asterisk next to it, and the last stretch of SNL season 45 will, too. While Studio 8H remained empty, the final three episodes were prerecorded remotely from the homes of quarantined SNL comics, guest stars, and musicians. Technically, much of it was stripped down, and involved no live audience; most scenes were front-facing monologues or sketches produced using Zoom. Given the limitations of its unusual framework, the show eschewed longer narratives in favor of quick-hit premises or improvisational bits tailored to individual players. The season finale is no different, though with Kristen Wiig as the nominal host, writers found ways to stretch their ideas into slightly larger frameworks.
Virtual Graduation Cold Open
The students of St. Mary Magdalene by the Expressway did not expect their high school careers to end with an online graduation, but that's what they've got. Once Axl Rose, Murder Hornets, and the Elon Musk–Grimes baby all declined to deliver a speech, Donald Trump (Alec Baldwin) takes up the torch. He immediately gets down to business by comparing himself to Abraham Lincoln, trying to mute the black graduates (or "jazz types"), and drinks bleach just to show the experts who's boss. He does have some advice, though, including, "If you don't understand anything, call it stupid." There are some fun gags in here, e.g., Trump reminding everyone the virus was "made in a lab, in Obama," and the intimacy of the laptop makes Baldwin's Trump less cartoonish and a bit more human. Baldwin steps out of character and uses the phrase "one last time," before announcing, "it's Saturday night." If he, in fact, is referring to his Trump impression, this would be a fine way to go out.
Weekend Update
The Update hosts reflect on Trump's mask-free appearance at the mask factory and Tara Reade's sexual harassment accusations regarding Joe Biden. Colin Jost takes the opportunity to argue for a potential female president: "You'll never hear about Angela Merkel just grabbing some dude's crotch. And if she did, it would be with consent at a BDSM club in Dusseldorf." Michael Che worries about all of the other things that might kill him over the course of the summer: coronavirus, cops, murder hornets, jogging while black. He's trying to appear not at all suspicious to white neighbors, but since jogging's out, he might "tinker on a Trans-Am while listening to Whitesnake." Then Tina Fey drops by to talk about surviving at home with kids during quarantine. Her monologue, which includes a kind of self-affirmation, is full of sharp jokes about homeschooling, grocery shopping, and things we thought were news two months ago.
In its second half, Update picks up stories about everything from racism reported at outlets of Panda Express (not nearly as bad, Jost says, as those reported at "Bat on a Stick") to the cancellation of the Miss Hitler Beauty Pageant (which was reportedly the original name for Fox News' The Ingraham Angle). Cecily Strong appears as Janine Pirro, who is drunk and had to do her makeup "while looking into a spoon." She's there ostensibly to talk about lockdown protests in red states, maybe, but quickly loses her train of thought and her mind. Strong always has a nice sense of Pirro's noxious rants, and it's nice to see the level of devolution possible through just changes of costume and makeup.
Dreams
After saying goodnight to her mom, Cecily Strong settles into bed and dreams of a busy Times Square before the quarantine. She then attends a big Broadway show — Sonic the Hedgehog, the Musical. The rest of the SNL cast members have similar dreams of things that they miss in the city. Chloe Fineman goes to Little Italy, drawn by the allure of Popeye's; Chris Redd sees himself onstage getting booed while doing stand-up; Kenan Thompson imagines himself rushing down a busy midtown block before realizing he's in a scene from Tootsie. These little vignettes are a nice distillation of what all of us are missing while the country is on pause, and it's a fitting way to end a strange, scary, and disorienting season.
Song for the Kids
This musical PSA is for all the parents and kids who need a little help surviving the quarantine. Its simple suggestion? Let kids drink. They watch mom and dad do it, and they'll be "happier and funnier and fall asleep by 6." Somewhere in the middle of the parents' plea, Josh Gad jumps in as Olaf from the Frozen movies to confirm that Disney said it was okay. (No, they didn't.) By the end, Pete Davidson has made a direct plea to his mom (who controls her house's alcohol supply) and the cast has encouraged everyone listening to let their dogs lap up liquid lunch in martini glasses. The wholesome, cheery tenor of the tune works well, and watching the kids of the SNL staff wander around looking smashed is delightful.
Another MasterClass Quarantine Edition
After a successful round of promoting classes from Timothée Chalamet and JoJo Siwa, MasterClass returns with offerings from Phoebe Waller-Bridge (Chloe Fineman), John Mulaney (Melissa Villaseñor), and Britney Spears (also Fineman). Introducing their courses on journaling, suits, and "something," respectively, the trio give little tips in hopes of encouraging potential online students. Again, the format is perfect for showing off impressions — and this time, we get not one but two of the most skilled impressionists in the cast. While Fineman's manic portrayals find several ways to go after her targets, Villaseñor leans hard on Mulaney's staccato rhythms.
Zoom Catch-Up
The eccentric couple Ripley (Martin Short) and Deirdre (Heidi Gardner) arrive four hours late for a Zoom call with their friends. They went to Italy to enjoy "quarantina" as if it were a holiday, so they want to talk adventure and don't have time to hear about anyone's sick grandmother. After freaking out the locals, the couple jump on a cargo ship full of PPE captained by a Somali smuggler. This iteration of the "Vacation Couple" sketch is clearly an excuse to have Short on the show, allowing him and Gardner to go big and do accents. It doesn't work quite as well without the intimacy of a restaurant, but it's worth watching the two of them chew the bits of scenery they've got handy at their respective homes.
Lighthouse Keeper
Somewhere in the North Atlantic, lighthouse keeper Phineas Gale (Kate McKinnon) gives isolation tips based on his experience "living on a rock in the sea for 50 years." While things start off with some degree of normalcy, e.g. keeping a journal, it's quickly clear that ol' Phineas has lost his mind in his many years alone. He's getting CDC briefings from an abalone shell, ogling dead fish, and is shocked to learn that he has a beard. It's McKinnon, so not only does she create a lovably mad sea dog, she looks like she's having an amazing time improvising bits of dialogue while utilizing the nooks and crannies of her apartment.
What's Wrong With This Picture: Mother's Day Edition
In this Mother's Day edition of the recurring sketch, host Elliott Pants (Kenan Thompson) invites three mothers to identify logical errors in a series of illustrations. As usual, the contestants can't see the forest for the trees. Looking at a kitchen scene, Rebecca (Aidy Bryant) is concerned that all the characters are white, because these days "one of them needs to be weird." Grace (Ego Nwodim) wonders whether the mom laid the eggs there in the carton, and Emily (Melissa Villaseñor) thinks the shirt Mom's wearing "comes with boobies." There are some cleverly disturbing misunderstandings here, but it's the cheerful ignorance of Nwodim, Villaseñor, and Bryant that really sells the sketch.
Hair Vlog
In her vlog Bouncy Waves, the bubbly PJ Charnt (Kristen Wiig) does tutorials and flaunts her flowing locks. Fans call in from all over, uh, Tucson for helpful tips while Charnt's best buddy Patti (Cecily Strong) sends hair-related memes. While the show's opening monologue may not be inspired, this sketch delivers some of that goofy Wiig exuberance—perfectly punctuated with moments of dead seriousness that reveal PJ's true nature. This is an example in which the proximity of a laptop camera helps to communicate an aspect of character that couldn't quite come across on the stage at 8H.
Beer Money
Sad about his breakup, a guy (Kyle Mooney) mopes around the house until his roommates Cody (also Kyle Mooney) and Ben (also Mooney) convince him to get involved in group activities. Eventually, the trio rob a bank for beer money. Before they can spend it, however, the guy's girlfriend (indeed, Mooney) wants to meet up to talk about something important. As with his last at-home sketch, Mooney's idiosyncrasies are on full view here, and their sharp turns and unusual rhythms make for a perfect 10-to-1 sketch.
Eleanor's House
Eleanor (Aidy Bryant), stuck at home, has to use her imagination in order to have a birthday party. In short order, she's got lovable creatures, including a big purple dog and a talking ice cream cone, ready to help her celebrate. Then the creepy Sims-esque avatars start showing up: someone's buddy from out of town, Richard Carson (Kyle Mooney), and his creepy wife Colleen (Heidi Gardner) start making out in the hot tub, and another guest called Burger (Pete Davidson) invites Eleanor to have "same-room sex" with Richard and Colleen. Things get out of hand and the cops are called. The lovely twist here: The creeps say more about Eleanor's imagination than anything else. Of course, Bryant plays the role of the tarnished innocent with aplomb.
Dad Prank Video
While trapped at home, a dad (Mikey Day) endures pranks devised by his son, Brandon (Mikey Day's actual son). Beyond classic nuisances, like putting sharp objects down where his dad's ass is expected, Brandon manages to change all of the contacts in his dad's phone to "Gigi Hadid," and switches his dad's Zoom background to a picture of his boss's bikini-clad daughter. The kid's word choices and all of the playful edits make Brandon look like a truly accomplished troll.
Danny Trejo Song
In another number direct from Pete Davidson's mom's basement, Pete celebrates character actor Danny Trejo. The SNL player is ready for a career that replicates the longevity and consistency of Trejo — who hasn't just been in Spy Kids and Desperado, he's got a taco spot. In the end, Trejo himself makes an appearance to remind us that he's got a donut shop, too. For the most part, this is a celebration of Trejo's accomplishments without delving into much beyond the mustache. The highlight is Chris Redd's verse, which spins the Trejo obsession into a quarantine-inspired breakdown.
Zoom Church
For the Mother's Day service at the Mount Methuselah Tower of Prayer Baptist Church, the preacher (Kenan Thompson) would really like the congregants to mute themselves so the sound doesn't bleed. Instead, the preacher can't help but hear them chastising their kids or echoing his calls of "Amen." They only figure it out very late in the day, and by that time, the preacher feels like he's preaching in a vacuum. Thompson is a winning presence, of course, and it's fun to hear the crowd mutter their Amens. Unfortunately, as the sketch is about the technical nuisances of Zoom, it doesn't have much ground to cover.
Kristen Wiig At-Home Monologue
Awakened by the call of duty, Wiig leaps out of bed and instantly glows up. After a few twirls and flashing her boobs at the camera, she lays back down to talk Mother's Day. Wiig's own mother taught Wiig well, by bringing new meaning to the term "breastfeeding," and delivering lullabies at full volume. While SNL fans probably feel Wiig can do no wrong at this point, this piece feels underwritten, and like more of a throwaway than anything.
Eddie Murphy and three episodes of SNL At-Home: These are the big events fans are likely to remember when looking back at this season. Fortunately, for this third remote edition, the cast, writers, and producers seem to have settled into the form. Collectively, they've found smart ways to let the individual performers guide sketches and play to their strengths. Whether with digital tricks or judicious cuts, the editors have discovered more ways to assist the various types of pieces. (And of all the sketches that hit the cutting room floor this week, one that feels particularly worth noting is Aidy Bryant and Kate McKinnon's gender-swapped prom dream, called "Message to the Girls.") There may not be any all-timers in this final show, but it confirms that the At-Home experiments were worth doing, and appreciated by people trapped inside looking for communal experiences. Let's hope that September brings the opportunity for SNL to actually be live, even if it means 30 people in the studio and temperature checks during commercial breaks.