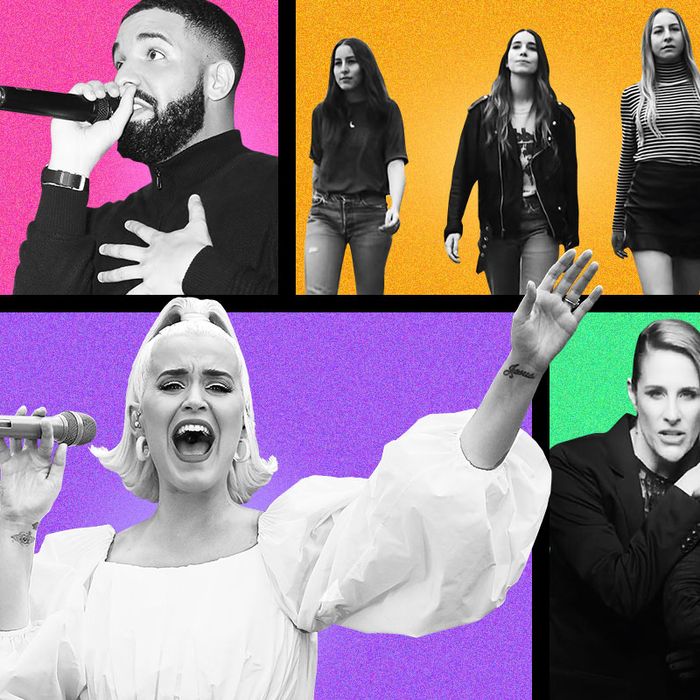 Photo-Illustration: Maya Robinson/Vulture and Photos by Getty Images and YouTube
Not much about where 2020's headed is certain, but take comfort in at least this one constant: There will be music. In fact, of all the industries in entertainment that've gone down by the head in the wake of the coronavirus, music hasn't vanished overnight or had to go back to the drawing board to sustain itself in our new normal. Now that reality has set in that live music as we knew it won't return for the foreseeable future, that whole record-label marketing strategies can, in fact, be completely rethought on the fly, and that great art can come from isolation, the music will go on. Here are the albums we expect to carry us through the summer inside — including those that were delayed from the spring, new additions to the release calendar, and the ones still waiting for release dates to be rescheduled (Dixie Chicks, please, let us know joy again!).
Confirmed Releases
Lady Gaga, Chromatica (May 29)
Through the leaks and zany tweets, the album formerly known as LG6 and, yes, Adele (never forget) has against all odds seemingly made it to the finish line. [Touches wood.] This after Gaga & Co. were forced to move back their original finish line, delaying Chromatica from April 10 to May 29 in light of COVID-19, and following the infamous leak of lead single "Stupid Love," over a month before its official release, and the album cover. Missing the memo, Target then accidentally leaked her album's entire track list, including its guests: Ariana Grande, Elton John, and Blackpink. Though much of Chromatica's rollout has been spoiled (including a surprise Coachella set Gaga had to scrap when the festival postponed), the BloodPop-produced album has no choice but to redeem itself.
Run the Jewels, RTJ4 (June 5)
Is there a better modern rap duo than Run the Jewels? Since joining forces in 2013, El-P and Killer Mike have been on a four-album tear that's equally solidified their already-proven respective places in the rap canon, broadened their audience to find success above the underground and regional hip-hop circles they'd pioneered, and seemingly has every major film studio running the Jewels their check for trailer placements. Now that El-P's made his peace with his past Def Jux solo work by putting it on streaming for the first time, and Mike's made yet another name for himself with his brilliant Netflix show Trigger Warning, the two will release the fourth album under the RTJ moniker this summer — per tradition, expect to pay whatever you want for it.
Chloe x Halle, Ungodly Hour (June 5)
Beyoncé's first label signees have exceeded all expectation, releasing a debut album way too wise for a couple of teenagers (and yet!), consistently stealing the show on Grown-ish, and Halle landing the role as the new Little Mermaid in Disney's live-action remake. Now, in true "What Would Beysus Do" energy, the Bailey sisters are ready to pivot to more mature R&B and will release their sophomore album next month. What can't they do?
Pop Smoke, TBA (June 12)
Shortly after the release of his second mixtape, Meet the Woo 2, celebrated Brooklyn drill star Pop Smoke was killed at a Los Angeles residence at age 20. (His murder remains unsolved.) Both Smoke's estate and manager, Steven Victor, have since announced that his debut album will receive a posthumous release on June 12, with more details to follow.
Bob Dylan, Rough and Rowdy Ways (June 19)
As fate would have it, one obscure name has stepped up to claim the quarantine throne. Move over Captain Tom, Dylan's coming for your brand: This summer, the original recluse and inventor of just wanting to be left the hell alone, one Bob Dylan, will release Rough and Rowdy Times, his 39th album and first of all original songs since 2012's The Tempest. (Never forget the triple-album of covers he released in 2017.) Dylan first indicated he was up to something the only way Dylan knows how, by releasing a 17-minute epic about the assassination of JFK that doubled as a read on the current state of our wayward world, and became his first Billboard No. 1. Dylan is the gift that keeps on giving.
Haim, Women in Music Pt. III (June 26)
The Haim sisters had already bucked conventional album-release wisdom by playing the (very) long game for their third album, taking a similar route to the 1975. They've technically been rolling out Women in Music Pt. III since the summer 2019 slapper "Summer Girl" that of course holds up as a summer 2020 slapper, and a string of other singles with Paul Thomas Anderson–directed videos to match in the year since. It's all led to the album — which was originally meant to come out April 24 but was delayed due to COVID — and their best work to date. The wait continues!
Katy Perry, TBA (August 14)
After a few fits and starts — including last year's criminally underrated "Never Really Over" and "Harleys in Hawaii" — it appears Katy Perry's recalibrated the direction of her sixth album to match her recent radical life changes (engagement! Pregnancy!). Katy Perry is not the goofy 20-something you met ten years ago; she's the goofy 30-something growing into a different kind of womanhood. New singles "Daises" and "Never Worn White" show a side of Perry where she's settling down — hopefully her whole sound as we knew it hasn't settled down, too.
Disclosure, Energy (August 28)
The British electronic duo has never quite been able to recapture the magic of their debut "Latch" or their earlier white-hot collabs with Lorde and Mary J. Blige, but the Lawrence brothers seem to be getting their groove back while also refreshing it for their upcoming third album now that they've found a new muse in Khalid (see: his Disclosure-produced single "Talk" and their latest collab, "Know Your Worth"). The duo has teased that the album will feature a murderers' row, including Kelis, Kehlani, Syd, Common, Mick Jenkins, Channel Tres, Slowthai, and more.
Lana Del Rey, TBA (September 5)
Question for the culture: Will you be able to forget the delusions of Lizzy Grant long enough to give the wisdom of Lana Del Rey a fighting chance? That's the awkward position Lana has put many fans in after burying the announcement of her seventh album under a missive on the state of women in pop that sought permission to release more music about toxic relationships with her signature rose-colored sheen without being accused of "glamorizing abuse," the way men are afforded — except she used several of her female peers of color (Beyoncé, Doja Cat, Kehlani, and more) with recent No. 1s to prove her already shaky point. Needless to say, it did no go over well. As for the album, like last year's acclaimed Norman Fucking Rockwell, it'll again be produced with Jack Antonoff, and is either the previously teased album White Hot Forever or Violet Bent Backwards Over the Grass, the spoken-word album she's releasing with her poetry book.
Drake, TBA (Summer 2020)
Drake, a man possessing way too many songs and way too much time on his hands, will release his second project of the year this summer following May's Dark Lane Demo Tapes, a collection of loose songs that previously only existed unofficially online, plus his made-for-TikTok hit "Toosie Slide." His next release, though, he's made the clear distinction of being the album (his sixth). On the last one, we were meant to learn about that one time he accidentally fathered a son. What new goss (or old, we'll take it) will be spoiled now?!
Teyana Taylor, The Album (Summer 2020)
Teyana Taylor had the misfortune of being last on Kanye's list of albums during his marathon June 2018, when he decided to produce and release five albums in just over a month. It was the least promoted of all the releases, the lone album from a woman on Kanye's roster, and Teyana had creative differences with Kanye throughout the process that she made public in later interviews. K.T.S.E. deserved better. It appears, however, her third album, confidently titled The Album, will match her energy if the outstanding Michael Jackson-inspired video for its lead single is any indication.
Even more albums on the way:
Flying Lotus, Flamagra Instrumentals (May 29)
Deerhoof, Future Teenage Cave Artists (May 29)
Thomas Wesley Pentz, Diplo Presents Thomas Wesley Chapter 1: Snake Oil (May 29)
Diplo's foray into country music.
Jessie Ware, What's Your Pleasure (June 5)
Baauer, Planet's Mad (June 5)
No Age, Goons Be Gone (June 5)
Jehnny Beth, To Love Is to Live (June 12)
The Savages front woman's solo debut.
Norah Jones, Pick Me Up Off the Floor (June 12)
Phoebe Bridgers, Punisher (June 19)
John Legend, Bigger Love (June 19)
Neil Young, Homegrown (June 19)
His storied unreleased 1974 album.
Lamb of God, Lamb of God (June 19)
Jason Mraz, Look for the Good (June 19)
Maya Hawke, Blush (June 19)
The Strangers Things star's debut album.
Arca, KiCk i (June 26)
Willie Nelson, First Rose of Spring (July 3)
Postponed from April 24 (hence, the unfortunately timed title).
Rufus Wainwright, Unfollow the Rules (July 10)
The Streets, None of Us Are Getting Out of This Alive (July 10)
Blu & Exile, Miles: From an Interlude Called Life (July 17)
Their first album in eight years.
Brandy, TBA (July 31)
Her first album in eight years.
Luke Bryan, Born Here Live Here Die Here (August 7)
Kelly Lee Owens, Inner Song (August 28)
Postponed Albums Still to Be Rescheduled
The Dixie Chicks, Gaslighter
The Chicks' first album in 14 years should've been the highlight of the spring — and year — with its May 1 release. Now here we are with the month coming to a close, empty-handed. The Chicks postponed their album not long after dropping its blazing title track, one of the best songs of 2020 (and comeuppance for lead singer Natalie Maines's trifling ex-husband). And now … we wait. And mourn. And suffer. And plead: We need you, Maines!
Weezer, Van Weezer
In an alternate timeline, every elder millennial you know would've descended upon stadiums and arenas this summer to feast on the nostalgia bait that was to be the Hella Mega Tour with Green Day and Fall Out Boy. Alas, we'll have to wait another year for that postponed tour, and an unknown amount of time for the Weezer album tied to it, Van Weezer, which has been delayed from its original May release.
Sam Smith, TBA
Originally titled To Die For, Sam Smith's upcoming third album has since been delayed indefinitely from its planned May 1 release, and will also undergo a name change in light of COVID-19. "I have done a lot of thinking the last few weeks and feel that the title of my album and imminent release doesn't feel right," they said in a March 30 message to fans. "I have to come to the decision to continue working on the album and make some important changes and additions." Hopefully, though, its sound remains mostly untouched: earlier singles "Dancing With a Stranger," featuring Normani, and "How Do You Sleep?" — as well as this spring's "I'm Ready" with Demi Lovato — indicated a more mature sound and step away from the big ballads; we'll have to wait and see what makes the final cut.
Alicia Keys, ALICIA
Another victim of the coronavirus postponements, her eponymous seventh album was set for spring, but has since been delayed until further notice (its supporting world tour has also been postponed). Its corresponding memoir, More Myself: A Journey, however, is out now to hold you over until the album, as are its first few singles, including "Show Me Love" and "Underdog."