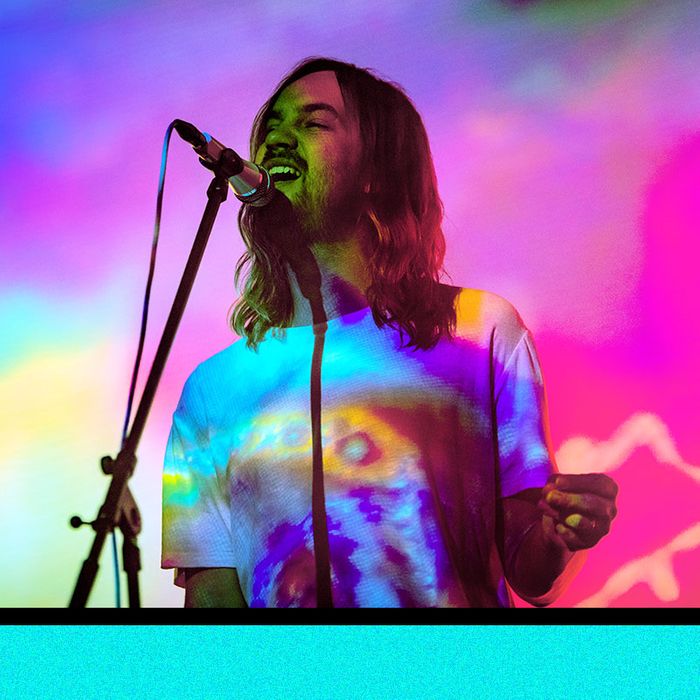 Kevin Parker
Photo-Illustration: Vulture and Photo by Venla Shalin/Redferns/Getty Images
Tame Impala makes music about learning to adapt to life's changes. In a decade, the psychedelic rock torchbearer and musical flagship of Perth, Australia, polymath Kevin Parker blossomed from renown at home and among indie-rock fans in the know to its current status as one of the Western world's must-see festival closers, adored by hip-hop and rock fans, by pop and independent music fans in equal measure. Kevin Parker songs are excursions into the inner reaches of a worried mind. His Everyman struggles, coupled with a flair for white-hot grooves indebted to '60s and '70s blues and psych-rock titans like Blue Cheer and Led Zeppelin and a sleepy but tuneful singing voice that drew endless comparisons to the Beatles, attracted a strong base for Tame as Parker gigged around the world with a dedicated touring band.
But it was 2015's Currents and its Zen dance-rock opener "Let It Happen," a sage synthesis of locomotive beats and druggy atmospherics, that introduced the band to a new audience. Currents is one of the great headphone masterpieces of the 2010s, bending genres and mainstream musical conventions to serve its purpose. Tame Impala crisscrossed the world behind Currents, creeping up font sizes on festival lineup posters as the months became years. Rihanna repurposed the album closer "New Person, Same Old Mistakes" for her 2016 album ANTI. Parker popped up in the credits of Lady Gaga's Joanne (as co-producer on the single "Perfect Illusion"), Kanye West's Ye ("Violent Crimes"), and Travis Scott's Astroworld ("Skeletons"). Demand for a new Tame album was met last spring with the release of the singles "Borderline" and "Patience," where the last album's disco undercurrents became the main stream. It would take another year for February's The Slow Rush to see release, thanks to Parker's high standards and his habit of playing all the parts. The new music dispensed new maturity the songwriter learned as a married man, having wed his girlfriend, Sophie Lawrence, in 2019, in the same cautiously optimistic terms he used to talk about anxiety on earlier works.
Two months later, Parker found himself performing "On Track" from a couch on an acoustic guitar for Music on the Home Front, a concert for Anzac Day, Australia and New Zealand's annual military veterans' celebration. As COVID-19 began to ravage the world and, by extension, the music business, Tame had to rethink a North American arena tour arranged around headlining slots at New York's Governors Ball (canceled) and Tennessee's Bonnaroo Music and Arts Festival (postponed). Parker broke his natural routine of splitting time between homes in Los Angeles and Perth to effect a sort of endless summer to shack up in the Australian winter, where he figured he'd be the safest. The Anzac Day performance and a spot on The Late Show With Stephen Colbert where Parker sings The Slow Rush gem "Is It True" on a split screen, supported by himself on guitar and bass, reveal a noted perfectionist loosening up in quarantine. I spoke to Kevin Parker over Skype in mid-May to see how he's rolling with the punches, how a famed one-man band is handling these months of isolation.
We've been talking a lot this season about artists being resourceful in isolation and you're ahead of that curve as far as playing 90 to 100 percent of what we hear on your albums. Was the split-screen performance of "Is It True" from The Late Show kind of a fun way to show people what your process looks like?
It's funny because the idea of doing a split-screen video has cropped up a bit throughout my career, but I've always rejected the idea 'cause, I dunno … I just find it a bit cringe. In any other circumstance, I find it a bit show-offy, you know? Kind of self-indulgent. Like, Hey, look, I can play all the instruments and it looks like I'm a band. I felt like maybe it's just a bit too obvious. Now, we're in this time where everyone's doing it. So I felt like, If I'm ever going to do it, now's a good time. Being creative at this time overall is a chance to have fun with ideas that you wouldn't otherwise do.
One of the positives of music and creativity happening in these times is that anything goes. The expectation for everything being perfect and packaged … that kind of necessary commercial value in everything you do doesn't really exist at the moment. Everyone's doing it just for the sake of doing it. I've been relishing that.
Tame is unique in the landscape of modern music because it's body music with cerebral lyrics. Songs about being lost in your thoughts tend to sound contemplative, and extroverted music often sounds like being outside. How is it making headphone records that people dance to?
I never really realized that my music is upbeat because the words that I instinctively put to it are explorative or melancholic. For me, the idea of making a song that's decidedly somber or decidedly happy and uplifting is kind of, I don't know, one-dimensional. I like that there's this weird contrast. Somber lyrics give a happy song this weird edge, and vice versa, this crying on the dance floor kind of atmosphere.
How are you handling all the extra unplanned time inside this season, as someone who wrote a song called "Solitude Is Bliss"?
If I suddenly came out and said that I was struggling during this time, I think the last ten years of me making music would seem like a complete lie. So I feel like now is the time for me to put my money where my mouth is — not that I feel a responsibility to show people how it's done. But this is my natural habitat. In many ways it's kind of business as usual for me; I'm just doing my thing. But not touring is a bummer because I've grown to love performing.
Is it jarring as an artist whose work people relate to on a very physical level, as a festival headliner, to have a record that can't be toured right now?
To be honest, I'm not really thinking about the fact that I'm not touring the album. It's more just that we're not touring [at all], and I love playing in front of people. Back in the early days, there was never really a connection between what album I released and what we were touring. When I got signed by a record label, we just started touring and touring nonstop. In the middle of a tour, an album would come out, and then we'd be like, "All right, so now it's this album cycle." But I like to see touring as its own separate thing.
Is the thought of going back on the road intimidating in the wake of musicians getting ill and passing away this season?
It's not intimidating because I know that we won't do it until it's okay to do it. I trust the promoters we've worked with. I trust that they're not going to try to pressure us to go back on tour until it's safe. I know my manager's not going to push us. We'll only do it when we can do it safely for everyone, not just us. To think about an arena full of 10,000 people all squished in singing and shouting …
It's a terrifying thought right now.
I can't even imagine shaking hands with someone right now, let alone moshing with them. So just like everyone else, I have no idea. Maybe there are other ways. Maybe it doesn't have to be 10,000 people. At the end of the day, I love traveling and I love playing for people. So as long as we can [perform] in some capacity …
I've been watching the late-night performances for The Slow Rush and noticed how you've loosened up as a performer since the early days. Do you put a lot of thought into stage presence?
No. In fact, the thing that I've learned is to put less thought into it. Back when I used to think about it, I'd overthink it. I was kind of terrified of my shadow onstage. Now that I'm able to not think about it and just do what I would do if I were singing with a hairbrush in my bedroom, I've managed to coach myself into appreciating the time like that, just having fun with it.
You played Panorama Festival in New York City in 2017, and I spotted you hanging out in the crowd on the night Frank Ocean and Solange played back-to-back. I got this image of you as, like, a football coach studying the other teams. When you watch a festival show as someone who also plays them, are you thinking about logistics or are you able to switch that off?
I'm thinking about everything. I'm trying to enjoy it. Frank Ocean's one of my favorite artists, so I was obviously enjoying it and singing along to my favorite songs. But I can't help but think about what it looks like from the audience. These days, when I go to a concert, I'm thinking, All right, blow me away. Impress me. It's so valuable just to stand in the crowd. It doesn't matter if it's Frank Ocean at Panorama or the local rock band at your local bar rocking out to eight people. You can still learn something. You can still get the perspective of someone in the audience. I was watching my friend's band, Pond, play the other day. Well, not the other day … a few months ago now.
In the Before Times.
Previous era. I started taking notes on my phone. It's so enlightening, especially 'cause they're my friends. I know them so well, and I knew what they were going through psychologically. It made me give myself pointers. Like, it's okay to be kind of obvious on the stage. When you're a musician, you don't want to do things that are obvious 'cause they seem dumb, but in a live environment, that's totally okay. But I like to think I'm still able to enjoy a live show [as a fan]. It'd be really depressing if I wasn't. It's just more difficult to wow me, I guess, because I know how things work.
Fans were surprised when The Slow Rush dropped and you'd redone the single, "Borderline." Do you often look at a song after it's been released and think about how you might change it? 
Oh, yeah. Every song, especially if it's a single and I hear it all the time. Then I'm like, Oh, God, I wish I'd mixed the vocals differently. I think it's pretty natural to want to change things. That's why finishing an album is so hard. You want to keep altering it, but you have to stop yourself because you cannot ruin it. With "Borderline," I wouldn't have changed it, but I was so convinced in my head that I hadn't finished it. By the time I released it, I hadn't gotten to where I wanted to get to on the song. It didn't sound, even genre-wise, the way I originally imagined it. The way I originally imagined it is how it sounds now.
I'm sure that probably pissed a lot of fans off because they got to know and love the song. But sometimes you've just got to be selfish. I hated it when George Lucas redid Star Wars, you know? He released the old versions and they're all different. It's like, Why'd you do this? It was fine the way it was. But I think this is different.
I think it came out better. Do you leave a lot of unfinished songs behind, or are we hearing most of what comes out in the studio?
Well, I never finish a song unless I know it's going on the album, so I've got loads of ideas I started but they didn't get more than a quarter finished. By the time I'm halfway through working on a song, it's gotta be something that's definitely going in an album. It can be finished sounding pretty similar to the original demo, or it can completely change. One thing I don't like to do is go back after a few years and visit something that I scrapped. I hate the idea of going back to my past to find inspiration. With Tame Impala, the things that end up on albums are only the stuff that I've written since the last one.
Do you often have an idea in your head of where this project is going ahead of time?
I have ideas for songs ahead of recording them. That's where most of my inspiration comes from. It's just imagining yourself clicking on the radio station. As for Tame Impala, I don't know. Sometimes I have visions of it — visions of how I feel about it. One of the good things about finishing an album is that you've got all that out of your system, and now you can move on. When you start working on an album, and you know what the album is going to be like, it becomes this massive mountain. You've got to get over, and you can't see the other side. You have no idea what you'd be doing afterward because you've got all these things to prove to yourself that you can do. Having finished the album, now I feel like I can do anything. I could do any kind of music and it would be something new and good. There's a liberation being on the other side of releasing an album. I don't know where it's going, but I'm excited.
With each album, your music gets a little less easily definable as rock, at least in the traditional sense. Is the difference between the overall style of, say, Lonerism and Slow Rush a deliberate push toward dance music?
It's just me making the music that I want to and that I know how to. Even with Innerspeaker — which I guess is probably my oldest-sounding album, as far as '60s, '70s psych — I had this idea for weird dance music. I was trying to do it with real instruments, but I didn't really know how to produce music like that. All I had was my knowledge of '60s psych and other kinds of rock music. I didn't know how to work a drum machine. With a song like "Why Won't You Make Up Your Mind," I was directly trying to make an electronic dance track with the instruments that I had, just these loops and things coming in and out. Nowadays, I still have the same appreciation for electronic music that I always did, but I guess I'm much more … brave. I used to be terrified that people would think I'm a fraud if I try to make [electronic music], but now I realize that's bullshit.
Is it fair to say, then, that the overarching journey of this project has been you sort of gaining the tools to produce the sound that you were always trying to make?
Arguably. I think there's actually some truth in it. I've been trying to make the same music all along. I've just gotten better at doing it. [Laughs.] I mean, that's not entirely true, but a big part of the sound on this album is me making the type of music I've been trying to make for a long time but just hadn't been able to. That's an important quality of music and art: someone trying to do something they don't know how to do. I think the better I get at producing music, the more I have to try adding ingredients that I don't fully understand. There's something really boring about someone doing something that they're already a master at.
I don't know if I agree. I would listen to a new Paul McCartney song 60 years in knowing he's not going to reinvent the wheel on it. There's something to be said for that kind of mastery. But repetition doesn't work for everyone. David Bowie never stayed in the same place for very long, and that suited him. I guess it's different for everyone; what you're saying makes sense.
I just think there has to be that element of experimentation. Well, there doesn't have to be, obviously, but that's a quality that I like.
Do you worry much about sales?
I don't. I mean, if an album were to flop, I would be disappointed. But I've always known that that stuff is the result of so many more moving parts than just how good it is. I'm coming from a musical background where all my favorite things weren't appreciated commercially. So why should I worry that something I'm doing isn't?
What are your foundational records? Who are the artists that made you think about your artistry differently?
Led Zeppelin, in terms of rock music having a groove. That's something I didn't really appreciate until I listened to them. I like the Chemical Brothers. Kanye West is a big one. Stevie Wonder. I can't fathom how good someone had to be at what they do back in the '60s, '70s, and '80s, when he wouldn't have had the help of computers. I do what I do quite easily because I can use a computer, but someone like Stevie Wonder … I listen to it just going, Oh my God, how did he do this?
There's always one rock artist who commands the respect of all the hip-hop guys. It's you right now: Since Currents, you've worked with Travis Scott, Kanye, the Weeknd, the Streets. Do you see the lines of communications between different genres changing over the last decade?
I guess Kanye and Bon Iver was almost ten years ago …
Ten years ago that seemed like worlds colliding. 
I guess it shows that genres are becoming less and less of a thing, which is good. The way that hip-hop works is taking ideas from different realms of music and appreciating the textures of different things — electronic things, organic things — putting them together, and seeing what works. It's the beauty of hip-hop. I put so much effort into the textures of my music and the grooves and the way it flows. So, to me, it makes sense. We've gotten rid of those boundaries — well, largely gotten rid of those boundaries — that were sort of like a hangover from the '90s, where it was like, "I'm a rock person," or, "I'm a dance person," or, "I'm a hip-hop person." I think people are starting to realize that none of that shit matters. Green Day are making pop music now. Just because you play one kind of music doesn't mean you're that thing now.
What do you think changed? Do you think it was crowds cross-pollinating at festivals? Do you think it was the internet?
The internet had something to do with it, right? The internet has made music accessible to everyone. So where I used to have to walk to a music shop and physically go to the dance section feeling embarrassed about looking at house music when I was a kid, now I can just visit Spotify and you can immediately listen. Everything's available to you, which is great. Things are less distant and foreign than they used to be.
Did you get shit for being a rock guy into dance music back in the day?
I was still pretty young. I was under 10 years old, but I was decidedly a rock guy, even though I secretly liked dance music and hip-hop. I was like, "My tribe is rock," which I understand is kind of an immature mindset, but it's one that's been around for ages, your tribe of music. "All other music sucks." It seems to be less of a thing now. It does make it interesting now in that it's like, Where is music going? What are genres anymore? Even commercial pop, Top 40, or whatever … there are things that are retro in the pop world now that have only been around like seven, ten years. It's fucking crazy. It blows my mind.
Speaking of Top 40, you worked with Lady Gaga. Rihanna covered one of your songs. I figured I would be hearing a lot more of, if not your production, then your drum sound all over pop music. I'm wondering when that revolution is going to happen.
Well, from a sonic point of view, I don't think my drum sound lends well to pop music because it kind of takes over the vocals. Generally, my drums are big and blasty, kind of sizzly. When something is sizzly, it takes up a lot of space. Pop drum sounds are mostly clean, really short sounds. I struggle to imagine how my drums would be in a pop song.
Do you have designs on leaving some kind of footprint on pop music?
I'd like to because it intrigues me. It's a frontier that I haven't traversed yet. Also, it's one of the hardest. I like a challenge, musically. If I think it's a challenge to make dance music, then I'm definitely going to try and fucking make dance music. Pop music, I believe, is the hardest type of music to make, even though it sounds like the easiest.
I'm happy to have an accomplished musician here saying that pop is actually difficult because the party line in the public is that it's commercial, and therefore it's simple, and therefore it's not that hard to make.
Well, if you think about it, if it were easy, everyone would be doing it. Everyone would have a No. 1 hit. But they don't. The reason it's so hard is because it has to be the best, which, by definition, is really hard. So, it doesn't matter how simple it is. That's not something that makes it easy. In fact, it being simple is something that makes it difficult. To make a really intellectual sound is easy because you have all the dimensions to work with. It can be long; it can be complicated; it can be thought-out. It can be anything you can do, you have an entire palette to work with. But pop has to be concise and simple, which is the most difficult thing.
When I first heard The Slow Rush, it reminded me of the Primal Scream album Screamadelica, just as far as making psychedelic music seem slippery and not bound to any one genre. Is that where you want Tame Impala to be at this point? 
Yeah … unintentionally. I'd never listened to Primal Scream, but since I started making this album and playing it to a couple of people, they were like, "Oh, yeah, it's got kind of a Primal Scream vibe." And I was like, "What?" It's funny how you can arrive at the same thing by wanting the same kind of thing. They made rock, and they wanted to make this kind of ravey, repetitive, drugged-out [music]. So I was like, "Okay, I'm going to go listen to Screamadelica," and I listened to it expecting to be blown away 'cause it was going to be like everything that I've been trying to do. But I actually didn't think it sounded that similar, which I was kind of happy about.
It's more like the methodology is of a piece. 
I agree.
I've received this album as the wisdom that comes with reaching your 30s and realizing that you're playing the long game. What was the mindset you were in when you were writing those songs?
It's something that I'm always thinking about. There've been times throughout my life that I've just sort of had this snapshot of where I am in life, which makes you really nostalgic. It makes you think about everything that's happened and everything that will be. Just the other day, I was cleaning out my shed at the studio and going through boxes I haven't touched in ten years. It was a really emotional experience. I was pulling out all these effects pedals and stuff that I haven't looked at, haven't held in person, since before I signed a record deal. These bits of equipment that I used so much that they're dirty around the buttons that I use the most. I haven't remembered so clearly what I was feeling back then since then, until I was picking up these bits of equipment. It hasn't really hit me how far I've come. Everything that's happened hadn't hit me yet as hard as it did the other day. I was quite emotional, in fact. Times like those are the kinds of emotions that fueled The Slow Rush. Like, Wow, I'm really at this point in my life. I'm not floating along.
You talk about time and change a lot in your music, and feeling like we're at the mercy of these movements beyond our control. But on the new album you sound like someone who's learned to take things more in stride. Are you more at peace now than you were writing anxious songs like "Be Above It" back in the day?
In a sense, yeah. A lot of my inspiration for lyrics has come from trying to deal with change, but also trying to deal with not having control. When you don't have to feel like you're in control of your life, it's daunting. When something is coming, and there's nothing you can do about it, it's scary. Making music that embodies that [feeling] is kind of like therapy. No one has control. That's the moral of the story.
Does this season feel like another profound loss of control?
If anything, loss of control is only scary when you feel like you're the only one that doesn't have it. When the whole world is out of control, it's strangely comforting. I know that's probably not the most tasteful thing to say. Like, this isn't a good time. I don't want to sound like I'm celebrating the coronavirus.
You're saying it's less frightening because everyone's going through it together. I get that. 
Absolutely. That's exactly it.
Did you just happen to be in Perth when things went south, or did you come from L.A. to camp out?
Oh, no, we came from L.A. We fled. We were meant to be there all summer. I do summer in Australia and summer in L.A. to try to avoid the winter. The whole world was kind of shutting down, and we were like, "Oh, shit, do we want to risk getting on the plane and bringing it back to Perth?" We thought about if we had to be stranded somewhere for the next year, where would we rather be? Perth was the obvious answer. Australia's isolation never helped us before, but for once it has.
This interview has been edited and condensed for clarity.