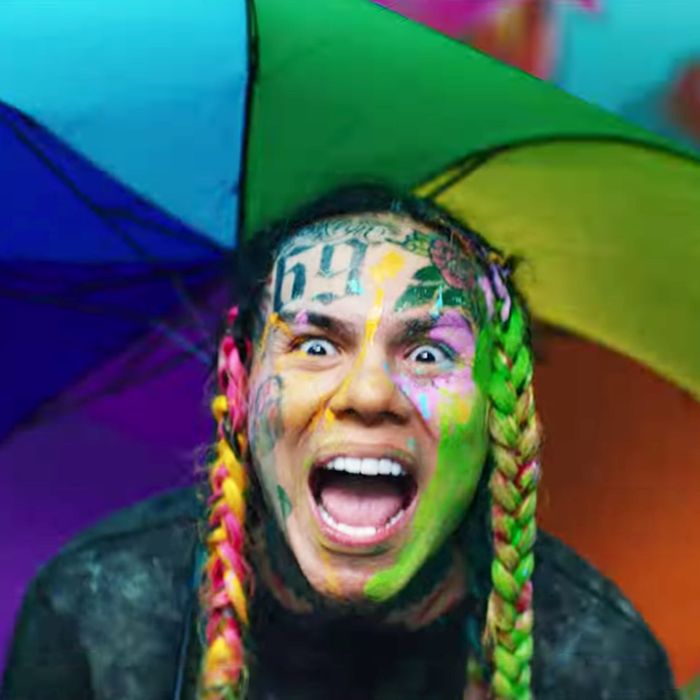 Photo: Courtesy of Tekashi 6ix9ine/YouTube
The 6ix9ine saga jumped through the looking glass last fall when he escaped federal racketeering and firearm charges by pleading guilty and appearing as the star witness for the prosecution during the trial against the Nine Trey Bloods — the set he shouted out throughout his meteoric rise to rap stardom, fueled by the thunderous 2017 hit "Gummo." The case chipped away at the very idea of Tekashi 6ix9ine, who'd made a name for himself up until that point as the consummate hip-hop troll, a tough guy prone to barking out side-splitting threats in his music and carrying feuds with rivals like Chief Keef out into the streets off record. Under the threat of jail time, the Brooklyn rapper, born Daniel Hernandez, said 6ix9ine was merely a character he plays. A statement released by his attorney following the 2018 arrest on federal charges deflated the Tekashi myth in no uncertain terms, calling the rapper "an entertainer who portrays a 'gangster image' to promote his music," who'd done nothing but get mixed up with the wrong crowd. In court, he switched up and gave up associates like Kooda B, who was accused of trying to shoot Keef. What do you say after that? How do you show your face in a community that rewarded you for what looked like realness, that despises people who lie for clout and people who cooperate with the cops?
We have the answer now, as 6ix9ine unveiled his comeback single "Gooba" and returned to Instagram Live to a record-breaking 1.9 million viewers. He's back like nothing happened, counting money, flashing jewelry, flaming people who doubted him, and drawing smoke from other rappers. On IG, Tekashi danced into the picture to the tune of "Bad Boys" by the Kingston reggae group Inner Circle (best known as the theme to the reality show Cops), sporting gaudy chains and dangling handcuffs in front of the camera. What followed was peak Tekashi, a long diatribe about how everyone's jealous because he's doing better than them, and everyone is mad at him because he changed the game. "Gooba" is more of the same, a two-minute middle finger to haters set to a trap beat that sounds like horror-movie music. The chorus — "Are you dumb, stupid, or dumb?" — rehashes a line from the Brooklyn rapper Ronny Godz's "Are You Dumb" (that Remy Ma made into a catchphrase), which he cannibalized once before on Dummy Boy's "Stoopid." Chalk the repetition up to a lack of creativity, or blame Tekashi for banking his comeback single on an outdated saying on the fact that he just came home last month. Either way, "Gooba" sounds old on arrival.
It's jarring having a rapper tell you his entire persona was really just a money-making shtick and then step right back into the character, to hear and see a hip-hop artist make a joke out of the fact that he sang on the stand in court. But it's a misunderstanding of who and what Tekashi is, and who and what we've become as an audience and a society, to think he'd do anything other than what he's done or that it wouldn't be tolerated. Look into the glassy-eyed glare at the end of the "Gooba" video, as Tekashi stares into the camera, and by extension, into the face of the ostensibly disapproving viewer on the other end, doused in rainbow paint. He is a black hole, a vacuum for recognition, a product of an attention economy where we boost snake-oil salesmen with hate-views because we can't simply believe what they're willing to say to get by. He's a citizen of a country run by a television star obsessed with his ratings. He is the new American dream. We can't stop him because we must know what happens next; our curiosity is his source of power. 6ix9ine is rap's Freddy Krueger. He'll be with us as long as we're looking.