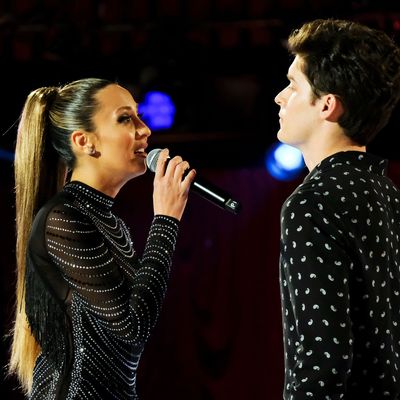 Part of the delight of being a Bachelor Cinematic Universe fan is guessing the ups and downs of the season. Every season of the show, even THE MOST DRAMATIC SEASON(S) EVER, move with a healthy amount of comforting predictability. There are characters that repeat: the principled and wholesome single mom, the indecisive lead, the hotheaded jealous guy who should have known what this show was about before he signed up. Certain storylines recycle like it's The Young and the Restless. Oh look, someone has decided that another contestant isn't here for the right reasons! It's coming — someone deciding not to have sex in the fantasy suite because their relationship needs that alone time! There, in the distance, the two-on-one date between two people who have sworn to destroy each other at all costs! As much as we all sit here acting like we crave surprise while scouring the internet for spoilers, we don't really want novelty. We're just audiences in Ancient Greece who want to see Oedipus marry his mom and pluck his eyes out again.
Why am I talking about all of this? Because The Bachelor Presents: Listen to Your Heart has all of the components of a regular Bachelor season, but it's all just … off. The pieces are all there. Any and all drama in this episode is about two women trying to figure out exactly how to tell their dude that they're falling in love with them. This is CLASSIC Bachelor drama. But it doesn't feel like The Bachelor. The show can't really decide if it's all in on Jamie's wide-eyed 21-year-old innocence or Rudi's gregarious 24-year-old sarcasm. It's definitely treating Jamie like she's the main character, and if this were a season of Bachelor in Paradise, Jamie would be getting the "Next Bachelorette" edit but like … who is she? Matt is definitely getting the "opening up is so hard" edit, but it never paid off in the end because he never actually opened up. When Rudi and Matt were assigned "Shallow," I turned to my boyfriend and said, "Well, if they pull this off at all, they're staying." AND THEY DID. BUT TO WHAT END? DOES HE LOVE HER NOW? What am I supposed to do with all of this? I feel like I've been handed a board game with pieces from four different games. I recognize all of these things, but none of them go together.
Let's get to this.
It's the morning after the concert/elimination and there are only four couples left. Jamie has decided that Natascha is manipulative and she's the reason for Julia's departure. That is the only telegraphing of any drama between Natascha and the other contestants. It's literally never brought up again, because they're heading to Las Vegas and won't spend any time together as a group this entire episode! The couples are given their own tour bus with their own camera crews to ride from L.A. to Las Vegas. The tour buses are a private time for each couple to talk about their relationship, take Polaroids, and stare vacantly into the distance.
Going into this cross-desert trip, Bri and Chris are so in love it's almost unreasonable. Natascha and Ryan are … also humans that exist. Jamie is falling in love with Trevor but she's so awkward and quirky and unsure of herself that she might spontaneously combust if forced to express an emotion. Rudi is convinced that she's "a lot" and Matt "is always in his head" so she should DEFINITELY tell him that she's falling for him. Emotionally speaking, that's the entire narrative thrust of the episode.
On the way to Las Vegas, Trevor and Jamie stop off at a rest stop and pick up a bunch of snacks, a pair of baseball caps, and a large plush rose after Trevor serenades Jamie with a song I have never heard before, but Jamie knows every word. Bri and Chris make out for hours while a cameraman has to silently watch them.
Matt and Rudi get to get off the bus and explore one of those roadside art installations that's just glass bottles and old teapots. Matt really likes her and he knows he really likes her, but he just can't bring himself to say he's falling in love with her. At times, it's hard for him to open up, and at times, he doesn't know if he really loves her. Thankfully, Rudi and Matt "decide" to stop off at a haunted motel and spend the night together away from the other songtestants.
But … there are fantasy suites next week and they're doing this? Why? Did they win a mini challenge? Do they have to complete a relationship questionnaire? What is Listen to Your Heart's view on sex? Does sex exist in this show? They don't seem to gain any relationship points coming out of this night alone, so I cannot figure out its purpose. Giving a couple that's in a rocky position a date card makes total sense in any other Bachelor franchise. This is the same show that forced Evan and Carly to chew hot peppers and make out in front of a crowd. But we get absolutely nothing out of this date.
Then it's time for THE OTHER DATE CARDS? Okay, sure. It seems like everyone gets a date card this week and they all go at the same time? Natascha and Ryan go play with big trucks and we learn literally nothing about either of them. There is zero chemistry between them and Natascha has a shark-eyed focus on the competition. I'm all in on Natascha and Ryan.
Bri and Chris go to the Little White Chapel and sing at a random couple's wedding. Bri is wearing white at this other woman's wedding and I'm furious about it. Chris talks about how he wishes that his dad could meet Bri since he wants to spend the rest of his life with her. He talks a lot about his dad and slips in there that his dad and his college roommate died on the same day. WAIT. WHAT. He dropped that incredibly casually and Bri had no follow up questions. I would like Chris to provide enough information for me to write a magical-realist novel where his dad and best friend are guiding him from beyond the grave.
Trevor and Jamie get to go to T-Mobile Arena in Vegas and skate around where the Golden Knights play. The city of Las Vegas is VERY EXCITED about the Knights, so this actually seems like a very fun date. Trevor grew up playing hockey so he's excited to skate around carrying Jamie. She takes this time to tell him that she's falling in love with him. Trevor tells her that he's only said that to two other people and it's the most important word and he won't say it lightly. He says it back to her like four minutes later. They make out at center ice.
The final date before the performances is Matt and Rudi. They head to a club and Shaggy is performing. Okay. Wow. This is a SURPRISE. Matt is way too excited to see Shaggy, and I think Shaggy was a musical influence for him. Rudi was 4 years old when Shaggy's hit "It Wasn't Me" came out, so I cannot relate to her. Shaggy pulls them onstage for Matt to sing along with him. This isn't a romantic moment and it's barely a cool moment. I hope the Baha Men come next week to give performance advice.
Rudi decides that right after Matt has sung a song about being caught cheating is the perfect time to confess her feelings. The first words out of Matt's mouth are, "You're very courageous." Ouch. He tells her that he appreciates her for doing that. Time for the performances?
Natascha and Ryan have decided that they're going to really switch up Ed Sheeran feat. Beyoncé's "Perfect." Bri and Chris are assigned "Can't Help Falling in Love" and I'm already drowning in their schmaltz. Trevor and Jamie are assigned "Just a Kiss" by Lady Antebellum and I can't be expected to know this much contemporary country. Matt and Rudi are assigned "Shallow" from the film A Star Is Born and ABC is just pissing themselves to get these amazing clips for the commercial. Rudi has decided she's going to fight for Matt in their performance even if she's having trouble nailing it in rehearsals.
The judges for the performances are the guy from Train, Ashlee Simpson-Ross and Evan Ross, and Arie and Lauren. Chris Harrison says that Arie and Lauren are the perfect couple to judge this competition because they listened to their heart. So, we're really rewriting Arie's whole thing, huh? Okay.
Bri and Chris are first and they cycle through the acceptable love choreography. "Hand on Chest. Hand on Face. Hold Hands." Neither of their voices has much power, so they just whisper the song. "Can't Help Falling in Love" is a song with such longing, so singing it with the energy of an old married couple being forced to do karaoke at their 40th wedding anniversary party is an odd choice.  Luaren likes that they shared a microphone and the guy from Train subtly tells Chris that he wasn't very good. But they're adorable and delicate.
Jamie and Trevor are up next and they've got First Boy-Girl Dance energy. Trevor spins her around. I can't tell if this song is boring or if neither of them have any charisma. Jamie gets praised for overcoming her nerves to enjoy the performance. Arie and Lauren say that they're so playful with each other and that's what makes Arie and Lauren's relationship so successful. Yikes and yikes.
Natascha and Ryan have decided to turn this Ed Sheeran song into a Latin music inspired train wreck. Natascha takes away Ryan's mic and gives it to him while he's playing guitar. They also try that "sing into the same microphone" move constantly. They also turn off the stage lights at one point. They've certainly made a choice in this performance, but unfortunately, they've made all the choices. Evan Ross is fucking pissed. He's sitting there watching with them his arms crossed with a huge frown on his face. Ryan is doing full Shawn Mendes cosplay and no one is amused. They're criticized for their performance being … a performance. Fine. Okay.
Finally, it's time for Matt and Rudi and they have the most interesting song because there's some dynamics and Rudi says she's going to fight for Matt in this moment. She takes control and does a really good job with Lady Gaga's "HAAAAAAA AH AH AH, AHHH." Matt gets a huge smile on his face when Rudi is crushing it. He knows she rules. The guy from Train says Matt is really exceptional at guitar and that it was magical to watch them together.  One thing that seems to be really genuine about Matt and Rudi's connection is they have a friendship and mutual respect grounding their relationship. Trevor spends every waking moment with Jamie saying that he's proud of her like an older brother. It gets a little more patronizing with every repetition. I don't know if Bri and Chris see each other as people and not just romance vessels. Natascha and Ryan are in one of those 1950s Hollywood arranged relationships. But it feels like Matt recognizes Rudi's talent and gets real pleasure from their musical connection as a meeting of equals. He admires her and that's really cute to see. Rudi tells Matt how great the guy from Train thought his guitar playing was. They view their music as the coming together of two individuals who bring their own accomplishments to the table. That's the only sincere thing I have to say about this episode.
It's time for the rose ceremony. Jamie and Trevor get the first roses followed by Rudi and Matt. Bri and Chris get the final roses and Natascha and Ryan are going home. They sit outside the Nomad Hotel and talk about how they can't wait to find each other after this. Wait. Is that allowed? Again, what are the rules and expectations? Of course, there's one more twist: The finale isn't going to be in Las Vegas. They're going to be in Nashville! See you next week for the finale. I expect 15 new rules that no one was informed about.