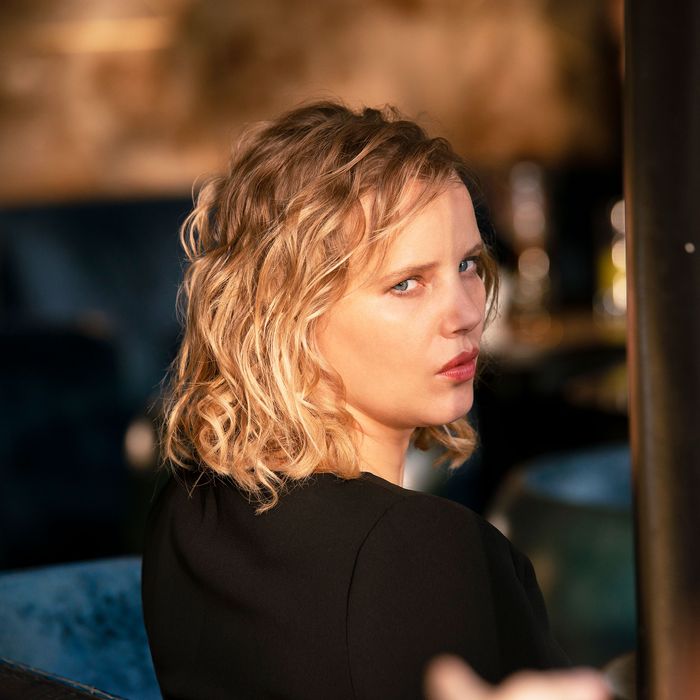 It's easy to have watched the first three episodes of The Eddy and head into the fourth, "Jude," wondering "Who's Jude?" The members of the Eddy Band have appeared and performed in each episode, and though each has gotten a memorable line or two, none have really gotten a spotlight. That changes with this episode, which brings the eponymous bassist, played by Damian Nueva, front and center for a bittersweet — mostly bitter — story involving his troubled past and uncertain future.
"Jude" opens, however, on a seemingly ordinary day in which Jude busks for tips on the streets of Paris. He seems happy enough until he notices a familiar face watching him, one he seems glad to see and she glad to see him — not that this stops her from running away when he tries talking to her. She, we'll soon learn, is Habiba (Jisca Kalvanda), and today is her wedding day. She's not marrying Jude, however, though that once didn't seem out of the question. They were a couple until she miscarried, but it wasn't the miscarriage itself that drove them apart, it was Jude recognizing her relief at the loss. However much they loved each other, Jude's heroin addiction made any future questionable at best.
It's a familiar story that takes an unfamiliar turn when Jude offers to be a witness at her wedding to Omar. Jude's gotten clean, thanks in part to the methadone clinic we see him visiting and in part to the support of his friends. He now feels like he has enough distance from the past to make a graceful gesture and offer himself, as someone who cares about her, as a witness to the wedding rather than the stranger she and Omar planned to pay.
But it's tougher than Jude expects. He makes it through their courthouse wedding and brings the newlyweds along to crash an afternoon wedding gig the Eddy Band has scored. But it's all harder than he expects. Grabbing a bite to eat with them after it's over, he starts a boisterous, impromptu song but doesn't stick around to hear its end. Instead he goes to score, buying heroin and locking himself in a restroom next to a playground with plans to shoot up. He doesn't see those plans through, but it'll take a converging storyline to keep him clean.
Meanwhile, across town, Elliot's having a different sort of trouble. He wakes up next to Maja but doesn't remember going to bed with her or if anything happened between them. "I think we tried, but no," she says. "You were too tired." He's not sure how he feels about this development but he really doesn't want Julie to know what's going on, as life's been confusing enough for her already. When she finds a piece of Maja's jewelry in the bathroom she flips. And not for the last time this episode.
When you're Julie, life is a series of eruptions. She has a nice lunch with Beatrice, the Irish classmate who's been trying to befriend her and finally breaks through her defenses by grossing her out with some half-chewed food and sharing her earbuds. But this leads to her discovering that it's her mother's money that's gotten her back into school, which in turn leads to a fight with her father in which she overturns part of a drum kit in The Eddy then heads out to the streets of Paris, again, prompting Sim to chase after her, also again. It's been a tough trip for Julie and, at episode's end, it's not clear if moving in with Maja will make it any less tough.
It's been a tough stretch of days for Elliot, too, who finds himself brought in by the police. As they suspected, the man Elliot gave them as Farid's murderer at the "suggestion" of the counterfeiter had nothing to do with the murder. His DNA wasn't on the body, but neither was Elliot's. That doesn't let Elliot off the hook, however. They want him to spill what he knows and allow them to install cameras in the club to catch the real killers. Elliot has to think about it, but when the counterfeiter tries to strong-arm him again, he relents. Once again, this seems unlikely to solve his problem.
Yet as fearful as Elliot is of the gangsters who keep pressuring him, he doesn't think twice before ditching Zivko the counterfeiter, even as he threatens to burn down the club, when he gets Jude's call. Jude's reached out rather than shooting up, and Elliot rushes to dump the drugs down the toilet then brings him back to The Eddy. There they commiserate then start to play, at Jude's instigation, a yearning number that rolls out over the closing credits. "You're a mess when you're not playing music," Habiba tells him earlier in the episode. So he makes music instead.
Blue Notes
• One risk in assembling a cast made up in part by real musicians: there's always a chance the musicians can't act. Nueva's great, however, delivering a quiet, naturalistic performance and meshing well with Holland's typically understated work.
• The smile Elliot shoots Jude in the final moments suggests they both know that playing music is the closest to peace either of them will find. Director Houda Benyamina fills "Jude" with moments of unspoken understating: Between Jude and Habiba on the street, between Jude and Habiba as Habiba dances with Omar at the wedding, and between Omar and Jude and Omar and Habiba as they dance in the restaurant. Benyamina still working in the style set by Chazelle's opening episodes, but bringing her own touches as well.
• Director Houda Benyamina's also brought in an old collaborator. Kalvanda appears in Divines, her first (and to date only) feature film.
• In addition to Jude, we also get to know a little bit more about Randy, the band's keyboardist. He hasn't necessarily traded sex for the gig, but having sex with Quentin, who scored the gig for him, isn't exactly separate from the package, either. Randy takes a blasé approach to the matter, however. Music can be a confusing business that blurs business and pleasure.
• "Elle Me Dit," the pop song the band reluctantly plays to the delight of the crowd, is a 2011 French-language song recorded by the English singer Mika. A huge hit in France and Belgium, it also took off in South Korea.