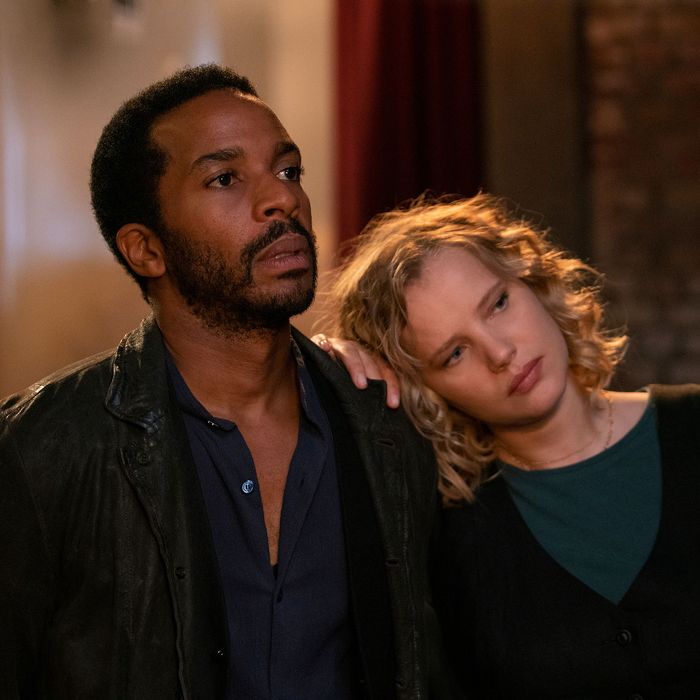 Even if you didn't look ahead and notice the penultimate episode of The Eddy was called "Katarina," it was clear the show wasn't done with the club's recently fired drummer. The first episode sets up a difficult home life that requires her to care for her invalid father, she straddled the series' music and crime worlds by having introduced Farid to the gangsters, and her absence has been an issue since Elliot canned her. The band respects Eríc, her replacement. And this episode suggests they might even have come to like Eríc. But he's no Kat.
Beyond that, Lada Obradovic has such a strangely charismatic energy as the unsmiling Katarina that it's been hard not to want more of her. She looks like she spends her off hours in an indie band and she acts like a woman who learned early on not to suffer fools. And here we find out, through carefully dispensed details, that's precisely right. Obradovic hails from Croatia and The Eddy never spells out Kat's country of origin, but she's clearly traded the troubles of one place for the difficulties of another. She's already run afoul of French social services by faking credentials in an attempt to secure help for her father. What's more, she hates her father, whom she was once arrested for assaulting, an incident that seems to be rooted in his abuse of her and her sister. She's also familiar with the hierarchy of the gang that killed Farid and, more recently, Zivko in ways that suggests she's brushed up against that world more than once.
But she's survived, even if it hasn't been pleasant. When her boss at her janitorial job lingers as she changes she says, "I don't mind you watching. I'll take this off to get more hours." It's not clear if she means it to scare him off (which it does) or if desperation has made her serious about the proposal. Maybe she doesn't even know.
Obradovic's quite good in this penultimate episode, which puts the focus on her character as she makes her eventual, inevitable return to the band. But it also reveals how thin the criminal subplot has been all along. We finally meet Sami (Dhafer L'Abidine), the shadowy figure pulling Zivko's strings (and cutting them), and while it's an intriguing idea to make him a charming jazz enthusiast working out of an otherwise respectable looking office, it still feels kind of anti-climactic. When Elliot visits him, he displays a deep knowledge of his work and offers a devil's bargain of money, improvements, and creative control that sounds appealing. But Elliot's no dope and there's little chance he would even consider. That makes him smart, but the absence of temptation removes some of the tension from his situation. When Sami reveals his true colors by beating up Kat — who's shown up with a handful of counterfeit bills she only thinks will serve as leverage — and sending her to the hospital, it feels pretty expected. He's a shady gangster in a European crime drama. He has good taste in jazz, but the character doesn't go any deeper.
Still, that doesn't mean Elliot's out of trouble. He has to wiggle his way out of Sami's clutches without running afoul of the law, which won't be easy. But Elliot's also someone with an eye on the big picture. He may not have fully forgiven Kat for introducing Farid to Zivko, but he still cares for her (and it's notable that Elliot's still the one Kat calls when she gets in trouble). He also sees her as an essential part of the band. Like the rest of the band, he respects Eríc while realizing he's all wrong for their sound. So he tells Franck the album Franck thought he'd just completed recording after converting the club into a temporary recording studio isn't done at all. He'll need to re-record it with Kat on the drums. Franck demands a hefty price in return: Elliot's going to need to end his recording and performing hiatus and play on the album. Elliot says no, of course not. Then he says yes. It matters that much.
Elsewhere, we get a glimpse of Elliot performing in happier times as part of Sim and Julie's don't-call-it-a-date outing. He's found a touching clip of Elliot onstage in 2005 talking about a toddler-age Julie whose voice "perfectly ascends the A-major scale" when she's being demanding. It's sweet and, in the midst of a romantic outing, reminds Julie that she doesn't hate her father after all (even if she's not quite ready to start living with him again). When Julie tells Amira she's had a phenomenal day, she's certainly thinking about k-i-s-s-i-n-g Sim, but this moment surely factors in as well. But whether her father's in too deep for more phenomenal days to follow remains an issue for the finale to address.
Blue Notes
• For these final episodes veteran producer/director Alan Poul steps behind the camera. One of the driving forces behind the show, he brings an elegant touch, particularly in the recording scenes, whether capturing Maja and Randy locking eyes or using the recording of various solo parts to score montages.
• Julie's hair looks super-cute and a different sort of show would probably have her feeling less confident about such a different style. But the more natural look seems to be an offshoot of reading the James Baldwin book Elliot loaned her. "There's a whole history of us in this place," he tells her in a tender scene — one of the best of the series — that starts to put some of their past fractiousness behind them. In the press notes, Jack Thorne credits playwright Phillip Howze as contributing to the series' depiction of their relationship and exploration of their racial identity in a series set in a city that's served as a place of retreat and creativity for many African-American artists.
• The same notes credit Rebecca Lenkiewicz as working heavily on Kat's scenes and a variety of writers from different backgrounds fleshing out characters and story details drawn from their own cultures. That effort shows. Even if you're not an expert on every culture depicted on the show, the details feel right. There are no off-notes, in other words.