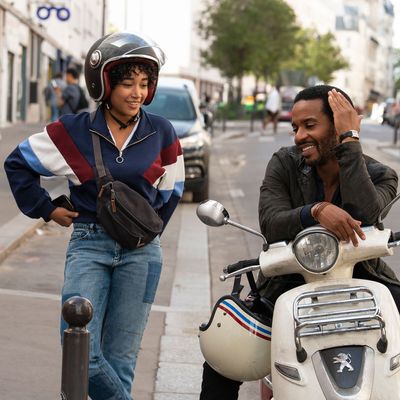 It's never been all that clear what kind of show The Eddy is, but that's largely worked in the series' favor. The crime elements, the individual character's stories, the band's slow progress toward recording an album have all faded in and out in ways that largely suggested they'd come together into a coherent piece by the end. But now the end is here, and what should have been a powerful convergence of everything that preceded it instead feels like a set-up for payoff down the line. Rather than a proper finale, it plays like a series of unresolved chords. And the fact that Netflix has labeled the show a "miniseries" raises the question of whether or not they'll ever be resolved.
What's even more worrisome: It's hard to care too much, given that any second season would have to involve deepening and extending the stuck-in-the-middle predicament that forces Elliot to serve the demands of both the police and Sami, the gangster who (probably) ordered Farid's killing. That's never been the sharpest element of the show, and after a certain point in the finale it sends virtually every other subplot into the background, suggesting a second season would have to do the same.
That point arrives with a boom when Sami's men throw molotov cocktails into Eddy's office in an attempt to intimidate him. They don't want to hurt him or do real damage to the club, because both remain valuable commodities. (And, besides, Sami really digs Elliot's music.) That leaves Elliot and Amira with some hard choices: take Sammi's deal, work with the police to bring Sammi down or … well, that's pretty much it. Hating Sami but knowing the police don't care about The Eddy (and actively seem to dislike him), Elliot decides to continue his difficult balancing act as the season draws to a close. The story ends with a deeply unsatisfying ending, at least for now.
But the moments leading up to that boom, and the graceful epilogue that follows, capture much of what's worked so well in the preceding episodes. The finale strands several characters — especially Maja — with unfinished stories, but it also gives considerable room to Elliot and Julie's relationship, which has emerged as the true heart of the show. Julie's mother Alison (Melissa George) and stepfather Scott (Richard Keep) arrive with the intention of bringing Julie back to New York. (Though, to be honest, Alison seems far more interested than Scott.) Julie wants to stay however. And if she was on the fence at all before Elliot makes his reluctant return to performing with a song written especially for her, there's clearly no doubt in her heart when she takes the stage to join him. It's a lovely moment cut short by violence, but the violence only seems to strengthen her resolve and her connection to her father.
The violence has a prelude, in the form of a daytime robbery clearly instigated by Sami. It leaves Sim shaken but basically unharmed, which is also good news for Julie, whose relationship with him keeps deepening. Their romance has become the sweetest element of a show that's repeatedly threatened to grow unbearably grim shortly before taking surprisingly optimistic turns.
It concludes with another such turn. Without a place to perform, the Eddy Band has gathered at a coffee shop across the street. Reunited with Kat, it looks more like a family than ever, one that welcomes Elliot when he returns from making his deal with Sami. Instead of hoping audiences will find them, they take to the streets to perform an uptempo version of "The Eddy," the song that shares a name with the band, the venue, and the series. It provides a memorable ending to a series that otherwise ends on a down note. But it doubles as a reminder of what worked this season: the characters, the music, the setting, and the thick-of-it handheld camera work. If this is the last look we get at The Eddy (and The Eddy), it will still have been worth the stop.
Blue Notes
• So do Alison and Scott just return to New York? It feels like there's a scene missing. On the other hand, maybe they don't really matter to Julie's story at this point. Alison certainly doesn't make a great case for Julie returning to New York, and Scott can barely bring himself to exchange pleasantries.
• Paplar: What a jerk, right? Not only is he a criminal, he's a criminal in league with the gangster who almost certainly made his sister a widow.
• Paplar and Amira have a fascinating scene in which she visits him at "the office" then returns to their childhood home and finds it largely unchanged, apart from being filled from top to bottom with stolen goods. Crime may have brought Paplar profits, but it seems to have brought him no pleasure.
• After eight episodes we finally get a good look at the movie poster hanging in Elliot's office at The Eddy. It's for something called Rough Waves, which appears to be fictional. If there's a story there, it will apparently have to wait.