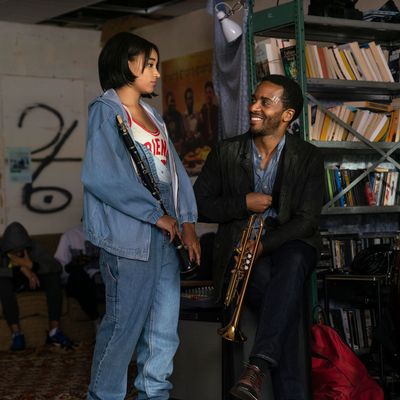 The Eddy can't find a groove. Not the series itself, which gets off to a propulsive start with this first episode, but the club that lends its name to the title, an out-of-the-way, sparsely appointed but deeply atmospheric Paris jazz spot that's become a fragile place of refuge for Elliot Udo (André Holland). An American jazz musician of some renown, Elliot's fled the States for reasons we only start to learn about by the end of the episode. His marriage fell apart after the death of his son, but at this point the details remain fuzzy. What's perfectly clear: Elliot's steered his energy into making the Eddy, and its house band, into a success.
So far, not so good. The club draws thin crowds and the band, though clearly burning with talent, has as many off nights as on. That has much to do with its singer, Maja (Joanna Kulig), Elliot's once-upon-a-time lover. The episode opens with a performance in full swing, with Maja front and center at the mic. The crowd sways in appreciation but something's not right and Maja's not at her best. If not everyone in the audience can sense it, Elliot can. So can Farid (Tahar Rahim), Elliot's partner in the club and, like Elliot, a musician himself. And so can Franck Levy (Benjamin Biolay), the owner of a small jazz label with whom they hope to sign the Eddy Band. Instead, Levy slinks away before their set is finished, making half-hearted excuses about a babysitter to Elliot after he arranges to bump into him outside the club. It's a bum note on which to end the night.
Unfortunately, it's not the end of the night. After hours, Elliot finds himself confronted by toughs demanding money owed them by the Eddy, a debt incurred by Farid without Elliot's knowledge — or the knowledge that the club had gotten entangled with Paris's criminal underworld. By episode's end, Farid will suffer the direst possible consequences due to that debt — unless there's some other reason.
But first the series lets us get to know him and his wife Amira (Leïla Bekhti, Rahim's real-life wife) and their children, depicting the easy intimacy they enjoy with one another and their obvious closeness with Elliot, a man not in the habit of letting others get close to him, at least not anymore. Elliot also seems to have a habit of driving others away. When his high-school-age daughter Julie (Amandla Stenberg) arrives from New York, he can barely draw her into a half-hearted hug, which only seems cold until we see Elliot make one questionable parenting decision after another, including bringing Julie to Maja's apartment, where she witnesses a series of fraught interactions, and leaving her sleeping in the club while he goes off to parts unknown after a fight with Farid, shortly before Farid's death at the hands of an unknown assailant in the alley behind the club.
The source of that fight: Farid's decision to take the stage and sing the band's songs when Maja doesn't show. Instead, she's hooking up with a rando and shirking her responsibilities. In short, the Eddy's a mess even before Farid's death, and they seem destined to get messier still as the investigation mounts and those in the Eddy's orbit will look to Elliot for leadership and comfort, neither of which he seems naturally equipped to provide.
And yet, this first episode's closing moments suggest there might be a way forward after the loss. In spite of the murder, a crowd fills the Eddy the next night and the band responds with a scorching performance — then slows it down as Maja performs a heartbreaking song dedicated to Farid, a piece Elliot's been working on off and on throughout the episode, with musical contributions from Farid and lyrical contributions from Maja. Elliot responds by looking vulnerable and moved in ways he's never let himself be elsewhere in the episode. Few actors convey wordless thoughtfulness and unspoken worry quite as well as Holland, but in the episode's final moments he lets that go. "I don't want to go home without you," Julie tells her father. "I don't know what's going to happen here," he tells her, and for the first time it's not clear if it's worry or hope that's making him run.
Blue Notes
• The Eddy had a long, unusual genesis, getting its start as a suite of songs written by Glenn Ballard. A prolific songwriter and producer, Ballard's probably still best known for his work on Alanis Morissette's Jagged Little Pill, but he's worked with everyone from Michael Jackson to Miley Cyrus and branched into musical theater. The series' songs find him working in a different style, mixing contemporary sounds with inspiration from the classic American songbook. Given that they're central to the show, it's important that the songs work, and they do. (Even the "off" performance at the beginning sounds pretty good.) Enticingly, we also get a glimpse of Paris's musical fringes when Elliot takes Julie to see an up-and-coming band rehearsing. (The band includes Sim (Adil Dehbi), the Eddy worker we see in the episode's first shot and his brother Tarif (rapper Sopico), characters who figure into later episodes.)
• From Ballard, the project's creative team expanded to include directors Damien Chazelle (director of La La Land, First Man, and Whiplash and an avowed jazz enthusiast) and Alan Poul (The Newsroom and many other shows), and writer Jack Thorne (a veteran probably now best known for the script to Harry Potter and the Cursed Child). It's been written about in shorthand as Chazelle's show, but many hands have played a part in its creation. Thorne gets the "created by" credit and Chazelle only directs the first two episodes.
• That said, Chazelle's direction in this first episode sets a strong standard for the others to follow. He takes an approach far removed from the careful choreography of La La Land, going handheld and vérité and getting in the thick of the action in ways that mirror the chaos of the characters.
• Also key: the decision to film live performances and work with a real band. The supporting band members don't have a lot to do in this first episode, and we only get glimpses of their lives away from the club, but they're all able performers who naturally look like real, hardworking Paris musicians.
• Paris, of course, also plays an important role in the series. And though we get a glimpse of the Eiffel Tower in one scene, this episode mostly focuses on parts of Paris tourists don't often get to, capturing vibrant, diverse neighborhoods in the process of being transformed by cultures from around the globe — and changing the city's music in the process.
• Also, add Kulig to the list of real musicians. A multi-hyphenate, the Polish-born performer has worked as an actor and a musician for years. This is her follow-up to her breakthrough role in Paweł Pawlikowski's great film Cold War (which is currently streaming on Prime, if this made you curious about her).
• Tahar Rahim is so good here it's a shame that Farid won't be around any longer (though there are always flashbacks).
• Finally, the episode's title, like each of the series episodes, takes its name from a character. Presumably we'll get to know more about Elliot as the series progresses, but it provides a strong sense of his character. And that character isn't easy to love. Holland plays him as thorny and distant. Rather than talk things through with Farid, he flees, and it's shocking when he leaves Amira to grieve alone after she learns of her husband's death. We also find out he's experienced a lot of loss in his life, too. Maybe fleeing is all he has left. Or maybe this will be a show about him finding he has other options.