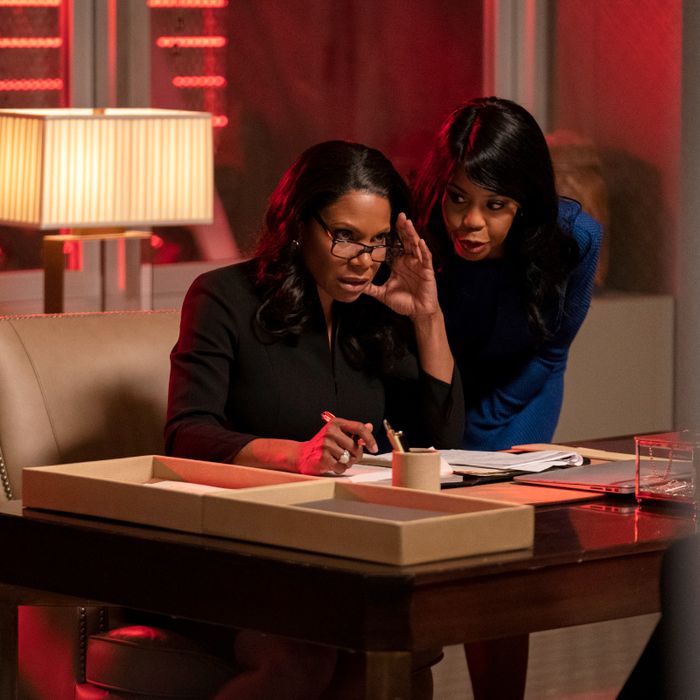 Audra and Fake Audra, mid "White Boys."
Photo: Patrick Harbron/CBS
The Good Fight ostensibly takes place in Chicago, but it's one of the most New York shows on TV. Not just because it films all around Brooklyn (especially, sometimes obviously, Greenpoint) but because it exists in a universe filled with judges, attorneys, and clients played by Tony-nominated or at least Drama Desk–nominated New York theater actors. So it was inevitable that The Good Fight's fourth season, which has gone all-in on chaos, cruelty, and the absurdity of race in America, would do an episode spun out of New York theater drama. In this week's episode, "The Gang Is Satirized and Doesn't Like It," Diane Lockhart & Co. go to see a performance of the hot new play C**ksucker in Chains, which of course ends up being a send-up of the ever-talked-about real Off Broadway-turned-Broadway sensation Slave Play.
"More than half of our writers' room are playwrights, and being in New York, everyone is going to theater constantly," creator Robert King said. "We all had opinions about it." "And not the same opinion," added creator Michelle King. Slave Play, written by Jeremy O. Harris, takes place at a plantation seemingly in the antebellum South, where three sets of interracial couples engage in various forms of BDSM, though all is not quite as it seems. It triggered all sorts of reactions, both critical embrace as well as backlash, focused on its depiction of a submissive black female character. "Because The Good Fight is about trying to be objective about the African-American experience, it felt like the play — and the reaction to the play — would make for an interesting episode." Robert said.
In the Good Fight universe, C**ksucker in Chains is just as much of a controversial sensation, though instead of taking place on a plantation, the play is inspired by the law firm where the show's main characters all work. The conceit is that a former lawyer at the firm, played by Jon Michael Hill, has remade himself as the radical queer playwright Jumaane Jenkins — a send-up of Harris, who is very excited about this episode — and turned the partner's dynamics into onstage BDSM. "What was interesting about Slave Play was that it always thought of relationships as a power dynamic, so we wanted to satirize that," Robert King said, "and yet also show that our characters in our law firm were being impacted and worried that their relationships were about power and not about real relationships."
On Broadway, Slave Play got headlines in part thanks to an infuriated white woman at a talkback, a.k.a. Talkback Tammy, who claimed the show was racist against white people. A similar character shows up briefly in The Good Fight, though the bulk of the episode is more about the lawyers' reactions to their satirical selves. Once the Kings realized they could build a plot for the episode around the question of whether the play was defamation — the idea of whether C**ksucker is directly "based on" or "inspired by" the firm becomes important — they knew they had a structure that could work. "One of the tools that seemed to rise out of the play very easily was to dig into the characters' psychology through the doppelgängers," Robert said. "They have to question whether they're something there," Michelle said.
To drive the doubling home, The Good Fight's play-within-a-show features a set of doppelgängers acting out BDSM sexual fantasies designed to intentionally mimic the blocking of other scenes in the episode. There's Diane's stage double, Dana (Kristen Scott), often clad in a catsuit; Adrian's double, Adan (Lance Roberts), who submits to Dana's authority to Adrian's discomfort; and Liz's double, Latisha (Sharon Catherine Brown), who constantly breaks into song, a wink at the fact that Liz is played by six-time Tony winner Audra McDonald.
"Casting Audra's doppelgänger was one of the great pleasures, because everybody came in and sang," Michelle King said. "I felt a little bit terrible for them, but Sharon was such a great singer that she managed just fine." According to Robert, the actors themselves were a good audience too. "They enjoyed those scenes more than almost anything they shot," he said, even during the scenes where fake Liz aggressively sings "White Boys" at real Liz. "Anytime there's singing in there," Michelle added, "Audra loves it."
Watching and reading up on C**ksucker in Chains pushes Liz toward having sex with a new character, a white associate named Caleb (Hugh Dancy). It's her first interracial relationship, which was something the Kings felt would be an interesting idea to explore. Interracial relationships are often a fixture of TV, according to Robert, because of a push to make casts more diverse. "Because the racial issues are never brought to the top, they're often just window dressing for a show. Almost every network show is not really about race," he said.
While Liz and Caleb get together, Diane questions her own relationship when her husband, Kurt (Gary Cole), gets turned on by the sight of fake Diane in a catsuit dominating fake Adrian. Naturally, this leads to Diane trying on a catsuit herself, questioning whether she and Kurt are satisfying each other in bed. "We've been working with Christine for 11 years, and she is perhaps the most game actress we've ever worked with," Michelle said. "A happy and content relationship is not necessarily digging the depths of where it can go sexually," Robert added. "We can probably dig even deeper, but at a certain point you run into the bounds of taste and the fact that you're still doing a TV show."
Fittingly for a show with a writers' room full of playwrights, The Good Fight also includes snark about the playwriting world, when one of the firm's investigators infiltrates a playwriting group where everyone complains about Jumaane's success. "A lot of our writers in the room being playwrights, they were on fire when they wrote that scene," Robert said.
But what did the Kings think about Slave Play themselves? "I hated it," Robert admitted. "I thought the comedy was much too broad. I thought it was directed like it was a Carol Burnett episode. My problems were more on the level of aesthetics than on the level of the politics, even if our show seems to take it to task for its politics." As for Michelle: "I don't think I was a fair judge. By the time I'd seen it, I'd heard beat-by-beat what was going to happen. If you're not surprised, it wasn't going to work, and I wasn't surprised."