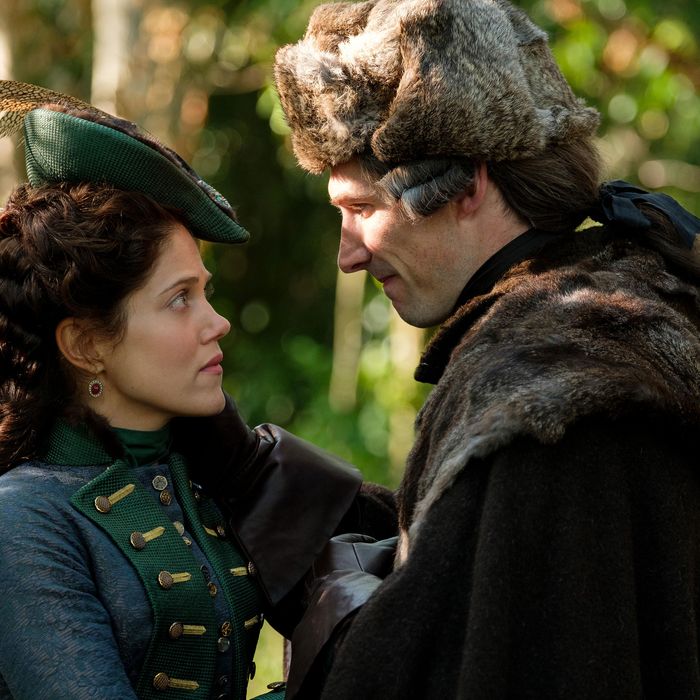 Photo: Ross Ferguson/Hulu
Is Peter a "the Great"? No, that was his grandfather (or father, as the show says). What's emerging, as of the second episode, is a battle between Peter and Catherine for power, which is delightful. Also sometimes disgusting (see: severed heads later on), but still overall delightful. The complete abandonment of historical accuracy around Peter III's six-month reign gives us two strong characters — one intelligent and without power, and one oblivious and hedonistic with absolute power — alternately butting heads and trying to navigate around the other, each occasionally plotting the other's downfall.
The dynamic setup in these early episodes is a contrast between Catherine's idealism and Peter's position of "I'll do whatever I want, and Russia will love it." That attitude means, of course, that Catherine is planning a coup. She wants to create a progressive and humane Russia, with a strong philosophical backbone for it, because if there's one thing people respond well to, it's a well-thought-out philosophy for a governmental system. Marial cuts through the Gordian knot as always and suggests stabbing Peter in the face. Catherine demurs.
This entire episode revolves around Count Orlo and great, big, bushy beards. But I want to talk about Aunt Elizabeth. AUNT ELIZABETH, who is training butterflies to fly in formation ("I admire their willfulness") and tells Peter his mother saw something rancid in him. AUNT ELIZABETH, who throws parties during which she casually lies back while several people lick her feet. Aunt Elizabeth IRL was Empress Elizabeth, who took the throne in a stunning bloodless coup that I will shout about at parties when our present global crisis is over. Here, she is the most absurd person in an absurd world, and I love her.
Can free will be debated through the medium of beards? The Great says yes. If you will remember, Peter banned beards for men under 50, but here walks in Count Rostov with full-on beardy-face. Given Peter's style of leadership (it's from the school of Do Whatever I Say or I'll Have Your Ears Chopped Off), this is a bold move. Is bold the right word? Peter's BFF, Grigor, the one whose wife Peter keeps vigorously banging, says he would love to know why a man comes before the emperor with a beard that says fuck you. "Is that what your beard says, Rostov?" Peter asks, in yet another delightful moment from this show.
But no. Rostov says his wife has never seen his face and that underneath his beard is a mix of boils, pustules, and scarring. DAMN. Peter doesn't care and tells him to shave anyway. So then we come to Orlo. Orlo is … fine. I desperately want him and Marial to hate-sex each other, but until that day comes, he will be the hemming and hawing Negative Nancy of the Coup Club. Catherine recruits him from Peter's inner circle, even though he has the determination of a dithering slug. She sees something in him, though! Mainly an ability to recognize when Peter is being unhinged.
Catherine frequently gets the thankless task of straight man in this Russian court comedy, so it is fantastic seeing her try to seduce Orlo. Her method is to pant on a chaise longue and speak in a husky tone after downing some oysters. The oysters are bad, so she throws up in a Champagne bucket. It is not tremendously successful as far as seductions go. Catherine will eventually be Catherine the Great, seasoned stateswoman, famed empress. For now, she chases Orlo down a garden path, shouting "HELP ME WITH MY COUP." She'll get there.
What's Peter up to? He's wearing his mother's strings of pearls (it helps him feel close to her) and solicitously telling Catherine that she probably doesn't remember, but a week or two ago, he shot her bear and punched her. He has bought her a new bear, and he wants her to take a lover so that she'll stop being such a drag around court. Peter is again charming by virtue of his utter transparency. He says he likes larks and japes and weird sex, but she is romantic, so they need to figure out how to live together. I've never been an 18th-century German princess suddenly married to the Russian emperor, but I feel like I would respond really well to this approach? It's so practical! He's trying!
Catherine, however, hates it. She rejects his ideas, and he decides to have her killed by carriage accident and then try again with the whole royal-marriage thing, hopefully with someone who doesn't make fun of the ladies' wig hats. This is stalled by the archbishop (a.k.a. Archie) telling Catherine to try smiling, which does fix things. Well. To be specific, she has to smile while eating in front of the heads of Swedish soldiers. It is truly horrifying, and more things happen, and I'm not even going to go there because I can't believe the show did. Just … good Lord.
After faking out Peter with this Sansa Stark–like show of acceptance and peace, she storms into Orlo's rooms and gives a very inspiring speech about doing something important with his life. Orlo ruminates on this until he angrily criticizes Peter for making Rostov shave, saying he can't force everyone to bend to his will. Peter makes Orlo shave Rostov, and Orlo shows up at Catherine's door, now a card-carrying member of the Coup Club.
Vital Statistics
Severed heads: 6
Foot-lickings: 2
Recently departed beards: 1
Want to stream The Great? You can sign up for Hulu here, or as part of a bundle with Disney+ here. (If you subscribe to a service through our links, Vulture may earn an affiliate commission.)