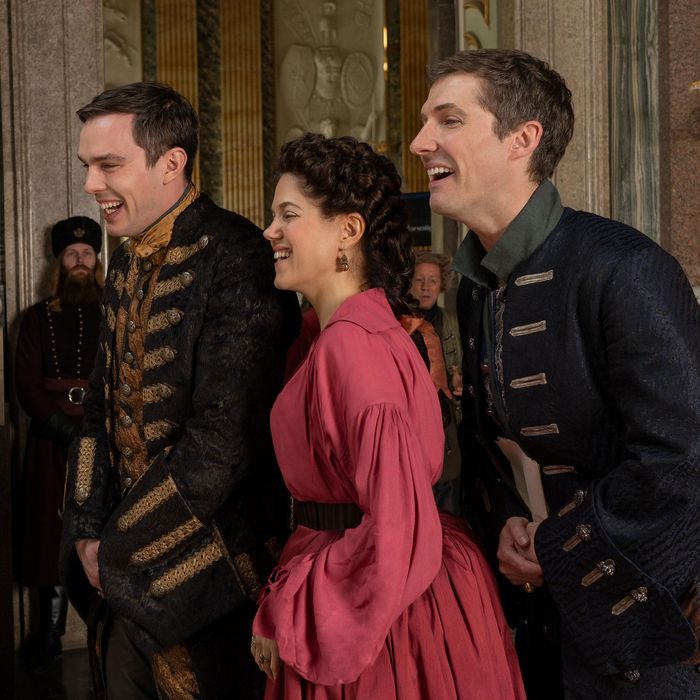 Photo: Andrea Pirrello/Hulu
"Fucking paintings. Who knew?" Art has come to Russia, or more specifically, to the Russian court, and Peter is a fan. His foray into new things continues with his new invention: an "ideas box." He is exceedingly proud of this, and it seems like we're supposed to find it funny, but suggestion boxes are good ideas if they're actually used and responded to! I support you, Peter. Don't listen to anyone else — particularly not Archie, because he's been acting real weird lately.
Catherine gifts Peter a printing press, which after some initial disappointment that it isn't a fig press, he enjoys. In gratitude, he goes down on Catherine, who orgasms pretty damn quickly. Peter looks at her with concern. "This noise. I've not heard it before, good or bad?" Jokes! Because ladies' enjoyment of sex was disregarded for millennia! Catherine is discombobulated. She runs into Aunt Elizabeth, who helps her sort out how you can enjoy having sex with a person if you're not in love with them. Elizabeth is the sort of pragmatic pansexual Russian noblewoman I'd want guiding me through the emotions of my early sexual experiences, so Catherine's in good hands there.
Vlad the servant boy would also be in good hands if he weren't riddled with the terrifying disease of the 18th century: the pox. He and Marial are cleaning Catherine's room when he kindly offers to sex her up, if she would be so inclined. Vlad looks 15, so it's not the greatest visual when Marial says sure and kisses him, but it doesn't matter so much in the end, because when he takes his shirt off, his torso is riddled with pox. Marial shoves him in a wardrobe so they don't burn him and goes to get Catherine. Oh yeah, so the nobility burns serfs when they have the pox. Catherine gets the doctor, who assures them they can burn him very easily in the wardrobe because it's made of wood.
There's a lot of moral backsliding from Peter this episode, brought about by a combination of freedom of the press and fear of disease. He starts out strong, by inviting a number of scientists to the palace to set up exhibits for a "science party." I would go to science fairs if they were called science parties. They're lighting their farts on fire for science, but also electrocuting a child to make him magnetic, so don't worry, plenty of horrifying things still happening over here on The Great. The ladies of court have, in my favorite moment of the episode, discovered that ink from the printing press can be used to make themselves look like badgers. Catherine somehow turns down the offer to join them? Check your priorities, Catherine.
Instead, she is very focused on saving Vlad (okay, FINE) and not burning the serf class. When she visits a very drunk Orlo (oh yeah, Orlo drinks a lot now as a result of his whatever storyline from the last episode), he tells her to look into variolation. Otherwise known as inoculation! You introduce a small amount of the disease into your body so it learns how to fight it. Although China and the Middle East had been doing it for quite some time, Europe was decidedly against it for centuries. It's not as safe as a vaccine, so there were legitimate concerns, but it was still better than just burning people.
There's a lot of back and forth on this between her, Peter, and Archie (Archie is strongly against it). Mixed in with this are arguments about the printing press. After Peter tells Leo about going down on Catherine and how much she was into it, Leo gets drunk and prints a huge number of drawings mocking Peter and showing Catherine having sex with a horse. First of all, Peter didn't tell Leo this maliciously. He might as well be doing a "The More You Know" spot to help him out. Secondly, Catherine forgives Leo way too quickly. Sure, she didn't know how long that horse rumor was going to stick around, but he didn't have to be a dick about the empress of Russia enjoying sex with her husband one time. It's not like she has any choice in the matter! And also he knew that horse rumor hurt her feelings! Not cool, Leo.
Basically all the notes in the idea box say "kill yourself and burn the serfs." Nobility, you are all fired. Peter gives in, gets rid of the printing press, and starts burning the serfs. None of this is good, but he now has Catherine's new ideas in one ear and then Archie, his mistress Georgina, and the entire rest of the court in the other. Peter's main goal is to be loved, and he can't tell himself he is if people write horrible things in his idea box and don't want to give themselves the pox to inoculate the palace. I wonder if this will get the Coup Club back in action.
Vlad dies, which is another moment where the show dips from its usual absurdity into sober drama. Marial sobs, Catherine inoculates herself in front of the court, and Peter officially bans inoculation. Hail, Caesar.
Vital Statistics
Frog guns: 1
Drink choices with you're with Velementov: 2
People who would definitely like to be made to look like a badger, unlike Catherine: 1 (it's me)
Want to stream The Great? You can sign up for Hulu here, or as part of a bundle with Disney+ here. (If you subscribe to a service through our links, Vulture may earn an affiliate commission.)