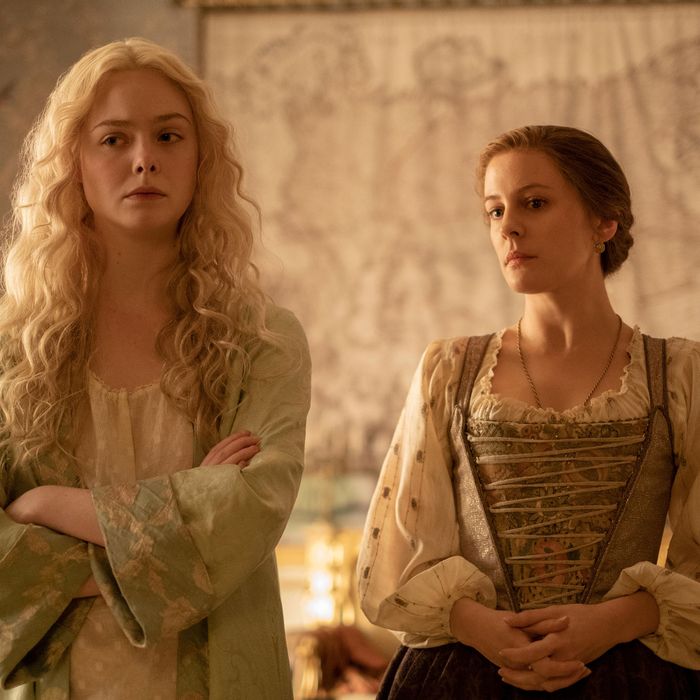 Catherine has the Russian empress version of a conspiracy theory peg board on her wall. After her truly embarrassing speech where she proved she had ideals but absolutely no knowledge, she is out to fix all that. Catherine's got real Annie-Edison-from-Community vibes in that her inner monologue is probably constantly shouting "you're just not studying HARD enough." The conspiracy board is a key visual aid for the Coup Club as, according to my former Russian lit professor, who was kind enough to translate, it's split into court, provinces, church, and army. They are literally dividing (with string) and conquering.
How does everyone feel about the Coup Club? I like them in the way I like ineffective clubs populated by well-intentioned and endearing characters. I mean, we know it will EVENTUALLY be effective, because Catherine eventually becomes the Great. But every time they assemble in the theatre, I'm like, aw, you guys have snacks. Which is a jarring vibe, because they're trying to overthrow an emperor who last week was burning his subjects in piles. But he's so charming.
Speaking of Peter, he has bought Catherine a massive diamond from Siberia. This is most likely based on the Orlov diamond. "Was it stolen, maybe from a religious building in India by a European colonial power?" you ask. It was! This fictional Siberian version, instead of over-awing Catherine, prompts her to recite the Wikipedia entry on Siberia. She is studying hard enough.
Is Nicholas Hoult a wizard? Because abraca-DAMN. I don't know how Peter remains likable when he is literally talking about chopping the Swedish ambassador's head off and filling it with meatballs. (Arkady calls it a witty and eloquent response.) But he does! I don't want anyone to murder this dopey idiot with his '70s rock-star low-cut shirts and dangly necklaces. And Marial keeps trying to.
We're all about Sweden this episode — well, Sweden, Grigor unraveling, and Catherine showing her growth as a statesperson. Leo is upset, but he's being a real bummer, so let's ignore him. (Oh, he finds out about Coup Club and is onboard.) After Catherine persuades Peter not to cut off the Swedish ambassador's head and fill it with meatballs, she tells him everyone will be extremely impressed with him if he negotiates peace. So they're off to see the king and queen of Sweden for peace talks.
On the way there, Catherine tries very hard to get Velementov to join the Coup Club, but when she recommends some well-thought-out military maneuvers to him, he stares at her mouth and says her eyes are pools so deep a man could drown in them. CAN WOMEN JUST. Catherine smacks him in the face, seethes that she is terrifying, and switches carriages to ride with Peter, who has been practicing his unnerving stare face on Orlo.
Peter's plans to achieve peace through intimidating facial expressions are immediately pushed to the side as the Swedish king appears very excited to chat with him and shoot fish in the pond. (It goes like this: "FISH! *blam* Ha-ha!") Catherine and the Swedish queen chat about freedom of the press, which the queen says has unleashed "the full gamut of people's fucked-upness" in her country. She and Catherine both want to end the war. The men continue to shoot at things.
We never really talked about Velementov sexually assaulting Catherine? It happened some number of episodes ago. He was extremely drunk and then pissed his pants, but it's been a real black mark on his record for me. Like everyone in the second half of the season, however, he's shown some growth. True, there was the mouth-staring just two paragraphs ago, but he and Catherine have a chat and it's nice. He says he will stop trying to bang her. She brings up Orlo joking to Velementov that they were planning a coup, and when he seems receptive, she asks what if it weren't a joke. I really like this scene! It's a seasoned general giving this 20-year-old woman his actual attention and he's listening and it's not something you see a lot. As he remembers her just truly so wretchedly embarrassing speech, he tells her she's not ready to be a leader and that anyone in court could turn on her, including him. She is very confident that she's different now. I mean. She's kind of different. I'm in Velementov's camp on this.
Peter and Hugo the king of Sweden bond over how hard it is not measuring up to your father. Hugo is sympathetic. "Peter the Fucking Great. At least my dad was Olaf the Okay." Meanwhile, the queen is telling Catherine she heard the horse rumor and tells her portentously that "the first lie wins." This sounds proverbial enough that it's sure to come into play later. And it does!
But let's end this war. Everything at the negotiations is going along great until Sweden says they will require St. Petersburg. Excuse me? St. Petersburg is solely Russian and always has been. Except it hasn't! I was so surprised. What is now St. Petersburg formerly housed a Swedish fortress with the trip-off-your-tongue name of Nyenschantz, as well as the town of Nyen. During these negotiations, Russia had only held St. Petersburg for about 50 years, which is less time than Hawaii's been a state. So odd!
Anyway, so Peter says no and squishes a pomegranate in Sweden's face. They proceed to flail around while giving each other the finger, so peace is on hold for the moment. Catherine tells Peter exactly what to do, saying he talked in his sleep last night and came up with a brilliant plan. Russia and Sweden will each claim victory at a different battle and each ignore the battle they didn't win. The whole "first lie wins" thing circles back around, and we all feel like we've learned something.
Oh, we didn't talk about Grigor! Grigor shot the bird Peter loved to look at and also ordered 104 melons to his room. Grigor is not doing great.
Catherine gives the Coup Club pitch to Velementov. She tells him who's in it already and he says, "A maid, a bureaucrat, and a drunk." And Leo! Maybe we should change their name to the Best Friends Gang.
Vital Statistics
Members of the Coup Club: 5
Fake birthmarks: 1
Number of earrings I coveted: ALL OF THEM.
Want to stream The Great? You can sign up for Hulu here, or as part of a bundle with Disney+ here. (If you subscribe to a service through our links, Vulture may earn an affiliate commission.)