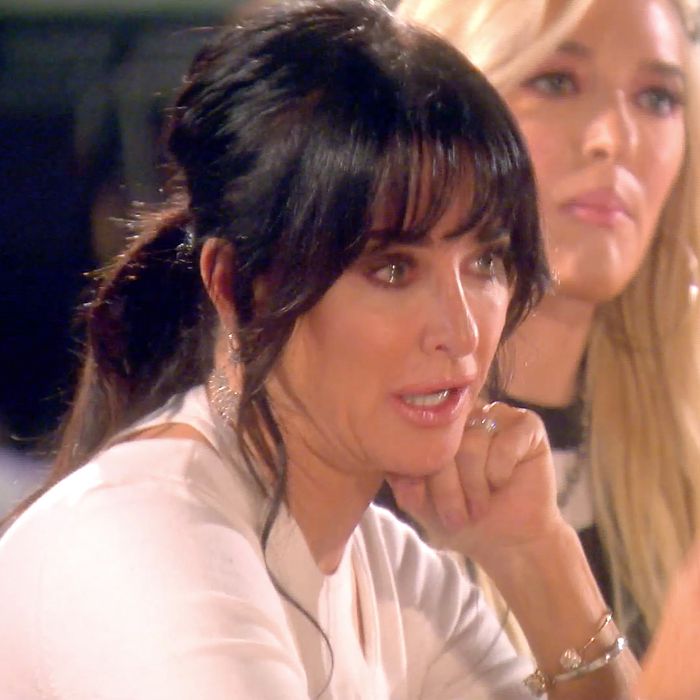 This week, as every week, the rich women of Rich Women Doing Things did things. They drank green juice and posed for the paparazzi; they told their 11-year-old future-underwear-model sons they are too young for Gucci; they reminded us of their husbands' big dicks. But I don't want to start talking about them just yet. First we need to appreciate my favorite new character on this here broadcast: stoned Mauricio. Whether or not he is always stoned, I don't know, but I have decided to see Kyle's husband as always stoned because, well, he acts it. Kyle is trying to tell him about a fight she is having with Dorit (sigh), and instead of paying attention to her, he is staring at the dog because she is doing "funny things" in the bathroom. Hashtag relatable. More of this please. And look for The Agency edibles in a California dispensary near you any day now.
Mostly what the Rich Women did this episode was fight about Teddi's retreat at the Surf and Sun hotel, which is actually in Orange County, which puts them more firmly in Vicki Gunvalson's backyard than it does in Lisa Vanderpump's. Maybe that's why everyone is so annoyed about going and why Kyle, Erika, and Sutton had to get up at 5 a.m. to be there on time. Teddi says that she wanted every moment of the day booked, but there's only a boxing class, lunch, a whole host of downtime, some guided "mindful meditation," and then a dinner. Easy, peasy, wheatgrass extract with lemon squeezy.
Everyone is having a great time at the boxing class, except for Sutton who seems to be as much of a stranger to exercise as she is to restraint in her wardrobe choices. Dorit arrives after the class, sporting a ponytail and a pair of comically small sunglasses that would not look out of place in a wannabe pop star's video that she filmed on her father's yacht. She's also wearing an oversize Balenciaga jacket (you know because the name is emblazoned in huge letters on the back) perfectly cocked on one shoulder over a pair of camouflage yoga pants.
All of the women seem annoyed that Dorit had plenty of time to get her hair and makeup done but she couldn't find the time to make it to the event with the rest of them. At 3 p.m., after their lunch and a massage, the women start drinking and then retire to a suite. They do not make it to the meditation, and we see Teddi annoyedly rolling up the personalized yoga mats in the middle of the patio and rearranging the chanting arrangements. When they all make it down to dinner, they turn their nose up at fajitas because they have been snacking all day. That means these women didn't really participate in any of the events save the first. They showed up, did boxing, and then swanned around a hotel for the rest of the day while Teddi led a retreat that they summarily ignored.
Instead of going to meditation, they were up in the suite fighting. Kyle's annoyed that Dorit had time to "get into glam" but couldn't join them. Dorit says that her husband PK, a jogger without a mask who spits within six feet of you, is away in London and she is alone with the kids and had to drop them off at school. Kyle is even more annoyed that Dorit had the time to do an Instagram photo shoot where she posed broken-doll style against the floor-length windows of her new house, Surely Rented Manor Too.
I don't care that Dorit did a photo shoot, I care more about how dumb the photo shoot is. She looks like a Love Island cast member shooting an ad for BooHoo in her too-trendy clothes and streetwear-influenced style. Dorit is one of the prettiest of all the Housewives and looks amazing. However, she is not Gigi Hadid, she is a friend of Gigi Hadid's mom. She shouldn't be so worried about what the kids are wearing and trying to look cool. It's kind of like Madonna wearing a grill or your mom trying to learn a TikTok dance. No matter how good it looks, it's enough to make you want to bury your head in your Supreme-branded pillow forever.
Dorit yells at Kyle and tells her that she has a life, she can't spend all day at Teddi's retreat, which, fair, but the insinuation that Kyle and the rest of them don't have lives or things to do is a little insulting. But then Erika says, "Can we just all admit that none of us want to be here?" Yes, Erika. Can we? It would be refreshing to hear. And there are many reasons why they wouldn't want to be: It's far away, they had to work out on-camera, they didn't want to waste an entire day of filming and their lives on what is essentially a free commercial for Teddi's accountability coaching business All In. (Just wait until I launch my procrastination-enabling service called Opt Out where I text de-spirational things like, "Girl, how have you not finished Too Hot to Handle and Never Have I Ever? They have been out for more than a week! And your average screen time is down. Shame. SHAME!")
When Denise arrives at dinner (she is recovering from surgery, after all) she says, "So, how is everyone's day?" Rather than everyone being nice and saying, "It's fine," we start rehashing already. Denise had no clue the fresh wounds she was opening up. If only she knew an alternative-medicine specialist who might be able to scar those over pretty quickly with good vibes and the power of sound.
The fight will pick right back up at the party at Denise's house, but first we have a little interlude with Lisa Rinna and her daughter Amelia (d/b/a The Other One), who is talking about overcoming her anxiety and how difficult it was when she went to New York for college. There are two standout moments in this scene. The first is when we're shown photos of college-aged Rinna, which are amazing. The second is when Rinna tells Amelia she better get into college because, "I'm not going to put you on a rowing machine and take pictures." Oh, how I laughed at that Lori Loughlin dig, because you know that the two of them have been running into each other at, like, dog fashion shows brought to you by Alpo around Hollywood for decades.
So, Denise is having a party for the women in her backyard. They're trying to give Denise the villain edit, and I'm having a hard time buying it. They make a big deal about the diamond ice sculpture she got for her pizza party, but last year when she didn't do stuff like that both the cast and fans made fun of her, so she's trying to level up for the cameras. And I don't care what you say, I would much rather eat pizza and go to a sundae bar with every conceivable topping in Denise's backyard than sit next to Faye Resnick and only eat Fireball shots at Kyle's.
First the conversation turns to girl-on-girl action, with the women discussing which of them have swum in the lady pond. Rinna and Kyle have never. Garcelle took a dip and Erika divulges that she hasn't been with a woman, but she did have a three-way with a couple. (The details of which are in the book we co-authored, Pretty Mess, now in paperback!) Denise starts to get uptight about the conversation because her kids and what appears to be her kids' friends are at a table nearby. Denise explains that she is an open, sexual person but doesn't want to be talking about this within her kids' earshot. Understandable. I think what might have upset her more is that there are other people's kids there, and she probably already had to call them and assuage the fears of nervous Malibu parents about the cameras being there and was being hypervigilant. Also, if she is going to have some sort of custody proceeding and there is footage of her talking about coochies inches away from her kids, that could be admissible in court.
Still, I love Erika's reaction in her confessional. "Why are these women clutching their pearls," she says. "I mean, these sluts? Come on!" I have never seen something and said, "I need a GIF of that now" as quickly as when Erika says, "I mean, these sluts? Come on!" I will use it on Twitter and Instagram and my personal email chains and WhatsApp groups anytime someone tries to come for me and my potty mouth because, I mean, these sluts? Come on!
The fight comes up again and Kyle lays out her case and Dorit lays out her case, and as much as I tried to do the mental and moral gymnastics required to not be, I am on Dorit's side. She told Kyle and Teddi that she was going to be late, why she was or what she was doing with her time while being late is none of Kyle's business and she should just get over it.
What the fight turns into, though, is something really interesting. Dorit accuses Kyle of always taking Teddi's side "in our group" (i.e., on the show) and of them being a package deal. Dorit says that Kyle never defends her. Then Kyle says that she lost one of her best friends, Lisa Vanderpump, defending her. Then Kyle says that she always defends Rinna, and the artist formerly known as Lisar says, "Not all the time. Not when it's against your sister." Which, wow, sick burn.
Kyle tears up and says that isn't true. In fact, her relationship was damaged because of how Kyle treated Kim in the face of their ongoing bunny-fueled feud. This is no longer about Dorit showing up late to some stupid event no one wanted to go to. This is now about the price Kyle has paid. This is now about the toll this whole thing has taken on her family, on her friends, and on the sobriety of her husband who can now only delightfully cope using what I imagine is an onslaught of potent gummy candies. This is the cost of it, the fame, the attention, the platform. This is about Kyle keeping this operation going at all costs, propelling all of them, and it costing her more than anyone and them not appreciating it. And with that, Kyle took her stoned husband and left the backyard, her sensible shoes sinking into grass that was rapidly muddying with a melting diamond.