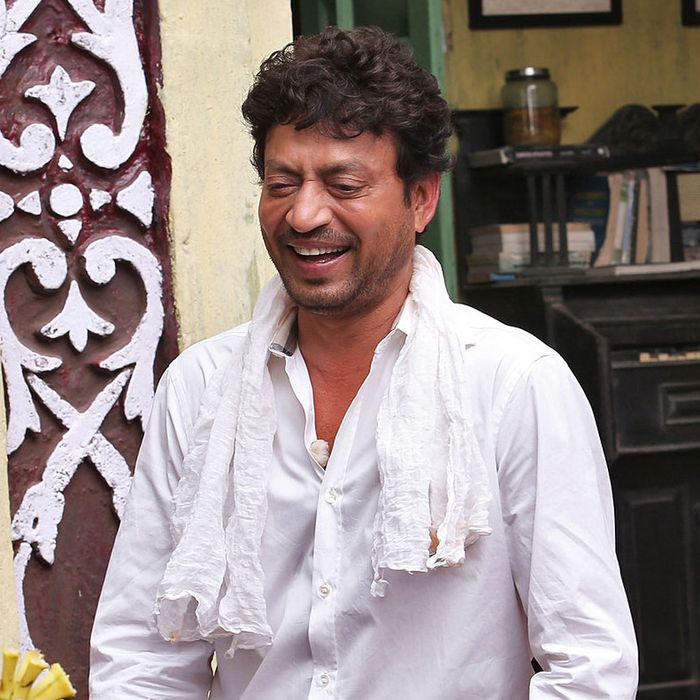 The actor, who died this week at 53, is a study in contrasts — a Bollywood star and Hollywood Everyman, sexy yet never fit for leading-man status.
Photo: Yash Raj Films
The 2015 Bollywood movie Piku is one of my family's favorites. We watch it every Thanksgiving, and laugh at every joke. It stars Amitabh Bachchan as an irascible, Larry David–esque Bengali widower who is obsessed with his bowel movements and eventual death; Deepika Padukone as his devoted, back-talking daughter; and Irrfan Khan, as the owner of a cab company who finds himself drawn into the family's orbit. The first two performers may as well be wax statues — so famous are their faces, so renowned are they not just for talent and status but for looks. Khan, though, is a different sort of striking.
He might be called jolie laide, to borrow the French term that means, effectively, "ugly beautiful," and which holds special importance in the world of film. When he arrives, some five minutes into Piku, we, the viewers have already been ensconced in the shabby, glamorous world of Bhashkor Banerjee (Bachchan) and his daughter (Padukone), who goes by the family nickname Piku. Khan plays Rana Chaudhary. He stands, in his first scene, at more than six-foot high, taller than the other actors playing cab drivers, a man who might be crassly said to be better than his surroundings. An engineer by training, he lost a chance at a job in Saudi Arabia due to logistical difficulties, and so he returned home to take up the post at his dead father's company, to live at home with a mother who harangues him regularly for not living up to masculine ideals.
In a classic, movie sense, he might be said to be a loser type. Yet, to observe him throughout the movie is to question the validity of the notion of "types" at all. Khan's regal height, his sensuous, animalistic features, give him the air of a god among mortals. Yet, his extraordinary physicality is cut with hallmarks of normalcy. His face shows lines; his hair, in the first scene, blows in the wind to reveal patches of scalp (whereas Bhachhan's and Padukone's impressive manes each look so well-kept as to be artificial). "He isn't exactly handsome," my paternal uncle once told me, in the tone of someone struggling to understand a quality that hasn't been defined yet. "But he has something."
Whereas French culture opens a space for jolie laide — welcomes it, even (witness Serge Gainsbourg, Jeanne Moreau) — Bollywood has never been so fetishistic of counterintuitive appeal. Khan may have eventually developed the reputation of being a guaranteed sign of quality (one of "three easy indicators to know whether a Bollywood film is worth your time," as the film critic Poulomi Das recently told NPR, those being: "If the film gets good reviews, if the film's opening weekend collections are in double figures, and if the film stars Irrfan Khan.") But in Bollywood, he was always considered a sort of outlier to the general rule of homogenous beauty standards. He changed "the idea of what an actor needs to look like in an industry where he isn't the traditional idea of what is handsome," to cite a recent article that quoted Aseem Chhabra, the writer, who wrote a biography of Khan.
The actor, who died this week at 53 seemingly of complications from a rare neuroendocrine disorder, has now been hailed across the internet as a study in contrasts — a master of the sublime and the quotidian, Bollywood star and Hollywood Everyman, sexy yet not fit for leading-man symbolism. "[For Americans] he's in the realm of Jean-Paul Belmondo or Marcello Mastroianni or Omar Sharif, even," wrote the director Mira Nair in the New York Times. (Nair gave Khan his first role, in her movie Salaam Bombay!, as well as arguably his most pivotal, as a crossover star, in her adaptation of the Jhumpa Lahiri novel The Namesake.) Her comparison to Sharif et al. is intended to probe at the curious, rare mix that Khan brought to the screen, a man who arrived in movies he wasn't meant to be in, in roles he supposedly didn't look right for, a man "clearly from some other culture but having great appeal to be seen as anything from an Everyman type to a very quiet and intelligent sort of sex appeal." Khan was one of the few if only performers out of India to be treated in Bollywood as a person first, his ethnicity second.
In Piku, Khan is, as usual, positioned outside the bounds of archetypes. His sensual face — Nair calls it "extraordinary," her description memorable: "so tall and gangly and angular — like a praying mantis. [At 18] he still had a craggy face and those hooded eyes" — bespeaks a poetic soul, however unpoetic his circumstances might be. He exudes from the first scene on, as he does in every role he ever played — and they were numerous, on both sides of the planet, a line of credits that includes Life of Pi, Jurassic World, Slumdog Millionaire, and dozens of Bollywood hits, large and small — a dualistic air, Everyman and nobleman. (It makes sense perhaps that in real life he obscured his own nobility, dropped an honorific family name that indicated royal blood.)
Khan proves an apt choice as love interest against Padukone, an actress whose star quality could hardly ever be questioned. Her second acting job ever was as the romantic lead in Om Shanti Om, a sort of meta-Bollywood spectacular, a movie about Bollywood, that plays expertly with various tropes of the industry. Padukone played across from Shah Rukh Khan, perhaps the most unambiguous star in India, and she held her own against him. The year was 2007; she was only 21 — and she won the Filmfare Award that year for Best Female Debut. In Piku, she expands her range from undeniable ingenue to an actress capable of playing a three-dimensional, difficult woman, a "strong female lead," as the euphemistic Netflix parlance goes. She plays a 30-year-old, single Delhi–based architect who hasn't broken off from her childhood yet. She is unmarried, and trapped — rather willingly, it becomes clear — in an endearing, combative situation with her willful father, played by another instantly annointed star, Bachchan.
In this mix, Khan is both a natural and unnatural fit. His career was hardly a smooth sail to the top. Nair wrote in the Times of how an inability to cast him as a more central character in her 1988 movie Salaam Bombay!, when Khan was an 18-year-old, hungry acting student, gave way to a difficult several years for the actor, and, eventually, a solid career in television. But Khan wasn't satisfied. In a 2012 interview with the Wall Street Journal, Khan himself spoke of his mood at an inflection point, at the start of the new millennium, when he was primarily a TV actor. "I was bored of acting," he said. "I wanted to quit this profession. I was losing passion." Then came British director Asif Kapadia's 2001 fantasy thriller The Warrior, which he "lived with for three months, and suddenly everything came," as he put it. "I rediscovered my passion and was longing to work in film, television." Kapadia says he knew the moment they met that "we had our guy." As he recently told the Guardian, "[Khan] had a real presence and I knew he could carry the film," though he "didn't have the looks for commercial cinema."
Khan experienced another fallow period soon after The Warrior, a slow six months in which he got no work, and yet he was not worried (though, he jokes, his wife was). That dual sense of intensity and calm comes through in every part Khan played thereafter. He appears on screen with the naturalness of a man who was born to act and doesn't question his right to the job, who can sit for six months without a role, and not worry. In the HBO show In Treatment, for example, he unfolds the workings of the character Sunil over the course of several episodes in 2010, as a client of the show's psychotherapist lead character, played by Gabriel Byrne. In that role, the seams of life bleed through. Khan asks at one point, in his languorous, unstudied drawl, if he can light a cigarette, and the doctor acquiesces. Not soon after, in an interview with this very publication, Khan did the same and the interviewer said yes, his actorly self seemingly merged with his regular one. He might be said to exhibit the quality once ascribed to Elizabeth Taylor, an ability to present with "absolute stillness." His smallest movement demands attention. Even when he does nothing, for that matter, he is enchanting.
In Piku, Khan's character, Chaudhary, orients in various parallel ways to those of his co-stars, as perhaps the actor might have in real life. Not of Bengali descent, he is deemed somewhat unworthy by Bachchan's hyper-Bengali character, Bhashkor Banerjee. (Given the Bengali reputation for moody intellectualism, it's no surprise perhaps that an informal running joke in Khan's repertoire is how often he's cast as a Bengali or if not, as a man mistaken for a Bengali.) He is a failed professional, whom Bhashkor treats as a servant. When the three embark on a long drive to Calcutta, an activity that anchors the film's second act, Bhashkor makes a point to demean Chaudhary's professional achievements, to make clear that whether owner or driver, he merits no special respect. "Don't interfere in a family matter," Bhashkor barks, at one point. Chaudhary's claim to belonging, to authority, is challenged at every step of the way, yet, his calmness overrides all the objections to his presence. He was always meant to be precisely where he was.
One scene in particular stands out: Chaudhary has driven Bhashkor Banerjee and Piku safely to their family home in Calcutta, after a good number of digestive-inspired hijinks on the road. Along the way, it's his ability to absorb their dysfunction with grace, and at turns talk back with clarity, that begins to endear him to the spiny father-daughter duo. Sitting around the table for a meal, he cements his claim to respect. At a tense moment, when family matters are being hashed out, he turns the mood toward a gently comic one. He launches into an indictment of American eating habits, and praises the slow chew rate of the cow. In this way, he gets Bhashkor to embrace naturalness over effort, to try to enjoy life, to return to a simpler, native way of thinking. He does so with the sweet, sly, deep intelligence that imbues his every movement on screen. At this point, my family has watched the scene nearly half a dozen times. Every year, it is as if we are watching it anew. And as he chews in the manner of a cow, as he placates an ornery old man, as he charms a headstrong young woman, he does all such work in our hearts too. I can see it as my family watches the screen. We are all falling in love with him.