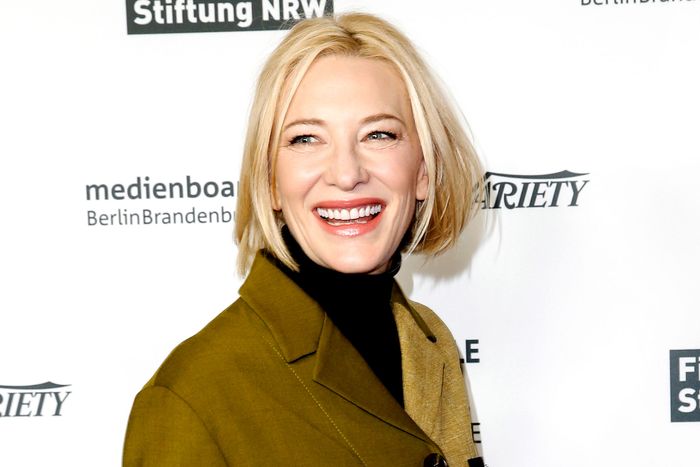 Cate Blanchett.
Photo: Isa Foltin/Getty Images
The comedy-podcast universe is ever-expanding, not unlike the universe universe. We're here to make it a bit smaller, a bit more manageable. There are a lot of great shows, and each one has a lot of great episodes, so we want to highlight the exceptional, the noteworthy. Each week, our crack team of podcast enthusiasts and specialists and especially enthusiastic people will pick their favorites. We hope to have your ears permanently plugged with the best in aural comedy.
WTF With Marc Maron — Cate Blanchett
A little obstacle like a quarantine has not stopped Marc Maron from getting some big names to record new episodes of WTF. Take, for example, this week's guest, Cate Blanchett. After some technical difficulties, which are par for the course in podcasting these days, only the first 10 minutes of a 50-minute conversation are saved. I can only imagine how frustrating it would be to lose basically an entire episode, let alone a conversation with one of the greatest living performers. But Maron and Blanchett get their setups back up and running a few days later to rerecord, so maybe everything happens for a reason? When Blanchett makes a quick comment about Maron's shirt, he goes on to explain what he likes about that particular shirt. To which she replies, "You were just doing that TC Tugger thing." While they didn't linger on the comment at all, I certainly replayed it about 900 times to make sure I heard that correctly. If you're reading this, you more than likely already know that's a reference from Tim Robinson's I Think You Should Leave. And, while they do go on to talk about plenty of interesting things like her new Hulu show, playing Bob Dylan, filming Lord of the Rings, and even vaginal marijuana suppositories, I could not get past the fact that seven-time Oscar nominee and two-time Oscar winner Cate Blanchett casually referenced one of the greatest sketch shows in recent memory. I can't help but wonder if at any point in the missing 50 minutes she mentioned who she thought should have won Baby of the Year. I took it a step further, wondering if at any point she's quoted the "Focus Group" sketch. Is it possible Cate Blanchett has said "a great steering wheel that doesn't whiff outta the window while I'm driving," and if so, did she say it in her Queen Elizabeth I accent, her own accent, or does she do a perfect Ruben Rabasa accent? The gifts this episode has given me have been endless. With all the pictures we've seen in the past few months of celebrities trapped in their mansions, this quarantine is proving that stars are in fact not just like us. But could it be that maybe Cate Blanchett is secretly a comedy nerd, just like us? Oh my God, she admits it! —Leigh Cesiro
Listen: Spotify | Apple | Website
Matt, Joel, and the Next Elle Woods — Awesome Blossom Fabulous Fantastic (Natalie Walker)
If 2020 is bumming you out, why not take a trip to 2008? Led by comedians Matt Rogers and Joel Kim Booster, this time-traveling adventure follows their deep dive into the MTV reality show Legally Blonde the Musical: The Search for the Next Elle Woods. They promise to recap all the "star turns, screlted notes, and that one scene where they made them sing on an exercise bike." Haven't seen any of this? No worries: The hosts and this week's guest, comedian Natalie Walker, provide a hilarious play-by-play with many fun and fascinating detours discussing the show's more recent reach. But, as a bonus, all the episodes are available to stream for free on YouTube for now. So, if you need to see for yourself what host Haylie Duff looks like wearing what Walker describes as "like a Rachel Pally jersey dress with ruching in the middle and a haunted amulet necklace," you can. And that's just a taste of the quippy takes offered. To hear the rest, you'll need to pay via Patreon, but all proceeds go to the Eviction Defense Network, a Los Angeles–based nonprofit working to keep low-income renters facing eviction in their homes. —Becca James
Listen: Website
Doughboys — Tombstone Week
What a grimly topical doubleheader to release mid-pandemic: one episode on the movie Tombstone (paywalled) and one on the frozen pizza brand Tombstone (free). For both, the Doughboys are joined by Griffin Newman and David Sims from the podcast Blank Check, thereby uniting two of the legendary weird-man brotherhoods in podcasting. The film/food crossover of course includes a discussion of movie snacks, from an in-depth review of Coca-Cola Freestyle machine strategies to the question of popcorn: Do we like it, do we butter it, what's going on? But anyone could chat about movie snacks. Only Doughboys and Blank Check together will reveal how huge Sonny's dick actually is in the book version of The Godfather and explain that Harvey Weinstein is the reason Lee Daniels' The Butler is called Lee Daniels' The Butler. Griffin relishes the new venue to unfurl his bit about David growing up in England on both episodes, and by the conclusion of the second installment the four have settled that long-standing debate: Which is better, the movie Tombstone or Tombstone frozen pizzas? The answer may surprise you. —Kathryn Doyle 
Listen: Spotify | Apple | Website
Off Book: The Improvised Musical — Off Book Live! The 6th Annual Trill Comedy Fest
Recently, Jessica McKenna, Zach Reino, and the Family Band have been performing the extremely impressive feat of recording musical improv on Zoom — which, FYI, you should definitely check out, especially last week's magical crossover episode with Podcast: The Ride. This week, though, they pulled out some of that sweet, sweet classic Off Book magic from behind the paywall with a special live episode from … October 2018! Escapism. Zach and Jess rock it solo at the 6th Annual Trill Comedy Fest in Houston, Texas, presenting "The Magic Truth," a love story leading up to, you guessed it, Tax Day. Yes, it's a thrilling change of pace to hear a full new musical after weeks of (again, incredibly impressive and entertaining) individual songs, but on its own this rom-com is an instant favorite. What happens when a newly punk-rock accountant accidentally schedules two dates — one romantic with a skater boy and one familial with her dad — on April 16? Find out between a strikingly amicable divorce scene, graphic flamingo sex song, and strong run of basic opera jokes. I can't believe I'm referencing October 2018 as a simpler time, but when a good Crock-Pot reference is met with a room full of laughter, you can't help but wish you were there. —Anna Marr
Listen: Spotify | Apple | Website
The Next Binge Thing — Episode 13
Now that we're moving into month two, three, or more of the coronavirus quarantine (depending on where you are in the world), podcasts cranking out episodes from lockdown situations are becoming more commonplace. So having a unique hook helps to filter out the noise. Like if you were an engaged couple that decided to call it quits … but before you could physically split up. That's what comedians Amber Rollo and Gabe Pacheco have going on, and so far they are mostly surviving on takeout and TV. This week Gabe made Amber watch episode one of Waco on Netflix, a dramatized version of the story of a religious cult led by David Koresh in a compound in Waco, Texas. It happened back in around 1993 and Amber had never heard of Koresh, the Branch Davidian cult, or — spoiler alert — the eventual shootout and raging fire that brought law enforcement and fringe groups alike under intense scrutiny. It turns out that the early days of Waco had Amber flashing back to her days in a near cult while teaching yoga in Yogaville, an actual town in Virginia founded around an ashram built by a real live (now dead) swami in 1980. Along the way in this super-short 20-something-minute show, the hosts touch on guns, anti-vaxxers, and how rock-and-roll music played a part in the Waco story. —Marc Hershon
Listen: Spotify | Apple | Website
Other Podcasts We're Listening To:
Conan O'Brien Needs a Friend — Mike Myers
Listen: Spotify | Apple | Website
That Blackass Show — Thea ft. Thea Vidale
Listen: Spotify | Apple | Website
Got a comedy podcast recommendation? Drop us a line at comedypodcasts@vulture.com.
If you like comedy and you like podcasts, we recommend you subscribe to Vulture's own Good One podcast, which releases new episodes every Tuesday on Apple Podcasts, Spotify, Stitcher, Overcast, or wherever you get your podcasts.