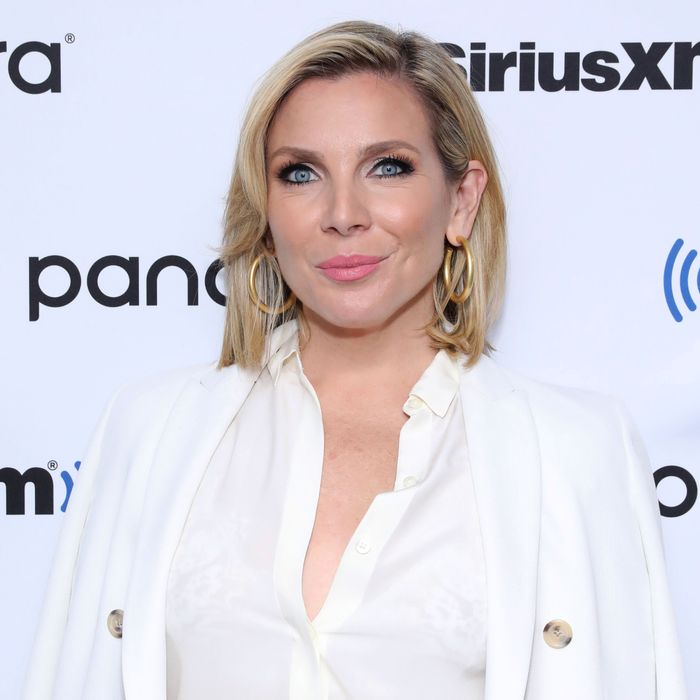 June Diane Raphael.
Photo: Robin Marchant/Getty Images
The comedy-podcast universe is ever-expanding, not unlike the universe universe. We're here to make it a bit smaller, a bit more manageable. There are a lot of great shows, and each one has a lot of great episodes, so we want to highlight the exceptional, the noteworthy. Each week, our crack team of podcast enthusiasts and specialists and especially enthusiastic people will pick their favorites. We hope to have your ears permanently plugged with the best in aural comedy.
This Particular Album Is Very, Very Important to Me - Joni Mitchell's Blue with June Diane Raphael
This Particular Album Is Very, Very Important to Me asserts that if music doesn't make you feel things, "you might be a sociopath!" Enter this week's guest, multi-hyphenate June Diane Raphael, who opens with "I grew up in a house without music." Her admission brings uproarious laughter from hosts Joel Spence and Deborah Tarica. Each episode they invite someone they think is "very, very fantastic" to pick an album that is "very, very important to them" so they can listen to and discuss it. Raphael did eventually experience music, and her pick is Joni Mitchell's iconic 1971 album Blue. Mitchell led to Raphael's discovery of Ani DiFranco, Tori Amos, Fiona Apple, and Kate Bush, spurring a feminist awakening that helped her understand her feelings of discomfort as a woman in this world. Raphael also reminisces about being a sex-obsessed grade-schooler, which resulted in her using her Fisher-Price recorder to tape herself reading encyclopedia entries related to the subject. "This is what happens when you don't educate children. They're just rabid, and it's going to come out," she says. The podcast is a heartfelt and humorous trip down memory lane, offering comfort peppered with comedy. Tune and treat your ears. —Becca James
Listen: Spotify | Apple | Website
The Ajumma Show - Make Your Unnie Jealous
Quarantine just might be the perfect time for The Ajumma Show hosts Peter Kim and Eunji Kim to start a cult. It's a conclusion the comedians come to early on in the latest episode of their podcast that takes a hilarious look at current events, pop culture, and their own lives, all through their POV as Korean-Americans just trying to make their ajummas proud. This week the focus is on the increasing emotional roller coaster of being in quarantine, from the hosts' secret wish to be kidnapped just to spend a little time away from their loved ones to what to consider most when expanding your quarantine pod: the physical NC-17 experience or the emotional PG experience. As upbeat and silly as the hosts are, they can't help but use their platform to shine light on issues facing immigrant communities. In this episode, they look at the suicide of Korean ICE detainee Choung Woong Ahn and dissect the nuances of specific Asian identities. Still, they manage to include even in the most weighty conversation a moment of levity, veering into a giggle-filled discussion of vengeful Korean ghosts. Part of Peter and Eunji's charm is their ability to bring wit, wisdom, and an infectious enthusiasm to everything they deem worthy to consider. —Brianna Wellen
Listen: Spotify | Apple | Website
Good for You - Kat Dennings
Host Whitney Cummings loves to hate having friends on her podcast. It's actually her favorite subject on most episodes of Good for You: how she hates asking people she knows to come on as guests, how she herself would hate to be asked, and how impossible it is to say no if you don't want to do it. Yet she keeps having guests who seem delighted to be there, which is the case with Kat Dennings, who starred in Whitney's show Two Broke Girls for six whole seasons. These are both women who might come off to the uninitiated as "intimidating," but it turns out they're pretty down-to-earth considering their level of success in Hollywood. Together they discuss saying no to stunt work on set, learning how to fight with boyfriends in real life, and a step-by-step breakdown of applying liquid eyeliner. It's tough out there for Kat and Whitney — not because they're women in comedy, but because L.A. has ruined crystal culture for people who have a genuine interest in mineral science. —Kathryn Doyle
Listen: Spotify | Apple | Website
Bob Saget's Here for You - Nikki Glaser 
Comedian and actor Bob Saget wasn't thinking "pandemic" when he decided it was time for him to jump into the crowded podcast waters — he'd had the idea for some time. But he pulled the trigger on Bob Saget's Here for You while sheltering in place and got a whole education on how to use Zoom to talk to friends and fans alike. This week he shares the tiny screen with comedian Nikki Glaser, whom he refers to as a kindred spirit. What he means by that is that they're both essentially "nice" people but have a penchant for some incredibly and unexpectedly dark and dirty material. Saget's been at this game for a long time, starting in the early '80s, and has honed his slyly subversive humor so sharply that, in the early going in this chat, Glaser takes a while to pick up on some oddly incestuous remarks regarding the relationship he had with his mother. (Seeing that in print seems wrong, but you have to hear how Saget delivers it to know it's all in warped fun.) Once she's on his wavelength, Glaser jumps into the scummy pool along with him ("Moving in with my mom and dad during this crisis might prove advantageous for my sex life," she says, hinting at some parental action in her future). It's not all down in the gutter; the two comics spend time talking about how they got started, how the COVID-19 situation is impacting their current and future work, and even some serious talk about child abuse. They cover a lot of ground that made me laugh but, if you've never heard this side of Saget before, you'll never look at Full House's Danny Tanner the same way again. —Marc Hershon
Listen: Spotify | Apple | Website
The Losers' Club: A Stephen King Podcast - Delores Claiborne
Join The Losers' Club. A reference to Stephen King's It, the weekly podcast aims to cover the writer's entire oeuvre, leaving no TV, film, print, or stage adaptation unturned. Hosted by a rotating full house of "Constant Readers" including Randall Colburn, Dan Caffrey, McKenzie Gerber, Mel Kassel, Jenn Adams, and Michael Roffman, it's safe to say they're succeeding. This episode Colburn, Caffrey, co-host Lara Unnerstall, and guest Ana Marie Cox brave the whipping wind and chilling spray of Little Tall Island to discuss King's 1992 psychological thriller Dolores Claiborne. Nothing is more amusing or reassuring than the group admitting that this book is "more of a monologue really than anything." It's a slight but specific jab that reveals the podcast's ability to find humor behind King's horror as the hosts both revere and interrogate the work. Laughs come again when they recall an old review wishing for more fleshed-out male characters, or more accurately, a book that wasn't focused on strong women. The throwback segues into a considered conversation about how different generations of women perceive themselves and their roles within a family. The rest of the episode just as thoughtfully examines the book's many themes, which makes for a fun and fascinating listen. —Becca James
Listen: Spotify | Apple | Website
Other Podcasts We're Listening To:
Reply Guys - Optimism Injection with Sen. Ed Markey
Listen: Spotify | Apple | Website
Improv Nerd - Will Luera
Listen: Apple | Website
Got a comedy podcast recommendation? Drop us a line at comedypodcasts@vulture.com.
If you like comedy and you like podcasts, we recommend you subscribe to Vulture's own Good One podcast, which releases new episodes every Tuesday on Apple Podcasts, Spotify, Stitcher, Overcast, or wherever you get your podcasts.