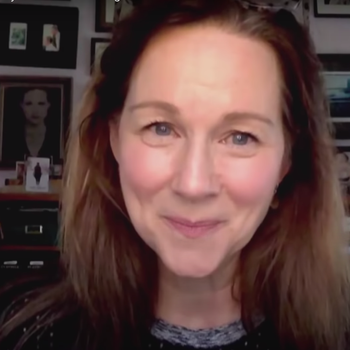 The face Laura Linney makes when you walk into an audition after her.
Photo: The Late Late Show With James Corden/YouTube
"Tomorrow, and tomorrow, and tomorrow/ Creeps in this petty pace from day to day / To the last syllable of recorded time; / And all our yesterdays have lighted fools / The way to dusty death …" Oh, I'm sorry. I didn't see you there. I was just randomly reading this line from Macbeth about the relentlessness and inevitably of time, for no reason whatsoever. It definitely has nothing to do with crossing the 50-day mark of quarantine this week. Let's see if our late-night hosts are handling the passage of time better than I am (the answer: probably).
5. Kristin Chenoweth Debuts New Boyfriend, Imitates Phone Alarms
Who else could pull off three semi-quick changes in one Zoom call but Broadway star Kristin Chenoweth? In what seems like a press tour to introduce the world to her new boyfriend, country musician Josh Bryant, Chenoweth stopped by Conan and Watch What Happens Live! this week with her signature quirky sensibility. She's easy and breezy. She's kooky and zany. And she doesn't need berries in her Captain Crunch cereal, thank you very much. Chenoweth and her sunshiny personality were truly a burst of fresh air in a dark time, whether she was talking about her quarantine sex life (it's good!) or playing Carole Baskin in a disco-infused musical number called "Little Pieces" written by Andrew Lippa. To top it all off, Chenoweth broke out that golden voice of hers and imitated various iPhone alarms. Her "harp" is uncanny. So brighten your day with Kristen Chenoweth, who didn't even know that she had a kitchen.
4. Jimmy Fallon as Nicolas Cage as Joe Exotic on The Tonight Show
[Heavy sigh] I know. You're exhausted. I'm exhausted. We simply cannot take any more Tiger King content. And yet, if we've learned anything from 2020, the universe doesn't give a damn what we can or cannot take. That's why this video of Jimmy Fallon as Nic Cage as Joe Exotic has to make the list of best late-night clips this week. We didn't ask for it — nay, we actually frankly said we didn't want it — and yet we have it anyway. That being said, Jimmy Fallon's Nic Cage is undeniably good, and the Russian doll of impersonations adds a fun twist to something we've seen over and over again. If we must have more Tiger King content — and it looks like we must — then please let it be as absurd (and short) as this video.
3. Cheap Dad Anderson Cooper on The Late Show
One week into his new role as new daddy, Anderson Cooper stopped by The Late Show With Stephen Colbert to provide a heartwarming update on the status of his 7-day-old son, Wyatt Morgan Cooper. "It's like tectonic plates shifting," said Cooper on fatherhood. "But except it doesn't leave you in rubble. It's a good tectonic shift." Cooper went on to reveal what we all want to know: Are baby Wyatt and baby Benjamin Cohen, Andy Cohen's newborn son, baby friends? While we don't know whether they've met yet (Wyatt is only 7 days old, after all), Cooper did confirm that Wyatt's closet comprises hand-me-downs from baby Ben. "My son is entirely wearing hand-me-downs from Andy Cohen's son," said Cooper. "I'm inherently cheap. I like a good value … I want my son to be a Depression-era child who grows up wearing hand-me-down clothes." Wow, seven days into fatherhood and Cooper has already turned into a cheapskate? He really is gonna be a great dad.
2. Sandra Oh Makes Canada Proud on Jimmy Kimmel Live!
O Canada! In a nice reprieve from the horrors of our own country, Jimmy Kimmel Live! took us on a little trip up north with a quiz segment starring Canadian Killing Eve star Sandra Oh. Having watched (almost) every episode of Grey's Anatomy, I was at once surprised that Oh was Canadian and even more surprised that she wasn't currently at the hospital prepping for a cardiovascular surgery until I remembered that she isn't a real doctor, she just expertly played one on television for most of my childhood. Oh shouted out the many actual doctors and surgeons she worked with over the course of Grey's Anatomy before absolutely nailing Kimmel's quiz "Is It Canadian?" Apparently, the Zamboni machine and flannel (two of the most Canadian things that exist) are not actually Canadian, but the California roll and Hawaiian pizza are Canadian? Make it make sense.
1. Laura Linney Dunks on Bad Actresses on The Late Late Show
Imagine you're a young actress who's been lucky enough to receive a callback from Juilliard. You've got your wig and your sword; you're prepping for your monologue waiting for the opportunity of a lifetime when Laura freaking Linney walks in the door and signs in to the slot directly after yours. This exact scenario — complete with the wig and the sword — happened to one unnamed actress, and Laura Linney went on The Late Late Show With James Corden and recounted the tale as though it were yesterday.
Corden asked Ozark actor and national treasure what she considered her breakout role to be, and, like all good drama school–trained actors, she responded with getting accepted at Juilliard. Linney went on to tell two stories about auditioning for Juilliard — one about the women who came with a wig stand and a sword and one about another woman at the callback who left the audition because she "really connected" during an improv, which is one of the darkest things I've ever heard. Linney went in, did her two monologues (one of them was Hermione from The Winter's Tale … okay, Shakespeare is a mood today) and left certain that she didn't make the cut but forgot the fact that she's Laura freaking Linney. No shade to those other women, but a wig stand, sword, and connected improv are no match for Miss Linney, member of Group 19.