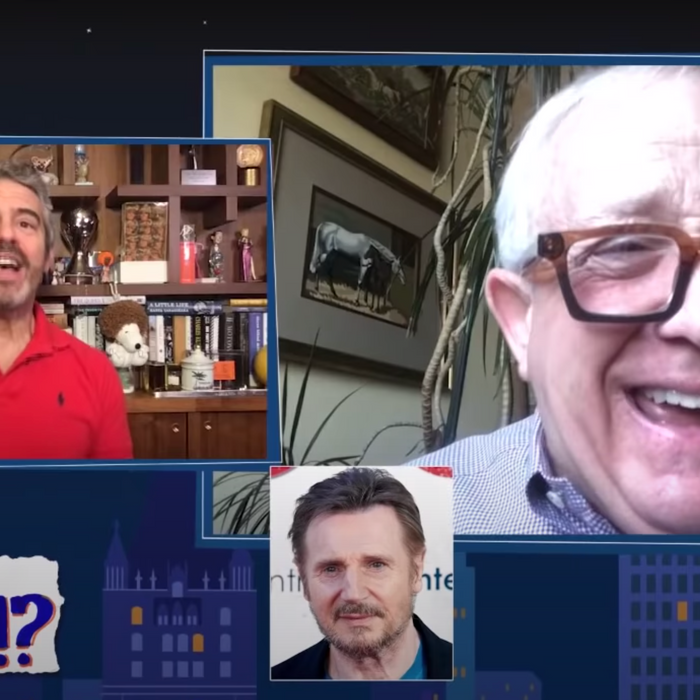 Laughing about rumors surrounding Liam Neeson. Photo: Courtesy of Watch What Happens Live With Andy Cohen/YouTube
Happy Memorial Day Weekend "Rain on Me" release weekend! During a tough week of saying good-bye to comedy legends Fred Willard and Jerry Stiller, late-night television was a little quieter than usual leading up to the long weekend. That being said, there were still plenty of laughs from your late-night hosts as we gear up for the best summer of our lives a time that will share certain weather-related qualities with a season we used to call summer. Who's ready to [checks notes] crank that AC as you gingerly move from your bed to your couch to order more face masks? Without further ado, here are the best moments from late-night television this week:
5. Ben Stiller Calls His Father on Acid
Imagine dropping acid and then hopping on the phone with Arthur Spooner. Ben Stiller stopped by The Tonight Show With Jimmy Fallon to tell a few stories about his late mother Anne Meara and the recently deceased Jerry Stiller. While it could have been a somber occasion, Stiller shared sweet and touching memories about his dad that brought a smile to all of our faces. Confirming Jerry Seinfeld's belief that his dad was perfect, Stiller said, "The way that he was funny, I mean, he was aware that he wanted to be funny, but he wouldn't go for a laugh. He would just be himself." A true natural. Stiller goes on to tell a story about the first time he dropped acid as a New York City teen, and how he freaked out so much that he called his dad. Jerry was across the country shooting an episode of The Love Boat with his wife, but still was able to talk Ben down. "I know what you're feeling," Stiller recalled his dad telling him over the phone. "When I was 10 years old I smoked a Pall Mall cigarette and I was sick for two days." Truly hilarious even when helping his son come down from an acid trip.
4. "Remembering Fred" on Jimmy Kimmel Live!
If Jerry Stiller's death was a blow to the comedy community, then Fred Willard passing away at age 86 that same week was a palpable one-two punch. As such, Jimmy Kimmel Live! devoted an entire episode to frequent guest Willard, titled "Remembering Fred." It was a veritable "Best Of" package of all of Willard's hilarious appearances on the late-night program. Some personal favorites include Willard as coked-out beachgoer Goose Halpern, the ghost of Fred C. Trump, and that time he punched a random guy in the balls and then shouted, "Cup check!" Cup check? Inspired. Also, his Ruth Bader Ginsburg gives Kate McKinnon a run for her money. What a funny guy.
3. Can These People Sing?
Okay, it's been a pretty sad list so let's spice it up with America's favorite pastime: live singing competitions! On Tuesday, May 19, The Late Late Show With James Corden had Masked Singer judge Ken Jeong determine which of their staffers can or cannot sing in a segment called "Can They Sing?" As someone who grew up on singing-competition shows and watched every episode of this season's American Idol (congratulations Just Sam!), let the record show I do not believe Ryan Seacrest had a stroke during the season finale, but I do think he got a bad batch of Botox — but I digress. Basically, this is the content I crave. My favorite contestant is a production designer named Lou who looks like an extra off The Sopranos set and reveals that his favorite artists are Harry Styles and Lady Gaga (the taste jumped out!). All six contestants end up singing a little bit of their favorite songs and are just so vulnerable on national television, which I love to see. While Lou absolutely cannot sing, I would download his cover of "Watermelon Sugar."
2. What Happens If You Can't Pay Rent? With Hasan Minhaj
After a short hiatus, Patriot Act With Hasan Minhaj returned to Netflix and asked the tough questions, namely, "What happens if you can't pay rent?" As someone who loves to ignore stark realities and things that I don't want to deal with, I must admit that I had not yet seriously grappled with the question that millions of Americans face as a result of our collapsing economy. Thankfully, Minhaj is here with a ton of answers and jokes to soften the blow. Most notably, Patriot Act set up a website, DontGetKickedOut.com, to provide resources to renters who want to know their rights. Not only is it informative, but Minhaj gets in some great digs, particularly at Skype. It is pretty insane that we have used Skype as a verb for 15 years and at the hour we need it most, we've all turned to Zoom. I guess Zoom really is that girl.
1. Leslie Jordan on Watch What Happens Live
It might not be Father's Day yet, but that did not stop internet sensation and quarantine darling Leslie Jordan from picking his favorite daddies with new dad Andy Cohen on Watch What Happens Live! In a segment called "Who's! Leslie's! Daddy!?" Jordan, joined by national treasure Amy Sedaris, is more than happy to share his thought process as he chooses which male celeb he'd rather be his daddy. Liam Neeson versus Ralph Fiennes? Neeson because Leslie "has heard rumors," if you know what I mean [wink, wink]. Idris Elba versus Daniel Craig? Daniel Craig, but only because Leslie has seen pictures "and he seems little." George Clooney versus Brad Pitt? George Clooney, who once played one of his classic pranks on Jordan on the set of Bodies of Evidence before he was famous.
"I was on a diet," Jordan says. "Well, you know, I'm always on a diet, and I kept telling everybody I'm on a diet and I'm trying so hard." What a relatable queen. Apparently, Clooney heard about the diet and told the costume people to take an inch out of Jordan's pants every day, causing Jordan to believe that he was losing weight at rapid speed. "I'm not losing pounds, I'm losing inches!" The nicest prank I've ever heard. The daddy that gets the biggest reaction is Dylan McDermott, who Jordan crowns "the king daddy ruler." While all this is top-spot worthy, Jordan earns the No. 1 slot when he reveals that we have the same taste in men: "great, big, and kind of stupid." All hail Leslie Jordan, a short king who knows what he wants in a man.