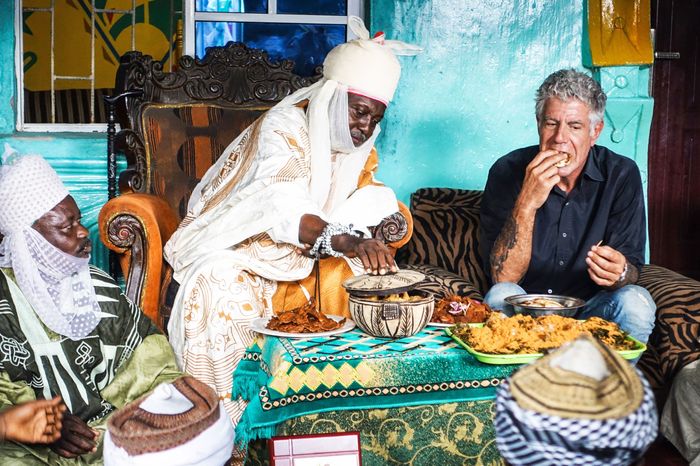 Anthony Bourdain
Photo: CNN
The comedy-podcast universe is ever-expanding, not unlike the universe universe. We're here to make it a bit smaller, a bit more manageable. There are a lot of great shows, and each one has a lot of great episodes, so we want to highlight the exceptional, the noteworthy. Each week, our crack team of podcast enthusiasts and specialists and especially enthusiastic people will pick their favorites. We hope to have your ears permanently plugged with the best in aural comedy.
Iconography — Anthony Bourdain (with Clare O'Kane) 
After a four-month hiatus, Iconography has finally returned to rescue listeners from the quarantine doldrums. Clare O'Kane (Comedy Central) joins hosts Ayo Edebiri and Olivia Craighead for an homage to unimpeachable American icon Anthony Bourdain. First, Edebiri shares her latest obsession: composer Maurice Ravel, described as "yucky, yucky man, good music." The three continue to revel (sorry) over Bourdain's capacity for change, his ability to experience other cultures in a respectful way, and most of all, his ability to pull off a leather jacket. The term BDE is also reappropriated from Pete Davidson to Bourdain, BDE's original inspiration. After speculating about Bourdain's sexual prowess ("sex game good"), they point out the many similarities between the restaurant and stand-up career paths. Turns out, both drugs and getting paid in drink tickets are bad for your teeth. The memorial is capped off by the usual fuck, marry, kill: Bourdain's writing, his empathy, and that jacket. Bourdain is an icon often attached to sadness, but this silly celebration represents everything fans have missed about Iconography. —Mark Kramer
Listen: Spotify | Apple | Website
Confronting Demons With Megan Stalter — Confronting Mischief (with Victor Carlesi)
Feeling cooped up with your inner demons lately? You're not alone. As comedian Megan Stalter says, "We all have demons — the things in life that we're scared to face." Fortunately, she's decided to confront hers — and she has more than "anybody in the history of the world" — in a way we can all enjoy if not emulate. Each Tuesday, Stalter invites her funny friends to play the "horrible devils in her life" so she can conquer them before circling back on Thursday for an interview episode with those same friends. The twofer setup is a generous gift in times of isolation. This week, she confronts fan Victor Carlesi and her brother Nick Stalter about a recent catfishing incident. It turns out the guys tricked our lovely host into thinking she had found her one true love, a French man named Mischief, whom she has never met in real life. The reveal, while deeply upsetting for Stalter, is hilarious as she yells, "Are you joking my ass?!" in response. Stalter's signature comedic cadence is consistently amusing and so is her podcast, which she frequently suspects no one listens to. Prove her wrong by tuning in. You won't regret it. —Becca James
Listen: Spotify | Apple | Website
Conan O'Brien Needs a Friend — J.J. Abrams 
Oftentimes a long-form podcast interview has a humanizing effect on larger-than-life personalities that just can't happen in a seven-minute TV talk-show segment. Such is the case with TV and filmmaker J.J. Abrams (Lost, Star Wars: The Rise of Skywalker) when he Zooms in for Conan O'Brien Needs a Friend this week. As has often been the case with guests on this show, O'Brien and Abrams are already friends, going back quite a ways. While there are science-fiction purists who take the filmmaker to task for some of the choices he's made with their beloved franchises, it's clear from the excitement in his voice that Abrams is really the biggest fanboy of the genre housed in the body of a guy who's been tapped to shepherd the beloved properties. Abrams and O'Brien also delve into the annoyance of movie trailers that give away the entire film. On the flip side, "it's such a weirdly specific art form," says Abrams, who reveals that the trailer for his movie Cloverfield was shot before any of the actual movie had been made. The two men also deduce the problem that has kept O'Brien from becoming a matinee idol all these years: a highly visible vein under his right eye. —Marc Hershon
Listen: Spotify | Apple | Website
Newcomers — The Mandalorian
At last, Star Wars newcomers Nicole Byer and Lauren Lapkus have reached the Disney+ show The Mandalorian, which means they finally made it to Baby Yoda — thank God or the Force or whatever. Four months ago, before either had seen any Star Wars movies at all, Baby Yoda was their "only hope," the only unit of media in the whole franchise that seemed to be worth getting to know, and they've had to forge through all the different Bobas and Babus to find out they were right all along: Baby Yoda is the best character in the whole thing. Guests Griffin Newman and David Sims of Blank Check are here to witness this momentous event, which is fitting since their own podcast began as an exhaustive/torturous exploration of Star Wars: Episode I. But the universe hangs in the balance between good and evil, light and dark, so as cute as Baby Yoda is, there are equally chilling corners of YouTube where moms treat Baby Yoda dolls like living human infants. Plus they check in on Jon Favreau, Amanda Bynes, Drake, and the future of Newcomers: Whether or not they finish watching all the episodes of The Mandalorian, the Lapkus-Byer collab will continue covering some kind of franchise. Not to get too deep here, but it's really nice to have two women in entertainment owning the fact that they haven't seen and have no interest in seeing a pillar of nerd-culture patriarchy (and making content out of it, why not). It doesn't have to be blasphemy to admit that you haven't seen something. —Kathryn Doyle
Listen: Spotify | Apple | Website
Other Podcasts We're Listening To:
Dunktown — Tim Baltz + TV Review: The Last Dance (2020)
Listen: Spotify | Apple | Website
The Smartest Man in the World — Wards
Listen: Spotify | Apple | Website
The Last Laugh — Patton Oswalt Sounds Off
Listen: Spotify | Apple | Website
If you like comedy and you like podcasts, we recommend you subscribe to Vulture's own Good One podcast, which releases new episodes every Tuesday on Apple Podcasts, Spotify, Stitcher, Overcast, or wherever you get your podcasts.