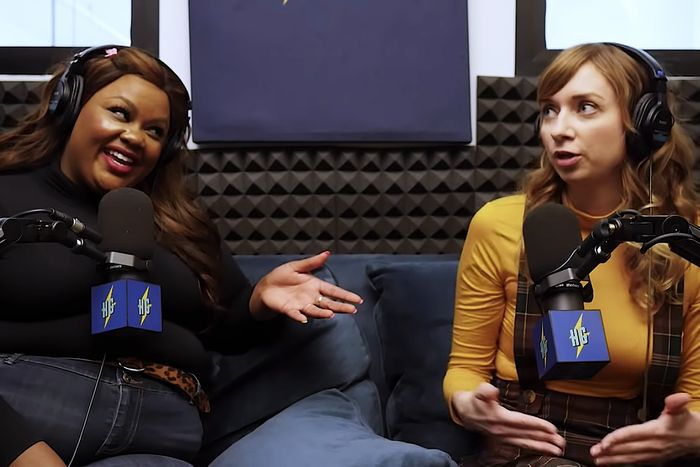 Nicole Byer and Lauren Lapkus.
Photo: Headgum/YouTube
The comedy-podcast universe is ever-expanding, not unlike the universe-universe. We're here to make it a bit smaller, a bit more manageable. There are a lot of great shows, and each one has a lot of great episodes, so we want to highlight the exceptional, the noteworthy. Each week, our crack team of podcast enthusiasts and specialists and especially enthusiastic people will pick their favorites. We hope to have your ears permanently plugged with the best in aural comedy.
Newcomers - Star Wars Day & Star Wars Toys! (w/ Connor Ratliff)
While most of the United States remains under house arrest due to the ongoing COVID-19 pandemic, pop-culture aficionados peeked out from their bunkers this week to celebrate the unofficial Star Wars holiday that is May the 4th. Much like the Rebels breaking through the Hoth blockade, Newcomers to the extended Star Wars universe Nicole Byer and Lauren Lapkus virtually broke through the quarantine to partake in this year's festivities. To help ring in the celebrations, Byer and Lapkus welcome comedian and George Lucas impersonator Connor Ratliff (Dead Eyes). Ratliff, a lifelong Star Wars fan, details his experience with the pop-culture behemoth and gives some background on how Star Wars Day came to be. As Ratliff details, there isn't much more to the story other than, "May 4th sounds like May the Force." Good job, Star Wars fans! Byer and Lapkus recently finished their tour through the main movie saga, so Ratliff came ready to throw some fun trivia questions their way. Without giving away the outcome, let's just say these Newcomers have traveled a long way, through a galaxy far, far away … —Tom Rainey
Listen: Spotify | Apple | Website
The Podcast for Laundry - "The End" with Tom Scharpling & more
After a dozen seasons, The Podcast for Laundry's run as "the only show meant to be listened to while you're doing your laundry" has come to an end. No, comedian Brett Davis hasn't been usurped by another laundry enthusiast. Things are much more dire than that. A tiger mauled Davis around the time he tried to join forces with a cultish megachurch, which has left him on his deathbed where he is visited by, among others, The Best Show's Tom Scharpling. If you're new to The Podcast for Laundry, this is the exact sort of absurd and compelling fun it's known for. Ostensibly a show where Davis "talks suds with his buds," it's offered one of the wildest rides in podcasting to date. Davis's ability to consistently reinvent the show rivals Madonna's work. Most notably, the podcast takes a sharp turn midway through its surreal journey, which leads to multiple murders, a mob trial, and a wedding between Brett and his beloved Tide bottle. Davis's level of ambition, paired with his dedication to the bizarre, will be greatly missed. But given that history has a way of repeating itself, who's to say we won't be blessed with another reincarnation of the show one day?  —Becca James
Listen: Spotify | Apple | Website
Mall Talk - Blockbuster Music w/ Big Dipper
Despite a stay-at-home order, comedians Paige Weldon and Emily Faye continue to transport us to the mall. Of course, the trips rely on the magic of reminiscing, as Weldon and Faye invite us to remember mall memories from both the distant and near pre-quarantine past. This week Big Dipper (Sloppy Seconds podcast) stops by to "talk about taking the bus to downtown Evanston's Blockbuster Music, learning tricks at the magic store at Chicago's Navy Pier, and wanting nothing more than to eat at the Olive Garden on the outskirts of the mall." Yes, this is a highly relatable episode. And if you haven't heard, Olive Garden is currently offering to-go BOGO entrees. Thanks for the tip. Speaking of BOGO offers, Big Dipper reminds listeners that mall mainstay Abercrombie & Fitch would often offer two-for-one polo prices because people were literally wearing two polos, collars popped, at the same time. Later, a discussion about mall kiosks provides a warm, fuzzy, and funny detour that comes as close to a real kiosk pit stop as possible. Thank you, Mall Talk, for allowing listeners a charming and amusing outing to the comfort of our old stomping grounds. It's a much-needed excursion in these times of confinement. —Becca James
Riled Up With Arielle & Matt - Riled about Zoom dating and aliens
"I woke up this morning and it felt like Groundhog Day, the movie," says Matt Cutshall, co-host of the Riled Up podcast, summing up the way many people have been expressing the sameness of life in lockdown during COVID-19. His podcast partner and fiancée, former Vine sensation Arielle Vandenberg, concurs, complaining about not wearing anything but sweats day after day. Having only kicked off their funny rolling bitch sesh of a podcast in isolation at the end of March might sound like a bad launch plan, but with over 2 million followers on Instagram between them, their ready-made audience is eating it up. Being locked up in Los Angeles with only their dog, Stinky, as third-party company has made the couple prickly about any number of things, and their free-floating anxiety spills out about tie-dye ("I want T-shirts made because it's coming back!" enthuses Cutshall), the refreshing nature of reality-TV dating shows over scripted fare, how singer Shawn Mendes is now Vandenberg's "hall pass," and the curious new sensation of "Zoom dating." The two have a sarcastic, fun energy — exactly what you'd hope an IG couple would exude. The weirdness is rounded out by Vandenberg recounting a story about her and her mother chasing what she insists was a real live leprechaun ("A tiny man in a green suit with bright red hair, carrying a briefcase!") through the streets in Ireland in more carefree days. —Marc Hershon
Listen: Spotify | Apple | Website
Other Podcasts We're Listening To:
The Underculture - Tony the Tiger & Carole Baskin (w/Megan Stalter)
Listen: Spotify | Apple | Website
The Three Questions - Michelle Wolf
Listen: Spotify | Apple | Website
My Spectacular Life! A Memoir in the Key of Storytelling - A Star Is Birthed!
Listen: Spotify | Apple | Website
Got a comedy podcast recommendation? Drop us a line at comedypodcasts@vulture.com.
If you like comedy and you like podcasts, we recommend you subscribe to Vulture's own Good One podcast, which releases new episodes every Tuesday on Apple Podcasts, Spotify, Stitcher, Overcast, or wherever you get your podcasts.