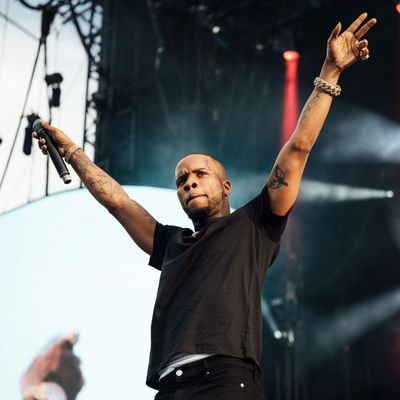 His Instagram Live show Quarantine Radio has become must-see internet TV
—
so much so that Tekashi 6ix9ine's noisy return to social media began with a quick appearance in its comment section.
Photo: Scott Garfitt/Shutterstock
Part rapper, part singer, and part heir to the throne of BET Uncut, Ontario hip-hop star Tory Lanez has carved out a unique path to fame that began as an overactive youth bouncing between family in Montreal, Toronto, New York, and Atlanta, then broke big thanks in part to Chixtape, a mixtape series on the front line of the new wave of modern R&B singers flipping samples from popular hits of the '90s and aughts; The New Toronto, a second mixtape series full of melodic rap cadences and sweeping, cinematic beats made in large part by Miami producer Play Picasso; and hits like "LUV" and "Say It," which incorporated singing, rapping, and samples into soulful trap as capably as Ontario's other major musical exports.
Lanez became an unwitting center of attention on social media this spring as his routine Instagram Live sessions evolved into Quarantine Radio, a raunchy hip-hop variety show pairing Lanez's boisterous personality with a legion of fans willing to act out for the props and famous guests including Drake, Megan Thee Stallion, and the Weeknd. A typical show begins with a mix of hits and banter, like drive-time radio, but veers left when Lanez introduces "the talent," an endless array of fans and dancers creatively carrying out twerking challenges. As "Demon Time" has emerged as a kind of makeshift strip-club VIP room for Instagram, Quarantine Radio is sort of like its "Howard Stern Show." It plays recklessly but always by the books. (It's must-see internet TV, and you can tell because Tekashi 6ix9ine's noisy return to social media began with a quick appearance in the Quarantine Radio comment section.)
I caught up with Tory Lanez on the phone last week about the logistics of hosting an Instagram Live stream that regularly gets upward of 400,000 viewers, and the course he's plotting since April's The New Toronto 3 completed his five-album commitment with Interscope Records.
There are a lot of artists watching how this moment unfolds before they make moves in it, but you didn't miss a beat. Quarantine Radio became one of the biggest Instagram entertainment shows of the pandemic almost out of the gate. Why do you think it's connecting the way it has?
Honestly, I think it's 'cause celebrities can stop by and tell us what they're doing if they wanna promote anything, but also it's a great place for people to come and feel like … nothing's messy. We're very people-oriented. The greatest thing about Quarantine Radio is that it's made by the people for the people. That's why they like it. That's why it's dope.
Did you grow up listening to much radio? The way you host reminds me of ratchet radio I grew up on.
It's not that I listened to much radio. I was more so a fan of the old basketball video games, like when the commentator was like, "He's on fire!"
NBA Jam!
"He couldn't hit the backside of a barn!" Stuff like that always stuck in my head. Super nostalgic. I think that's what inspired me. I always looked at DJs on the radio, like, If I had to host a radio station, this is how it would sound. When I made records, in order to make it feel like a was a hit, I used to play the start of the record and do the radio voice, so it sounded organically like it's coming out on the radio. When the record was done, in the last 15 seconds, I would be like, "That was Tory Lanez with dadadada on KFM." I would do that to hear if it sounded like it was one of those records that belonged on the radio. It ended up being something people liked and found funny and entertaining.
Are you just always in trouble with Instagram for content? How many times have you been shadow banned?
That only happened like one time. Sometimes when I have too many viewers, I think the app can't really process it. Usually, if I pass 230,000 viewers at the same time, after a while it'll time me out, or I won't be able to request anybody.
There's people who'll have 400,000 on at one time, and it'll be smooth. I feel like there's choosing going on.
I think the thing about it is the volume of how many people you're calling. It might be smooth for them because they're not calling 70 people. I don't think it's a me thing. I think the app just stops working as smoothly as it usually does.
Word is you've gotten an offer to put Quarantine Radio on TV. Are you plotting anything bigger than music?
Multiple offers. I'm definitely looking forward to anything that feels right. I don't ever wanna force anything I'm not willing to do, looking at the opportunity over the taste. The taste is always more important than the opportunity. I would never try to remake exactly what Quarantine Radio was on television cause I don't think it would have the same effect, but I would like to do something.
The milk challenge … where did that come from?
Honestly, I don't even remember. I was like, "You know what? Let's start something new." I told someone to grab the milk, and from that point it kept going. I don't even know how. It became this thing we couldn't control. Now I can't even get online without someone throwing milk on themselves.
I've had the opportunity to do things I don't think a lot of radio hosts get the opportunity to or haven't gotten the opportunity to in 20 or 30 years, as far as different people that have come through Quarantine Radio. We had DMX do the official growl. We had Snoop Dogg come and say "S N Double-O P D O Double-G." We had Raven-Symoné dancing to the That's So Raven theme song. It's crazy that the pandemic kind of brought everybody together enough for us to make it successful.
How is actual quarantine going for you?
I'm great, man. I'm chilling with my son. I'm being very creative. I'm writing a screenplay right now. I'm very much into the arts, cinematics, cinematography, and directing my own videos. I edit all my music videos, so I've been writing a screenplay, because I wanna take it to the next level.
Short film or feature length?
Actually, I'm gonna write a series. It's a series of episodes. It's gonna be great. The way I write and the way I sequence … I know the world's gonna enjoy it.
You started a relief fund for families effected by the pandemic. What motivated that?
During the pandemic I've been looking at the Earth and the way society is going, just thinking about kids and people who are in unfortunate situations during this time and don't have a house to quarantine in. I wrote on Twitter one day: "Mark my words, I'm gonna create something like the Boys and Girls Club for kids in unfortunate situations." And make it something that allows them to not only play basketball and stuff but to follow their dreams. I wanna have a recording studio in there, a photo studio in there, things that have to do with the arts. I wanna have drama class in there that teaches them acting.
Me and my dad got together. We were like, "If we're gonna do this, let's do it properly." Two or three weeks later, we created Dream City. Then me and Amazon Music got together to work with this charity. When we did it, I found out [the charity] was actually called "Dream Center." I was like, "Wow, it's meant to be." The Dream Center provides diapers and meals specifically for women and children in homeless centers. I thought it would be great to be the first seed we sow as a charity and nonprofit organization. We donated 100,000 diapers and meals to those centers.
Was there a point where you thought about holding New Toronto 3 back and maybe waiting this thing out?
No. New Toronto 3 was one of those records where I was like, "This is great. Let me just get this out." The whole thing with the label … It's like "this is a good enough to pass" type of project, because I don't have to do this anymore. I can make what I want to make now. I just put it out. I wasn't really upset about it. I didn't feel like I had to hold it back. I just felt like … the music has to drop.
What does it feel like putting out an album while it's not possible to tour or drop into radio and TV?
You know what it is, Craig? I don't be caring. I don't care about the way I'm supposed to roll [an album] out. I posted the cover art a week before it came out. There was no promo at all. I just care about the fans getting music that's gonna make them feel good. People are bored during this pandemic. People have nothing to really look forward to, and I hope my music brings them some sort of hope during this time, and that's all that's important to me. I'm not always gonna be here to drop music.
And I'm not worried about the numbers not being right and streaming being down because of the pandemic — it still did great. [Ed. Note: The album hit No. 1 in Canada, and the top five in the U.S. and U.K.] I couldn't ask for nothing else. It's like, if this works, this shows me what's possible.
On "Letter to the City 2," you talk about going independent and being happy about it. What went left with Interscope?
It's not that anything really went left. I had a sub-label within Interscope that a lot of the issues happened with, which hindered a lot of the time in my career that I could've been doing other things. I don't wanna get too far into it.
Was it difficult tracking people down to clear samples to get the Chixtape series up on streaming services?
You gotta think about it: 96 writers, 104 clearances. This producer. This guy made an ad-lib. Stuff like that. We did it single-handedly, without the label. Once that happened, we realized being independent wasn't gonna be hard for us.
Was giving Chixtape 5 and New Toronto 3 to the label as official releases back-to-back a plan to run the clock out on your deal?
Kinda. I'm one of the few artists that exceeded five albums. I recouped my publishing deal three times. If we're talking about sales and what the label spent versus what they made, I exceeded my record deal probably 27 times. It's gonna show now that I can put out music constantly, without having to … You know …
Without the bureaucratic aspect?
Without the person who's in charge of the label not letting me put something out. When you're somebody else that's the guy who's making the decisions, to step beside a guy like Play [Picasso] who's very talented … sometimes I think it was a little intimidating for the people who were in my corner at the time.
You've said you're sitting on some records you didn't put on the last two projects. Are you trying to let New Toronto air out for a while or are you looking to get right back into it?
I got a new record dropping on May 15. It's called "Temperature Rising." I'm completely independent and I know I'm still gonna do the same numbers, because my fan base is loyal. We're just gonna keep on going. I'm not waiting for nothing now. I own all my masters. I own everything. Everything in the catalogue is mine at this point. Why would I not just keep going crazy?
You had a Verzuz battle against French Montana. Would you do that again?
It wasn't an official Verzuz battle. That was me and French Montana one day like, "Yo, let's go head to head." I wouldn't mind doing it again. But I would have to do it with somebody who's been in the game as long as me.
Did your new song "Cold" come out of that?
It actually did. We made the record the next night. That record is actually starting to become a TikTok sensation. They made a dance and a challenge and it's starting to become a thing. It's crazy how TikTok works.
I've been wondering for a while. Have you heard of Tory Lane?
The porn star? Of course. I gotta get her for a video one day.
When I first heard there was a Chixtape by a guy named "Tory Lanez" a few years back, I was like, "This guy's clever."
Both my names were given to me at two different times. "Tory" comes from Notorious [B.I.G.]. "Lanez" came from a janitor in my projects who used to call me that 'cause I used to always be running around in the street. I mean running in the street like playing chicken, doing dumb stuff.
I really thought it was a porn joke.
[Laughs.] Nah.