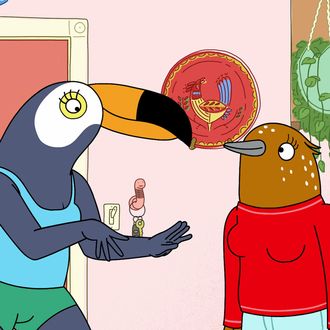 I want that little worm key holder.
Photo: Netflix
Like a mensch who nurses a baby bird back to health after it falls out of its nest, Adult Swim has picked up Tuca & Bertie for a second season after it was so rudely dropped by Netflix three months after its premiere in 2019. We lamented the loss of Lisa Haniwalt's vibrant, idiosyncratic series about two bird women voiced by Tiffany Haddish and Ali Wong, which blended often-surreal humor with affecting depictions of everything from workplace sexual harassment to "sex bugs." On May 22, Adult Swim tweeted, "Let the party begin. A new season of Tuca and Bertie is coming to Adult Swim in 2021."
Haniwalt seems overjoyed to share the news.
In the past couple of years, Adult Swim has developed more female and nonbinary-driven projects, (up from "zero") with shows like Three Busy Debras and shorts from comedians like Sarah Squirm and Lorelei Ramirez. Tuca & Bertie will be a (bird pun) feather in its cap (sorry).