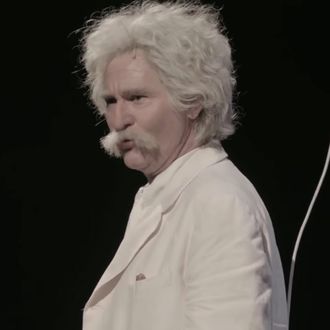 Val Kilmer as Mark Twain in
Cinema Twain
.
Photo: Val Kilmer
Reading Taffy Brodesser-Akner's recent New York Times profile of Val Kilmer, it becomes increasingly apparent that the Batman and Tombstone actor's twin obsessions are Christian Science and Mark Twain. Christian Science, as Kilmer tells it, is what made it possible for his car to physically pass through incoming drivers "without material disturbance to either of their bodies or vehicles" during a car crash. Mark Twain, meanwhile, is one of the guiding forces in his life. Kilmer makes artwork of Twain. He runs a charity — TwainMania — devoted to teaching Twain to students. He has played Twain in a traveling one-man show turned film presentation called Cinema Twain. Most recently, he self-produced an animated film called Mark Twain Dreams of the Resurrection — a kind of fantasy about Twain realizing that Christian Science founder Mary Baker Eddy "was correct about God's eminent perfection." In reality, Twain and Eddy never met and Twain denounced Christian Science, but as Kilmer told Vulture in 2017, that disbelief was just one of Twain's "own shortcomings." Kilmer was going to debut the animated film at South by Southwest this year before the festival was canceled. We couldn't track down any traces of this film's existence online, but we have made a detailed history of Kilmer's obsession with Mark Twain.
In the 1993 movie Tombstone, Kilmer played Doc Holliday and said the line, "I'm your Huckleberry." The weirdest thing about the importance of this line is that it is apparently in no way a reference to Twain's Huckleberry Finn. In 2020, Kilmer published his memoir, and called it I'm Your Huckleberry, in which he does actually describe a memory of reading Huckleberry Finn for the first time "as a kid."
On December 31, 2007, a YouTube channel called Valshelpers posted a ten-minute-long "trailer" for a film called Mark Twain & Mary Baker Eddy, a film written, directed, and produced by Kilmer. In the clip, Kilmer is in character as Twain, talking about Mary Baker Eddy and Christian Science, accompanied by historical photographs of Eddy and a canned laugh track meant to sound like a stand-up audience. The jokes don't really translate.
In 2010, Kilmer made a website to promote Mark Twain & Mary Baker Eddy, in which he concedes, "Though Twain and Eddy never met in real life, they no doubt imagined many encounters. This screenplay takes flight through their imagination — playing still further on Twain's questions about mind and body, life and death, illusion and reality." He refers to his vision for the film as "a classic love story in the spirit of Driving Miss Daisy." According to an October 2010 blog post in the "Director's Notes" section of the site, the role of Mrs. Eddy had not yet been cast.
In 2011, Kilmer played Twain in a film adaptation of Tom Sawyer & Huckleberry Finn, shot in Bulgaria. The film wasn't released until 2014, when it had a very limited theatrical run.
Kilmer told Vanity Fair in 2012 that he came up with the idea of writing and performing a one-man show as Mark Twain while doing research for Mark Twain & Mary Baker Eddy. He performed the show, called Citizen Twain, at the Hollywood Forever Cemetery in 2012, before touring the country with it. As he explained to Vanity Fair, "Really, the only way to understand Twain is when he's on his feet and talking." Vulture also blogged about the Citizen Twain debut at the time, and how Kilmer was comparing Twain to Jon Stewart and Stephen Colbert, as if he were the first person to make that connection.
After receiving a tracheotomy treatment for oral cancer, Kilmer resumed touring with his renamed project, Cinema Twain, now a 90-minute filmed version of his Mark Twain stage show. Vulture interviewed Kilmer in 2017, when he brought Cinema Twain to New York. In the interview, he called Twain's work "flat-out stand-up comedy." Here is what he told us about why he wrote a one-man show in the voice of Twain:
Simply bearing down on the big questions: What and who is God to me? What's at the core of Twain's soul? What does it mean to be an American? What does it mean to be a real artist? Twain is an honorary founding father, so I was very much interested in his love of humanity and specifically Americans. He perhaps did as much as President Lincoln did to confront racism in our lives. We owe him a solemn debt. And he did it through love, and compassion, and art. So, you bet he would have something loud to say about cutting the NEA.



In 2019, Kilmer hosted a benefit for his TwainMania Foundation, an initiative that "uses educational curriculum to teach students about the meaning of being an American through the legacy and historical writings of Mark Twain." In an interview with The Hollywood Reporter, Kilmer said of Twain:
I completely believe his impact is tantamount to the impact of rock and roll. It's that big, because it no longer matters on the radio if Little Richard was black or white, you're dancing to it. And rock and roll changed the face of America and changed the rest of the world. And I think Mark Twain's impact about race and greed is equal, in that kind of comparison.



Which brings us to Kilmer in 2020. According to the New York Times profile, he currently keeps a "maybe two-foot-tall Batman figure with a Mark Twain head" on his desk. The coronavirus may have put the SXSW debut of Mark Twain Dreams of the Resurrection on hold, but Kilmer's spirits are high. On April 12, Kilmer posted a picture of himself wearing metallic alien antennae to Instagram, with the caption: "The best way to cheer yourself up is to try to cheer somebody else up." The quote is attributed, of course, to Mark Twain.