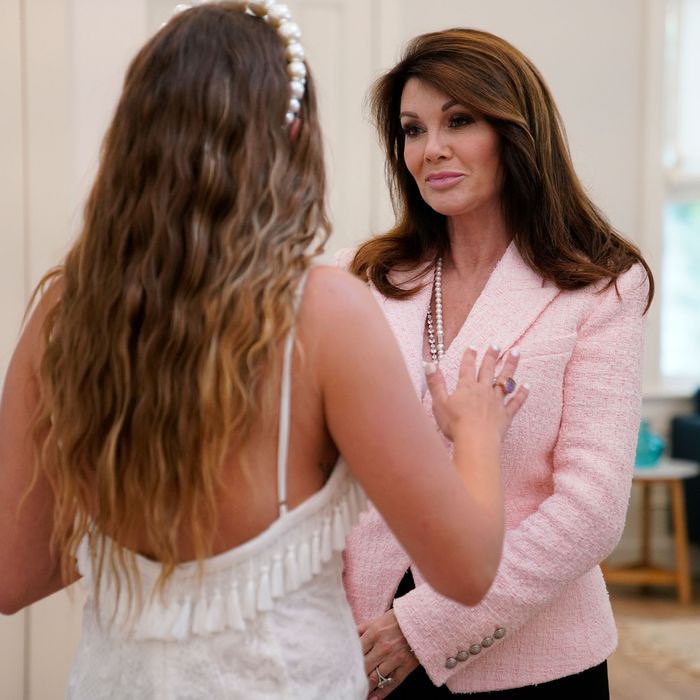 Let's imagine a new era of
Pump Rules
where Lisa Vanderpump can stop grasping for reasons to hang out with people she wouldn't be inviting over to her house for any non-television reasons.
Photo: Courtesy of Bravo
There is something rotten in the state of Vanderpump. Sure, Lisa Vanderpump's businesses on Santa Monica Boulevard in West Hollywood are all closed because of California's state-wide lockdown, but there is something else wrong with her empire: Her signature reality show, Vanderpump Rules, sucks now.
It's a shame that this once rich franchise, which brought us so many brilliant moments — from Jax getting in parking lot fights in Vegas to "I'm not really sure what I did to you, but I'll take a Pinot Grigio" — has fallen to such depths, and for it to have happened so suddenly. If you haven't been following my season-long examination of what has made this crown jewel now borderline unwatchable, Variety's Kate Aurthur wrote a good rundown. Her biggest complaints are the ones echoed by myself and other fans: the new cast is awful and integrated badly, there was too much focus on Jax and Brittany's wedding, everything seems far too staged, no one believes the old cast would still be working at SUR, and the group dynamics, which once seemed so natural, now feel incredibly forced.
Even worse, the eighth season finale comes hot on the tottering platform heels of Hashtag Justice for Scheana. The original cast member has gotten a vicious edit the past two seasons, making her look needy and extraneous, and then one of the show's editors went on a podcast and said she goes out of her way to find bad footage of Scheana Marie because the star wouldn't befriend her. She also claims that Bravo made sure Stassi Schroeder and Beau Clarke were in every episode and portrayed as "special superheroes." This caused an uproar in the fandom, and if any event can get people to support Scheana, of all people, you know things must be dire.
As a result of all this, some fair-weather fans have called for the show's cancellation, but that seems like a waste of a good franchise and some of the greatest reality television personalities this side of Calabasas. So let's instead take a glass-half-full approach here and ask what it will take to save what we once loved about the show.
First of all, the old cast needs its own show(s). The original promise of Vanderpump Rules was that it followed the lives of people who worked in Lisa's restaurant. As anyone who has worked in food service (in the before times) can tell you, it's always a hotbed of partying and complex interpersonal relationships, so Vanderpump was a lot like Real Housewives but everyone was younger, hotter, and screwing each other. Eight years in, though, it is not that show anymore. All of the main characters are coupled up and settling down in the Valley. They have $2 million houses and are thinking about having kids. They have IRAs and mortgages, they should no longer be getting sloppy at Hollywood dive bars on a weeknight.
Part of the reason this season has nothing going on is because the original cast (other than Tom and Tom, who own a tiny fraction of a bar) have nothing going on. They're all struggling to find what their next chapter is. Katie is sitting around the house trying to learn how to knit. Ariana says she's so bored that she's grown depressed, so her solution is … to go work at SUR again. No! That is going backward. She needs to go forward. Like so many in their 30s, these people need to figure out what the rest of their lives are going to look like — and, as experienced practitioners of the reality TV arts and sciences, they need to do it on TV for our entertainment.
One possibility is to just make a show called Valley Village, named after the suburb that's now home to Tom Sandoval and Ariana Madix, Tom Schwartz and Katie Maloney, Jax Taylor and Brittany Cartwright, and poor, lonely Kristen Doute. Just keep this thing going but make it be about settling down and what life is like in your 30s. But chances are good that won't be that compelling. What would drive all of these people together? Not much, especially considering they are all currently avoiding Jax like he's a jogger without a face mask.
What I propose instead is something like Real Housewives Jr. featuring Stassi, Katie, Kristen, Lala, Ariana, Brittany, and some as-yet-to-be-cast additions. Like the Housewives, they can hang out with each other and fight about stupid shit, but when they're on their own they'll be working toward their individual futures. Ariana doesn't want to work at SUR, but what does she want to do? Go back to school? Open a paint-your-own-pottery place in the Valley? What? Let's find out! Same with Lala. She should not be volunteering at Vanderpump Dogs, she needs to focus on settling into her life as the fiancé of a rich producer. Stassi, Kristen, and Katie's dynamic will always provide fodder, why not give us a closer look at their Witches of WeHo wine line and make Katie do something other than sit around and kill her husband's lizards?
Of course, that leaves out Tom and Tom. For them, we turn to a format from the U.K., made for former Love Island standouts Chris and Kem, who forged an unshakable bromance when they were both on the dating show. Their next chapter is a show called You Vs. Chris & Kem where they travel around the country and take on viewers in stupid challenges, like playing naked bocce at a naturist camp or a very graphic game of darts. It's a homoerotic comedy fest starring two lovable doofs, which means it is the perfect format for the Toms. Maybe they can even get involved in professional sports, going up against the pros or fighting in the WWE. From my anecdotal research, Pump Rules is a favorite among Bravo's heterosexual male fans, so the sports angle could make this a hit with that demographic.
Alternately, make Tom and Tom the center of a reworked series about the employees of their bar Tom Tom. It could even be a continuation of this season that combines the staffs of Tom Tom and SUR, who are all the same age and probably horny for each other. This way the Toms can feature as managers in a smaller role (sort of like how Peter has always been in the fringes of Pump Rules) and Lisa can stop grasping for reasons to hang out with the older crowd, who she wouldn't be inviting over to her house for any non-television reasons.
The young cast, however, needs to be reworked. Max Boyens and Brett Caprioni should be axed solely on account of their history of racist tweets. Dayna Kathan can probably be saved, but the real standouts this season have been the underused but hilarious Charli Burnett and Danica Dow. In this proposed new show, these three ladies should take center stage and some dudes can be cast around them — maybe actual staff, or the people they're actually dating. Hell, throw in DJ James Kennedy and his girlfriend Raquel, a Brandy Melville catalogue in search of high purpose, for good measure.
What made the original Pump Rules so intoxicating is that the relationship dynamics between the cast were deep and organic. You can't get that by casting a bunch of reality show hopefuls, putting them in the same work environment, and turning the cameras on; that's what made Lindsay Lohan's Beach Club the unwatchable bore that it was. As hard as it may be, casting directors need to find a young cast of people who actually are friends and hang out together. This might take time, and it might mean putting Vanderpump Rules: Original Recipe on an extended hiatus (as if coronavirus hasn't done that already).
But one thing is clear: Whatever new form this show takes, Lisa Vanderpump needs to keep her paws out of it. The cast of Real Housewives of Beverly Hills turned against her because of all of her behind-the-scenes machinations, and she eventually left the show before copping to them. Now that she has turned her attention to this show full time, her interference is obvious. On Vanderpump Rules, where she serves as an executive producer as well as a cast member, she doesn't put just her finger on the scale, she puts her whole body, a jeweled necktie, three of her dogs in costumes, and a luxury handbag on it. All good reality shows are produced, but 20 years into the reality era, viewers are savvy enough to differentiate between a bit of amplification for drama's sake and scenarios that are completely constructed. It's the difference between putting some MSG on your food and serving it as the main course.
I'm not saying Lisa should no longer be involved in whatever this franchise becomes — I always liked her more as the stern but forgiving overlord of the children on Pump Rules than the Teflon Don of RHOBH. But she needs to let nature take its course a bit more, rather than putting her bra in Tom Schwartz's luggage hoping it will cause a fight between him and Katie. She discovered genius once before and I know she can do it again, as long as she remembers that overwatering will kill even the heartiest of flowers.