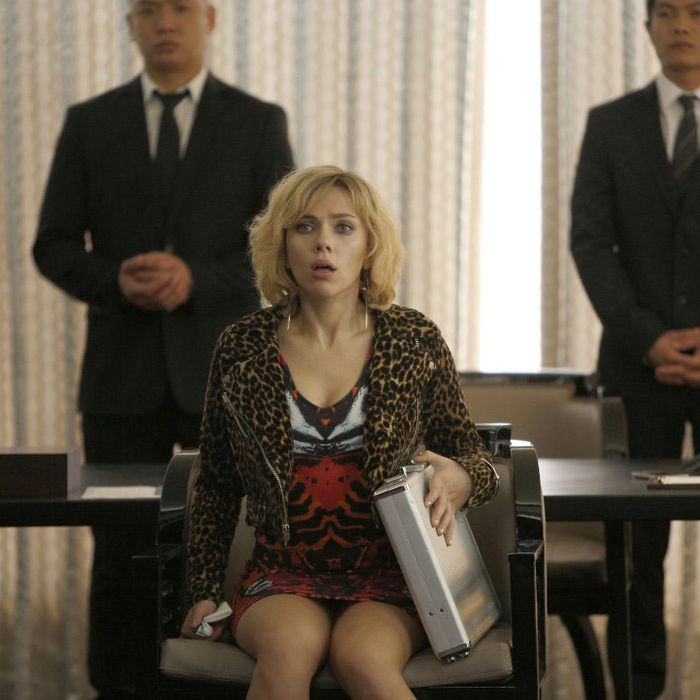 Scarlett Johansson in
Lucy
.
Photo: Jessica Forde/Universal Pictures
In a different reality, we'd right now be in the midst of Hollywood's blockbuster season, enjoying the nearly weekly unveiling of a major-event movie, including much-anticipated sequels (Wonder Woman 1984) and the improbable return of Tom Cruise's most beloved 1980s hot shot (Top Gun: Maverick). Instead, well, you're cooped up trying to figure out what to watch while not going stir-crazy.
This is where we come in. On a regular basis, we'll be presenting "The Replacements": a list of five alternative choices for every big tentpole you'd been excited to see before COVID-19 changed our lives. We'll select movies that are thematically or narratively similar to the postponed blockbuster, offering picks that range from cool obscurities to certifiable classics to forgotten gems. For the time being, event movies are on hold. But hopefully our alternatives will help scratch that cinematic itch.
This week: Black Widow, the first standalone movie for Scarlett Johansson's popular Avengers character. The Oscar-nominated actress has been playing Natasha Romanoff for 10 years now — since Iron Man 2 — and the new film is supposedly set after the events of 2016's Captain America: Civil War, with Black Widow returning to Russia and facing off with whoever the Taskmaster is. Just as importantly, Black Widow represents the beginning of phase four of the Marvel Cinematic Universe, serving as the studio's first release since July 2019's Spider-Man: Far From Home. Even before the pandemic, this was the longest we've gone between MCU films in four years — now with Black Widow not arriving until November, and even that's not for certain, it will be the longest drought in a decade. 
Will Johansson's much-anticipated solo outing, which also stars Florence Pugh, David Harbour, and Rachel Weisz, be worth the wait? Can the MCU keep us hooked after Endgame? We have no idea, but in the meantime, let us recommend five replacements — all from the last 10 years — that might satisfy your craving.
Haywire (2011)
Steven Soderbergh's dashed-off, deceptively simple thriller was almost too modest and straightforwardly excellent for anyone to notice at the time — though the Gina Carano-Michael Fassbender fight seems ripe for rediscovery — but it features as terrific and physical an action performance as you'll find. Carano is perfect in the role: lean, mean, efficient, and deadly, less interested in spy-movie glamour than simply getting the job done. If you're looking for muscular, meticulously crafted action sequences involving an awesome female protagonist, we're not sure this has been topped since it came out.
Lucy (2014)
Scarlett Johansson has been better in other movies (this is our request that you see Under the Skin before every other movie on this list), but she never tapped into that specific aloof/otherworldly quality she has and beat up a whole bunch of people like she does here. As you'd expect, this Luc Besson joint is appropriately insane, about a woman who ends up ingesting a drug that makes her, essentially, a god. Johansson is levelheaded, almost amused, in the role, smarter and more powerful than everyone else, even when she doesn't quite realize it. We all love Black Widow, but honestly, Lucy would wipe the floor with her.
Lady Macbeth (2016)
You can be forgiven if you didn't know who Florence Pugh was before Lady Macbeth came out. Only 19 when it was filmed, Pugh plays a teenager in 1860s England betrothed to an abusive, weak older man (and tied even further to his father) — after starting an affair with another man, she slowly takes control of everything and everyone around her. With Midsommar and Little Women, Pugh established herself as a budding star in 2019, but it was Lady Macbeth that announced the arrival of a major talent. If you didn't know her before this, Pugh made sure hers was a name you'd never forget.
Berlin Syndrome (2017)
Black Widow was set to be the Hollywood debut of Cate Shortland, an Australian director who'd earned acclaim for international dramas like 2012's Lore. But we're going to recommend Berlin Syndrome, a psychological thriller with a simple, disturbing premise. Teresa Palmer plays Clare, an Australian on vacation in Germany who hooks up with Andi (Max Riemelt), a dashing local — but the next day, she discovers she's being held captive. From there, Shortland (adapting Melanie Joosten's novel) gives us an intimate, stripped-down tale of survival and obsession, rarely letting the audience escape the story's tense grip. Daringly, the film reveals how Clare begins to identify with her captor, and Berlin Syndrome doubles as a twisted look at dysfunctional relationships. In the midst of self-quarantine, the movie will be especially claustrophobic.
Fast Color (2018)
Maybe you'd like a superhero story with a thoughtful, indie bent. Then try this underrated gem, which stars Gugu Mbatha-Raw as Ruth, a woman on the run in a future America devastated by drought. The government is after her, but why? Maybe it has something to do with the fact that she can create earthquakes with her mind — and that she can't always control her powers. Director Julia Hart, who previously made Miss Stevens (starring a promising young actor named Timothée Chalamet), crafted a character study that just happens to include a little comic-book action. At heart, Fast Color is a story of mothers and daughters — the great Lorraine Toussaint plays Ruth's mom, while Saniyya Sidney is the child Ruth had to abandon — that examines the ways that women have to bond together to defeat the evil forces around them. Black Widow will no doubt be more explosive. It will be impressive if it has this much heart, though.
Grierson & Leitch write about the movies regularly and host a podcast on film. Follow them on Twitter or visit their site.