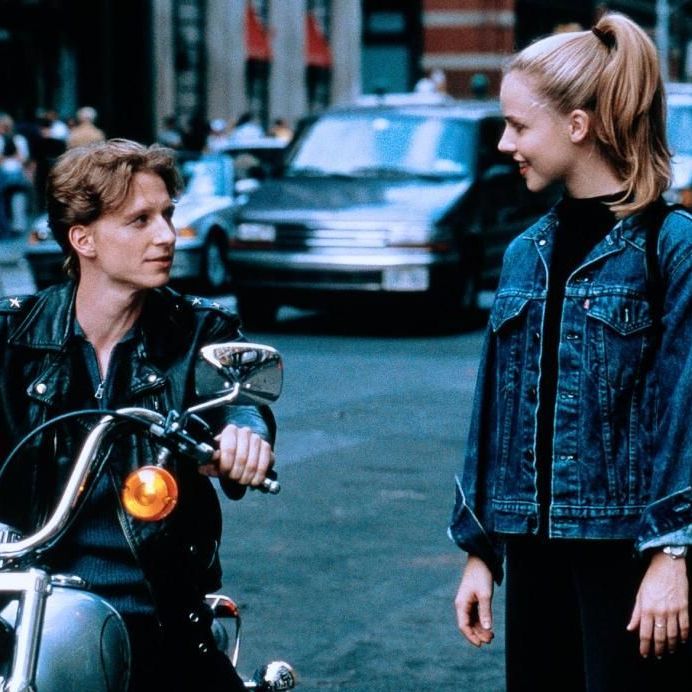 Better yet, watch the iconic, 20-year-old dance movie, now streaming on Netflix, with Vulture this Friday night.
Photo: Columbia Pictures
Every week for the foreseeable future, Vulture will be selecting one film to watch as part of our Friday Night Movie Club. This week's selection comes from Chloe Angyal, author of the forthcoming book Turning Pointe, who will begin her screening of Center Stage on May 15 at 7 p.m. ET. Head to Vulture's Twitter to catch her live commentary, and look ahead at next week's movie here.
Look, it's hard to be a person right now. If we are lucky, our lives have merely been paused and suspended, congealed into an endless state of not being able to plan for next week, let alone next month or next year. If we are unlucky, our lives have been turned upside down and shaken until something or someone we care for deeply has fallen away. Shit is grim, folks.
And when shit is grim, there are certain pieces of popular culture I turn to as balm, songs and TV shows and movies that have proven time and again to bring me comfort, and ground me in something familiar. I am never sorry to see Raymond Holt. I am never not glad to hear from Donna Lewis. And on a bad day, I am always going to watch Center Stage, the iconic dance movie written by Carol Heikkinen and directed by Nicholas Hytner.
Center Stage, which turned 20 years old this week, is the rare dance movie that is beloved by dancers and non-dancers alike. It kicked off a boomlet in dance movies (Save the Last Dance and Step Up would come soon after) and, more generally, marks the beginning of our ongoing cultural moment in which dance is highly visible onscreen, especially on network TV (So You Think You Can Dance, Dance Moms, Dancing With the Stars, America's Got Talent, America's Best Dance Crew, NBC's World of Dance, etc., etc.).
But of course, the true appeal of Center Stage is that it's not only a dance movie, it's a ballet movie. It's got tights and tutus (including an iconic white one that tears off), it's got women rebelling against the strictures of an old and exclusive art form. It's got a montage of people wrecking their pointe shoes and a close-up of bloodied toes. It's got long stretches of very high-quality ballet, performed by some of the best working dancers of its time. It has a pirouette pissing match.
In the year 2000, I was a Year Eight student in Sydney, Australia, still a year away from my ballet teacher giving me permission to start dancing on pointe. I wanted those shoes so badly that when I was told I couldn't dance on pointe unless my big toes were more flexible, I devoted myself unquestioningly to a rigorous nightly big-toe-stretching regimen. I wanted to live in New York City, which, as choreographer Susan Stroman told me, "is always dancing." I wanted to sit in the dark at Lincoln Center and let tears of awe and gratitude roll down my face during a ballet just like Zoë Saldana did. (I've done it now. It feels great.) And when that first pair of pointe shoes was "dead" and no longer safe to dance in, you better believe I painted them fire engine red, just like Jody Sawyer's. I wanted canned heat in my heels. I loved those shoes, and I loved this movie.
Twenty years later, I still do, even knowing that the version I know and love is very different from what Heikkinen envisioned when the acclaimed theater director Hytner signed on as director, and that she's only seen the final cut of the movie once. I will never not be tickled by Julie Kent's bitch face, and I will never not envy how impossibly cool Zoë Saldana looks extinguishing her cigarette with her pointe shoe. I don't live in New York any more, and watching its people suffer from afar has been gutting. Watching its theaters go dark and its beloved ballet companies thrown into financial crisis has been a different kind of painful. We don't know which ballet companies, and which ballet dancers, will survive this crisis.
But in Center Stage, New York City is still dancing. And there are a lot of things I learned writing this week's oral history of the movie that didn't make it to print. So join me on Friday night to watch — okay, let's be real, to rewatch — this love letter to dancing.
Center Stage is available to stream with a subscription to Netflix, and is available to rent on Amazon Prime, iTunes, Google Play, YouTube, and Vudu.