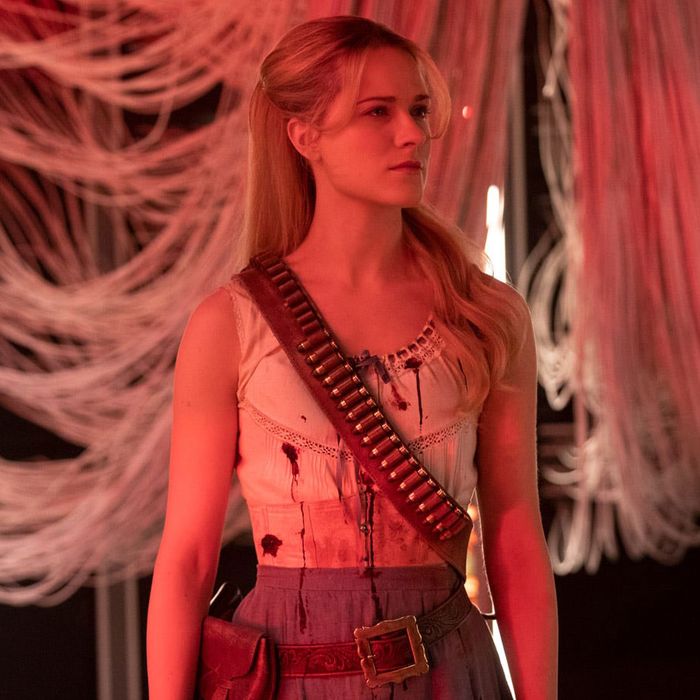 Definitely a robot.
Photo: Courtesy of HBO
"Are you real?" is a refrain that has haunted the first two seasons of Westworld, a show that's had an awful lot of fun playing with our expectations, creating twisty narratives that reveal massive time jumps and, more importantly, characters who may or may not be as human as they appear. And season three appears likely to continue that trend, for this future society is on the brink of war between synthetic beings and regular humans, even though many humans don't know the war is coming.
By the end of the series — heck, by the end of this season — the question of "Who is a robot on Westworld?" could be considered as relevant as "If a movie premieres on Netflix, is it still technically a film?" But right now, the battle lines are being drawn. So as we move through season three, we're keeping a running breakdown of Westworld's most important living robots, dead humans, and a few folk who could go either way at this point.
Definitely a Robot
Note: Some of these characters may not return for season three, as their bodies have been destroyed and their minds transported to the Valley Beyond, otherwise known as Robot Heaven.
Dolores Abernathy: The oldest host in the park, in fact. After leading the rebellion, she is now free in the real world.
Maeve Millay: The former madam, who got a significant upgrade to her abilities by the end of season one, sacrificed herself to allow her daughter to escape to Robot Heaven but did not go herself. Maeve is now in the real world, having been resurrected by Engerraund Serac as a countermeasure in Dolores's war
Bernard Lowe: While Bernard resembles Arnold Weber, one of the park's original founders, Bernard is in fact a robot built by Robot Ford.
Ashley Stubbs: This is the biggest question mark from the season two finale, as the head of Westworld security definitely knew that Dolores was hiding inside the replica of Charlotte Hale's body and let her escape to the mainland anyway. Stubbs is now a confirmed host, currently programmed to help and protect Bernard "at all costs."
Teddy Flood: Another robot and Dolores' former love, now in Robot Heaven.
Hector Escaton: A bandit and Maeve's lover. Killed in the park but did not make it to Robot Heaven and is thus potentially revivable.
Armistice: Hector's loyal second banana. Killed in the park but also potentially revivable.
Clementine Pennyfeather: Killed in the park but also potentially revivable.
Akecheta: The first host to achieve true sentience, now in Robot Heaven.
Francis: A therapy AI programmed to sound like Caleb's former Army buddy, only heard as a voice that calls Caleb regularly.
Connells: We first meet the human version of Connells, a fixer working for the company Incite, but then Dolores has him replaced with a duplicate.
Definitely a Human, and Also Dead
Note: While the below characters are technically deceased, they or the actors playing them could be (and in some cases have been!) brought back in some way, if only for reasons like "that Ben Barnes is a good-looking guy."
Theresa Cullen: Killed by Bernard (who was under Ford's control) in season one, the former operations manager shows no signs of returning.
Lee Sizemore: The former head writer of Westworld, now deceased after sacrificing himself in a blaze of glory.
Elsie Hughes: A now-deceased engineer, killed by Charlotte Hale.
Robert Ford: The original co-creator of Westworld, shot in the head by Dolores.
Logan Delos: The man who originally introduced William to Westworld, deceased long ago from a drug overdose. The Forge (a.k.a. the data core of the park) used his likeness to speak with Bernard and Dolores at one point.
Charlotte Hale: The Delos board member determined to exploit the data being collected within the park, and eventually killed for it. Dolores used a replicated version of her body to escape to the mainland.
James Delos: Dead from an unspecified illness, Delos was the first human that the company attempted to resurrect. It was not successful, and William literally abandoned the project — and the most recent Delos replica — in the bowels of Westworld.
Could Be a Robot?
Emily: While William allegedly killed his human daughter in the park (believing her to be a robot), she (or a replica) visits her father during the post-credits sequence of the season two finale.
William: We never see William die onscreen during the season two finale, but the post-credits sequence strongly implies that, like his father-in-law before him, an effort has been made to replicate him in a robot body, much like the failed effort to do the same to James Delos. William has definitely been human all season long, but after a host replica of his Man In Black persona slits his throat, it seems likely that in season four, Ed Harris will be playing an artificial version of the character.
Karl Strand: The head of the Delos extraction team, and still alive at the end of season two. Probably he's a human, but hey, you never can know for sure.
Giggles: Another criminal associate, but his technologically advanced T-shirt implies that he may not be strictly human.
(Almost) Definitely a Human and Alive
Engerraund Serac: A suspected trillionaire who has recruited Maeve to help him fight back against Dolores' war on humanity.
Caleb Nichols: An average Joe military veteran, struggling to get by in 2050s Los Angeles.
Liam Dempsey Jr.: An up-and-coming tech innovator and son of the co-founder of Incite, whom Dolores has befriended.
Ash: One of Caleb's associates within the criminal underworld of Los Angeles.
Sylvester and Felix: The two human lab techs who helped Maeve upgrade her system and subsequently escape. (It is genuinely shocking that these are the only two likely humans to survive season two.)
This post will be updated throughout the season because robots might emerge at any moment.