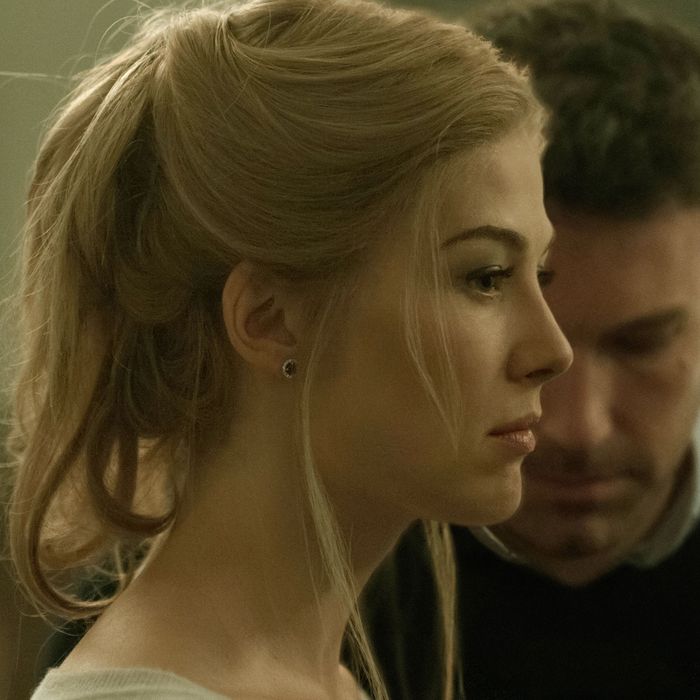 Gone
Girl
.
Photo: Merrick Morton/Twentieth Century Fox and Regency Enterprises
In a different reality, we'd right now be in the midst of Hollywood's blockbuster season, enjoying the nearly weekly unveiling of a major event movie, including much-anticipated sequels (Wonder Woman 1984) and the improbable return of Tom Cruise's beloved 1980s hot shot (Top Gun: Maverick). Instead, you're cooped up trying to figure out what to watch while not going stir-crazy.
This is where we come in. On a regular basis, we'll be presenting "The Replacements": a list of five alternative choices for every big tentpole you'd been excited to see before COVID-19 changed our lives. We'll select movies that are thematically or narratively similar to the postponed blockbuster, offering picks that range from certifiable classics to forgotten gems. For the time being, event movies are on hold. But hopefully our alternatives will scratch that cinematic itch.
This week: The Woman in the Window, which stars Amy Adams as Anna, an agoraphobic child-psychologist shut-in who befriends her neighbor Jane (Julianne Moore) — only to wonder if something has happened once Jane goes missing. This thriller, based on the novel by A.J. Finn (a pseudonym for controversial author Dan Mallory), looked like it could be a fun, trashy change of pace for the six-time Oscar nominee, but The Woman in the Window has had its issues even before the pandemic. (Specifically, test audiences didn't like the ending, which prompted Disney to delay the release from late 2019 to May 2020 in order to "retool" the picture.) Still, you have Adams, Atonement director Joe Wright, and an adaptation written by Pulitzer Prize winner Tracy Letts — it's hard not to be excited.
So while we wait for The Woman in the Window, let us recommend five replacements — including the Hitchcock masterpiece that seems to be a primary influence on the original novel.
Rear Window (1954)
At this point, not only will any movie in which a character (maybe) witnesses a crime going on in another apartment from their own apartment be immediately compared to Rear Window, it is certain that the movie was inspired by Rear Window in the first place. That said, you can't go wrong with the original, straight on tap — not just because of Alfred Hitchcock's obvious, deeply personal connection to the material and the concept, but because of Jimmy Stewart's conflicted, morally compromised photographer, who thinks he might be on to something nefarious but really just wants to watch. What's striking is how modern the film still feels today … more modern, in fact, than many of its imitators.
Junebug (2005)
Of all of Adams's past performances, this is the one that is still maybe not appreciated enough, even though she was nominated for Best Supporting Actress. Adams, here as Ashley, the pregnant woman who is both outside the North Carolina family she married into and perhaps secretly in charge of all of it, shows her ability to seem innocent and unassuming while also being stronger and more formidable than everyone else onscreen. She dominates every scene she's in and is ultimately revealed to be both Junebug's heart and its steely spine. There are maybe more thematically similar movies to The Woman in the Window on her résumé — the HBO limited series Sharp Objects might actually be the most obvious parallel — but we're not sure she's ever been better than she was here.
Hanna (2011)
Director Joe Wright is most associated with prestige pictures — Pride & Prejudice, Atonement, Darkest Hour — so it was a fun curveball when he crafted this funky, nasty little action-thriller about a teenage assassin (Saoirse Ronan) on the run from a cold-blooded CIA operative (Cate Blanchett). A mixture of Jason Bourne and a fairy tale — our heroine is a Little Red Riding Hood or Brothers Grimm princess in battle with a wicked stepmother — Hanna finds Wright relishing the slick pleasures of genre filmmaking, delivering action and thrills with the same skill that he usually applies to costume dramas. With any luck, his Woman in the Window will be a comparably stylish and smart B-movie.
Killer Joe (2012)
Tracy Letts has long been one of our most respected playwrights, and he has recently added to his résumé with a series of terrific supporting performances in films like Little Women, Lady Bird, The Post, and Ford v Ferrari. He has written films based on his own plays before (Bug, August: Osage County), but The Woman in the Window is his first adaptation of another author's work. You can perhaps get no better sense for his sensibility than 2012's Killer Joe, about a hit man (a mesmerizing Matthew McConaughey) who ends up being a lot more than his clients bargained for. The film, directed by William Friedkin, is appropriately insane but never not compelling and terrifying. It'll be tough for Letts, working with someone else's material, to top it in the thriller canon.
Gone Girl (2014)
When you encounter a disastrous adaptation of a page-turner (we're looking at you, The Girl on the Train), it's a reminder of how hard it can be for a pulpy, read-it-in-the-tub best seller to make the leap to the big screen. Then there's this excellent David Fincher movie, which draws from Gillian Flynn's novel — Flynn actually wrote the screenplay — to deliver a thoroughly riveting, twisty tale of bad love and possible murder. Ben Affleck and Rosamund Pike are both superb as a married couple that looks perfect on the outside but is rotting underneath. When she goes missing and he becomes the prime suspect, things only get more interesting, but that's just the start of where Gone Girl goes. (If you haven't seen the film, we'll just say there's a death scene in here that's as bravura and utterly chilling as anything the Fight Club auteur has ever conceived.) Gone Girl is brainy pulp done very, very well — here's hoping The Woman in the Window gets close to emulating it.
Grierson & Leitch write about the movies regularly and host a podcast on film. Follow them on Twitter or visit their site.