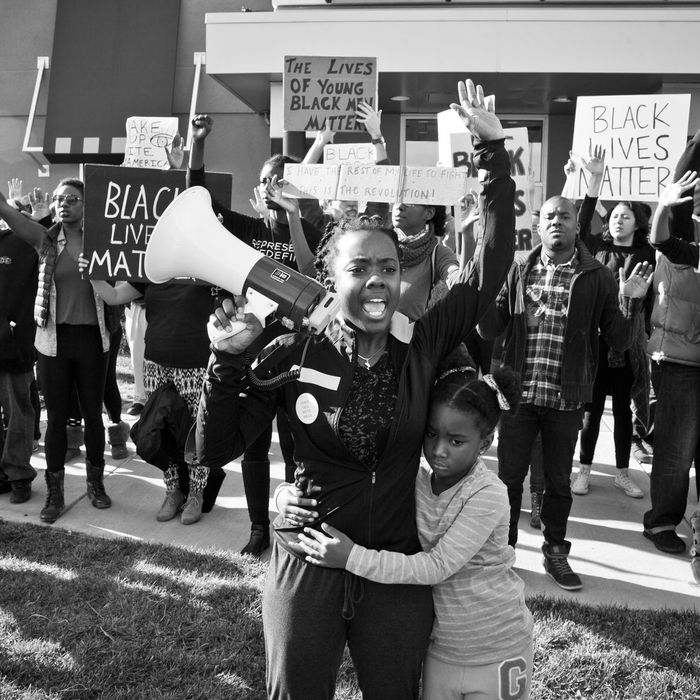 They are worth watching today and always.
Photo: Autumn Lin Photography/Courtesy of Magnolia Pictures
Contrary to what you might have seen on your feed, #BlackOutTuesday — the social-media initiative started by record-industry executives Brianna Agyemang and Jamila Thomas — is not just about posting a black square on Instagram and calling it a day. The purpose is to support Black Lives Matter protests, amplify black voices, and educate oneself on the history of the movement. "Take a beat for an honest, reflective and productive conversation about what actions we need to collectively take to support the Black community," Agyemang and Thomas urged. To that end, you might be in search of books to read and films to watch on the subjects of protests, racial injustice, and police brutality. Below are 12 documentaries worth watching today and always:
Let the Fire Burn (2013)
In May of 1985, the Philadelphia Police Department attempted to evict the members of the black liberation group MOVE from their row house in a residential area. The group resisted, and police unleashed gunfire, tear gas, and explosives on the home, which officials — with the permission of the mayor and district attorney — opted to let burn. Five children and six adults perished in the blaze, which also destroyed over 60 homes in the neighborhood. Jason Osder's incendiary documentary account relies less on present-day interviews and narration, and focuses instead on the events as they happened, presenting a meticulous ticktock of an infuriating abuse of power. (Streaming on Kanopy.)
Let It Fall: Los Angeles 1982–1992 (2017) / LA 92 (2017)
The April 1992 L.A. uprising wasn't just a rapid response to the acquittals of the officers charged with the beating of Rodney King — an assault captured on videotape and disseminated on television, one of the first of many viral videos of police misconduct. The protests, many activists at the time made clear, addressed the long history of friction between the LAPD and the city's African-American and Latinx communities. John Ridley's documentary painstakingly details that history, providing valuable context for the events of April 1992, as well as the continuing discourse in the city.
Daniel Lindsay and T.J. Martin's documentary also covers the 1992 L.A. uprising, but takes an approach closer to Let the Fire Burn; it's a present-tense accounting of the events, re-created as they happened via news coverage, home videos, and archival materials. The context provided by Let It Fall is certainly helpful (these two films are best viewed together), but LA 92 brilliantly captures the feelings of inevitability and helplessness that tend to swirl around such protests — a sense that unrest has been brewing for some time, and that there's no end in sight. (Both are streaming on Netflix.)
Whose Streets? (2017)
Directors Sabaah Folayan and Damon Davis took their cameras to the streets of Ferguson, Missouri, for this ground-level account of the protests that rocked the nation in the days and weeks after the murder of Michael Brown Jr. Mixing their footage with videos taken by protesters and activists, Folayan and Davis create a work of stunning immediacy, capturing both the bravery and the fears of participants, who understand they have no more ground to give. (Streaming on Hulu and Kanopy.)
Copwatch (2017)
The advocacy organization We Copwatch, which trains regular citizens in the laws and rights that allow them to videotape police activity, predated those protests, but it gained particular relevance after the high-profile deaths of Brown, Eric Garner, and Freddie Gray. Camilla Hall's documentary follows We Copwatch founder Jacob Crawford from his home in Oakland to the sites of those murders, and the cameramen he recruits along the way. Hall follows those cases through the system (such as it is), and dives deep into the day-to-day work of the organization. Copwatch is an observational documentary, and an intimate one, acquainting viewers with these citizen journalists and listening to the stories they tell. (Streaming on Amazon Prime.)
16 Shots (2019)
Just a few months after the death of Michael Brown, another midwestern city was rocked by the police shooting of 17-year-old Laquan McDonald, who was shot and killed by Chicago police officer Jason Van Dyke. The circumstances of that shooting — and how the officers on the scene and people in power throughout the city attempted to control (and cover up) the narrative in its aftermath — are the subject of this documentary account from director Rick Rowley. (Streaming on Showtime.)
Do Not Resist (2016)
The rapid response of a chillingly militarized police force — riot gear, tear gas, rubber bullets, military vehicles — has rendered the idea of "peaceful protest" all the more oblique. For some insight into that shift in policing, seek out Craig Atkinson's informative documentary, which begins with the Ferguson protests but gradually widens its scope to detail how mind-boggling post-9/11 expenditures for local police forces have resulted in departments more equipped to go to war with the communities they serve than to protect them. (Available for rental or purchase via Amazon, iTunes, YouTube, etc.)
The Force (2017) / Crime + Punishment (2018)
For decades, the Fox series Cops has done much to simplify the relationship between police and the communities they serve, working with departments to flatten daily interactions into black-and-white, good-guy, bad-guy binaries. Peter Nicks's powerful documentary The Force (streaming on Netflix), on the other hand, uses the stylistic tools of Cops and similar shows — handheld photography, observational style, focus on the day-to-day grind — to tell the much more complex story of an Oakland police department that attempts to rebound from decades of scandal and abuse, only to be confronted with even more of its "bad apples."
Similarly difficult attempts at reform abound in Stephen Maing's Crime + Punishment (streaming on Hulu), in which a group of black and Latino NYPD officers attempt to hold their department accountable for policing policies that unfairly discriminate against their communities. Both films are eye-opening accounts of a system that seems, at times, unsalvageable.
The Death and Life of Marsha P. Johnson (2017)
As more than one social-media historian has reminded us, the Stonewall uprising was a riot — more pointedly, a riot against police brutality, in response to an NYPD raid of Greenwich Village's Stonewall Inn, in the early morning of June 29, 1969. One of the participants was Marsha P. Johnson, the transgender activist known to many as the "mayor of Christopher Street," and there was much more to her life than Stonewall. David France's documentary delves into her fascinating life and suspicious death, which remains unsolved and un-investigated by the same police department that Johnson battled at Stonewall. (Streaming on Netflix.)
13th (2016)
The tricky thing about reading up on the issues of the moment is that the struggle does not begin nor end with police brutality, or street protests, or even with what we immediately think of as systemic racism. To that end, police brutality and mass incarceration go hand in hand — the "before" and "after" of biases in the criminal-justice system. The definitive exploration of that issue remains Ava DuVernay's 13th (streaming on Netflix), a wide-ranging documentary in which scholars and historians detail how the relatively recent emphasis on imprisonment has reverberated through American culture. (DuVerany's docuseries When They See Us, also on Netflix, is a helpful companion.)
I Am Not Your Negro (2016)
Raoul Peck's stunning essay film is centered on James Baldwin's notes from his unfinished book, Remember This House, a meditation on the key figures of the civil-rights movement. But Baldwin's magnificent prose on those issues (used as narration for the film, spoken by Samuel L. Jackson) felt like a balm for frustrated audiences when the film was first released, just after the election of Donald Trump — a reminder that the guidance and wisdom of the past remains applicable in the present, a point further underlined by Peck's use of contemporary footage to illustrate these words, written decades ago. Baldwin's essays and interviews have made the rounds on social media quite a bit over the past few days; they continue, sadly, to apply to our current culture with little alteration. (Streaming on Prime Video.)