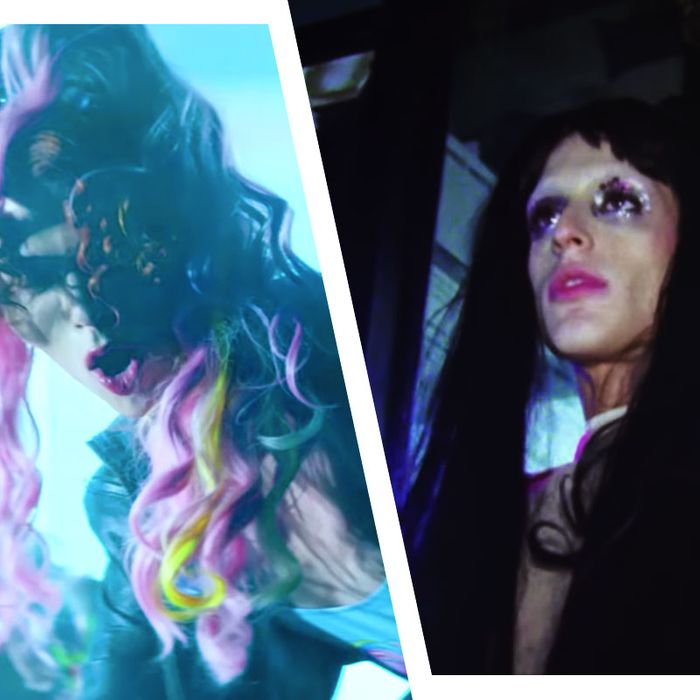 Were we ever so blessed.
Photo: Getty
Arca and Sophie have circled each other for years, icons of the pop experimentalism that has been led by trans and gender-nonconforming musicians. While Sophie found fulfillment on the edges of pop, working with Charli XCX and Madonna, Arca leaned into the weird(er), as a collaborator-mentee of Björk who recognized the value of a good shock. KiCk i, the first in a series of four Arca projects, finds the Venezuelan producer indulging her fascinations with the diva and coming into her own as a pop star. But on "La Chíqui," Arca's long-anticipated first outing with Scottish producer Sophie, her boundary-pushing goal remains.
The track opens right in the middle of the club. "Menéalo," Arca repeats — "shake it" in Spanish, recalling her command to "shake that pussy, bitch," from her one-off 2020 mix "@@@@@." "La Chíqui" concludes a run of pop-adjacent bangers on KiCk i: Shygirl raps over a woozy beat on "Watch," electro-reggaetón burner "KLK" finds flamenco superstar Rosalía running point, "Rip the Slit" is an earworm of a club-kid anthem. After Arca's introduction, "La Chíqui" cuts out for a few seconds of the sparse, haunting vocals she favored on her 2017 self-titled album, before everything hits at once. Sophie sings the chorus as Arca continues to chant "menéalo," while their individual contributions to the production blur. Arca told Apple Music the team-up was "so self-contained and bridging and finding mutual points of collaborating." It sounds like that: They're not moving toward each other from their own realms, they're piling on top of what they both know.
The lyrics become destructive. "Roots pulling up," Sophie repeats in the chorus. Arca opens her verse, "The schism / It shifts, it rips," her voice pitched up until she sounds like she's on a 100 gecs song. Eventually, it sounds like they've broken the music itself, as the song short-circuits and fades out. It's like the dance floor has closed, as the album's final two tracks, "Machote" and "No Queda Nada," provide a slower and more melodic comedown.
"There's magic in making yourself, and so often that magic leaks out in the form of music," Sasha Geffen, a Vulture contributor, writes at the end of their book, Glitter Up the Dark: How Pop Music Broke the Binary. Arca closes "La Chíqui" by affirming her identity — she's the titular chíqui, identifying as a trans woman after confidently and publicly transitioning. "Rather than depicting gender dysphoria, I want to explore gender euphoria," she told Garage of her music. Arca and Sophie's collaboration, a meeting of two of today's preeminent pop creators, is a celebration above all else. "La Chíqui" is really about the possibility of creation: what can be made when boundaries get pushed to a breaking point.