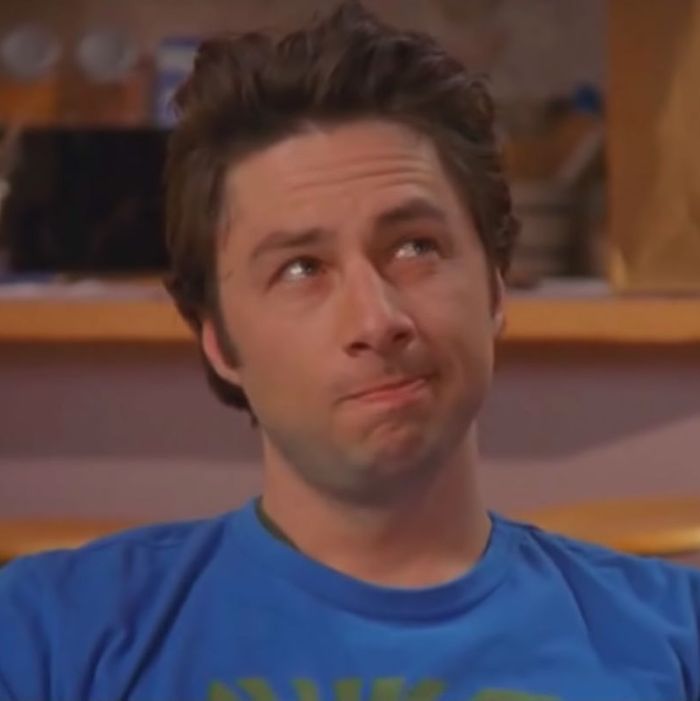 Zach Braff in the 
Scrubs 
episode "My Jiggly Ball," moments before dreaming up a half-Elliot, half-Turk character named Turkiot, played by Sarah Chalke in blackface.
Photo: NBC
As the Black Lives Matter movement has launched a reckoning in Hollywood over institutionalized racism, it has also sparked a debate about whether anti-Black tropes and imagery in movies and TV should be censored, disclaimer-ed, or removed from streaming libraries entirely. This conversation extends well past Song of the South and Gone With the Wind into the 21st century: Blackface is not just a historical atrocity but a present-day compulsion still frequently reproduced by white comedians and showrunners. In recent weeks, many sitcom episodes featuring blackface have been removed from streaming platforms, taken out of digital rental libraries, and pulled from syndication. Some series have edited out blackface scenes, while others like have removed the episodes in their entirety. Some TV creators have expressed their support for the decision, while others have expressed silence or disapproval. Here is a full list of the series, episodes, and scenes that have been removed from streaming because of their use of blackface so far.
30 Rock
At Tina Fey and Robert Carlock's request and with NBCUniversal's approval, four episodes of 30 Rock have been removed from streaming, digital rental, and TV syndication.
• "Believe in the Stars" (Season 3, Episode 2): After Jenna (Jane Krakowski) and Tracy (Tracy Morgan) decide to swap identities to determine if white women or Black men face greater prejudice, Jenna appears in blackface.
• "Live Show" (Season 5, Episode 2): The East Coast version of 30 Rock's first live episode featured Jon Hamm getting a hand transplant from an executed Black man, and a fake Fox News chyron that read "Exclusive Interview With Kenyan Liar," referencing the racist Obama birther conspiracy.
• "Christmas Attack Zone" (Season 5, Episode 10): Jenna again wears blackface while dressing up as Pittsburgh Steelers star Lynn Swann.
• "Live from Studio 6H" (Season 6, Episode 19): Jon Hamm appears in blackface in a satirical spoof on Amos 'n' Andy.

"As we strive to do the work and do better in regards to race in America, we believe that these episodes featuring actors in race-changing makeup are best taken out of circulation," Fey wrote in a letter to the platforms that streamed or sold 30 Rock. "I understand now that 'intent' is not a free pass for white people to use these images. I apologize for pain they have caused. Going forward, no comedy-loving kid needs to stumble on these tropes and be stung by their ugliness."
Community
Netflix and Hulu removed one episode, season two's "Advanced Dungeons & Dragons," because Ken Jeong's character Ben Chang appears in full-body black paint. In the episode, Chang claims he's dressing like a "dark elf or a drow," while his fellow classmate Shirley (Yvette Nicole Brown) calls his look a "hate crime." Sony Pictures Television said they "support the decision." Community creator Dan Harmon has not addressed the episode's removal, and it is still available for digital rental.
Scrubs
At the request of series creator Bill Lawrence and ABC Studios, Hulu removed three episodes of Scrubs. All three episodes featured white characters in blackface.
• "My Friend the Doctor" (Season 3, Episode 8): Zach Braff's character J.D. fantasizes about Turk (Donald Faison) kissing Elliot (Sarah Chalke), but it turns out to be J.D. in blackface, a bald cap, and Turk's surgical scrubs.
• "My Jiggly Ball" (Season 5, Episode 4): J.D. fantasizes about having a half-Elliot, half-Turk roommate, played by Sarah Chalke in blackface.
• "My Chopped Liver" (Season 5, Episode 17): There is a flashback to Turk and J.D. going to visit Turk's frat in "whiteface" and blackface, respectively. It is implied that J.D. gets beat up for the stunt.
"My Jiggly Ball" and "My Chopped Liver" are no longer available for digital rental, but "My Friend the Doctor" is still on Amazon and iTunes.
The Office
A shot in which Nate (Mark Proksch) is dressed in blackface as Zwarte Piet has been edited out of The Office's season nine episode "Dwight Christmas" on Netflix and syndicated reruns. It will also be removed from the episode when The Office moves to the Peacock streaming platform. Regarding this decision, creator Greg Daniels said, "Today we cut a shot of an actor wearing blackface that was used to criticize a specific racist European practice. Blackface is unacceptable and making the point so graphically is hurtful and wrong. I am sorry for the pain that caused."
It's Always Sunny in Philadelphia
Five episodes of It's Always Sunny in Philadelphia in which Mac (Rob McElhenney), Dee (Kaitlin Olson), and Frank (Danny DeVito) appear in blackface have been removed from Hulu, although they are still currently available for digital rental.
• "America's Next Top Paddy's Billboard Model Contest" (Season 4, Episode 3): Dee debuts some of her many racist characters, including Martina Martinez and Taiwan Tammy. Both depictions involve offensive wigs, accessories, prosthetics, and accents.
• "Dee Reynolds: Shaping America's Youth" (Season 6, Episode 9): The gang makes their own version of Lethal Weapon 5, which involves Mac playing the Danny Glover role of Murtaugh in blackface and Frank playing a Native American villain character in a wig. Paul Walter Hauser plays a misfit Juggalo high schooler named Richie who also appears in blackface.
• "The Gang Recycles Their Trash" (Season 8, Episode 2): Dee returns as Martina Martinez and tries to bait Black and Latinx sanitation workers into violence.
• "The Gang Makes Lethal Weapon 6" (Season 9, Episode 9): Mac dons blackface to play Murtaugh again. Dee plays Murtaugh's daughter, also in blackface. Frank plays Native American crime boss Chief Lazarus again.
• "Dee Day" (Season 14, Episode 3): Dee forces Frank to dress as Martina Martinez and Mac to dress as Taiwan Tammy.
Rob McElhenney, who created the show and plays Mac, has not yet commented about the removal of these episodes.
Golden Girls
Hulu has removed the Golden Girls episode "Mixed Blessings" from streaming because of a scene where Rose (Betty White) and Blanche (Rue McClanahan) introduce themselves to a Black character while wearing mud masks that are mistaken for blackface. Hulu, ABC Studios, and series creator Susan Harris haven't commented about the removal of the episode.
W/ Bob & David
Netflix has removed the third episode of its 2015 original series W/ Bob & David, which included a sketch where David Cross plays a character who puts on blackface to provoke a police officer played by Keegan Michael-Key. On social media, Cross and Bob Odenkirk expressed disappointment with Netflix's decision.
Little Britain, Come Fly With Me
Netflix, BritBox, and the BBC iPlayer removed the entirety of Matt Lucas and David Williams's popular sketch show Little Britain, as well as their follow-up series Come Fly With Me, given the frequency of white actors playing characters of color. Lucas posted to social media after the removal, apologizing for having depicted these characters. "David and I have both spoken publicly in recent years of our regret that we played characters of other races," he wrote. "Once again we want to make it clear that it was wrong and we are very sorry."
The Mighty Boosh, The League of Gentlemen
Popular British comedies The Mighty Boosh and The League of Gentlemen were also completely taken down from Netflix. Both shows featured white actors playing black characters. The League of Gentlemen is still available on BBC iPlayer. Noel Fielding has yet to respond to The Mighty Boosh being removed over his Spirit of Jazz character. In an interview in February, Reece Shearsmith who portrayed Papa Lazarou on The League of Gentlemen told the Independent, "It was not me doing a black man. It was always this clown-like make-up and we just came up with what we thought was the scariest idea to have in a sort of Child Catcher-like way." He added that the character is "just an otherworldly human." After Netflix removed the two series from its site, BBC confirmed to the Guardian that they will not be removing the shows from their own streaming service.
We Can Be Heroes, Summer Heights High, Angry Boys, Jonah from Tonga
Four of Australian comedian Chris Lilley's series in which he plays Black, Asian, and Pacific Islander characters have been removed from Netflix. After Netflix removed the series, the Australian Broadcasting Corporation launched a "harm and offence" audit of its programming. Lilley's 2019 Netflix original series Lunatics — in which he plays a South African woman in a large afro — is still streaming. Lilley hasn't responded to the removal.