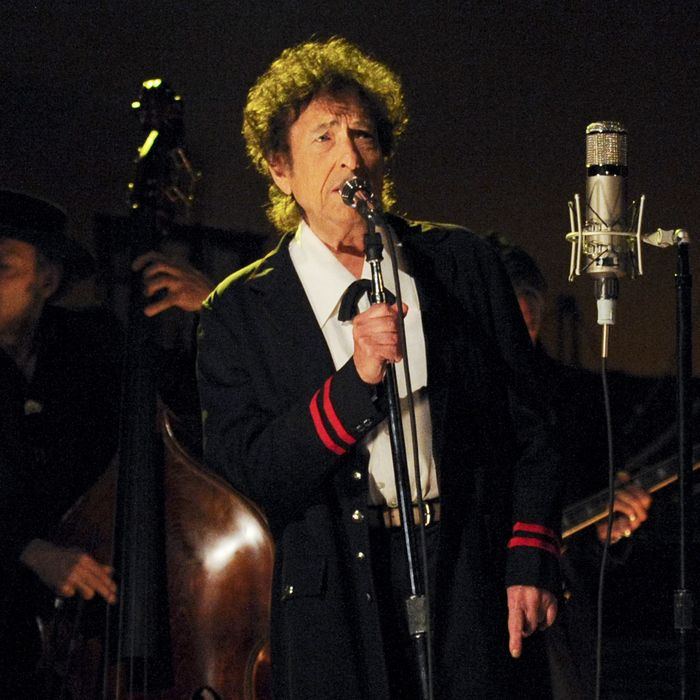 Dylan is a public intellectual who has always used the rich and weird culture and history of America to glean fresh understanding about its present.
Photo: CBS Photo Archive/CBS via Getty Images
1968 was a brain buster, an election year where the two choices were Richard Nixon, the "law and order" Republican who claimed to speak for a "silent majority," and Hubert Humphrey, a centrist Democratic vice-president appealing to America's sense of decency. An economic crisis loomed while a flu pandemic crept in from overseas. Tensions over racial justice exploded into the streets following the assassination of Dr. Martin Luther King Jr., inspiring protests and riots in over 100 American cities. Baltimore, Pittsburgh, and Washington, D.C., burned. Chicago mayor Richard Daley authorized the police to "shoot, maim, or cripple" looters and arsonists; by summer's end, the CPD had killed a 17-year-old protester in a demonstration at the Democratic National Convention, one of many to die in the violent police response. In Woodstock, New York, Bob Dylan, a voice of eloquent youth dissatisfaction in some years prior, stayed home.
That year was also Dylan's first extended break from songwriting since signing to Columbia Records on the other end of the decade. The folk-rock singer and his wife Sara were raising two babies with a third on the way. The Woodstock house became a refuge after his 1966 motorcycle accident. He stopped touring for what would become an eight-year stretch, famously ducking the festival on Max Yasgur's farm just 60 miles west in 1969, returning to the road in the next decade to play the hits only after a string of critically reviled albums, soundtracks, and compilations eroded his chart standing and critical cachet. The music Bob Dylan wrote at the end of the '60s is an attempt to escape the pressure of being the voice of a generation. 1969's Nashville Skyline is a gorgeous foray into pure country, and 1970's Self Portrait is a prickly batch of covers and weird originals, a slick, commercial album followed by a puckish parody of the form.
Over the last decade, in a political climate increasingly identical to the tumult at the end of the 1960s, Bob Dylan disappeared into the Great American Songbook again. After 2012's dark, foreboding Tempest, Dylan released three albums of standards in quick succession, starting with 2015's Shadows in the Night, a collection of songs made famous by Frank Sinatra, and returning to that well for 2016's Fallen Angels before completing the experiment with the 2017 triple covers album Triplicate. The recordings were quaint and frequently pretty, the function of a great rapport between the singer-songwriter and the band from his long-running Never Ending Tour. But they painted a portrait of an aging lyricist giving up on feeling out the ever-changing pulse of modern times in his music, of a great American songcatcher joining the ranks of rock elders like Michael McDonald and Rod Stewart in resigning to life as a walking oldies jukebox.
The trickle of new Dylan tunes released this year revealed the opposite to be true. Half time-hopping, sidelong fever dream and half epic poem, "Murder Most Foul" found the '60s veteran returning to the unsteady political climate that birthed his great early songs at a time when people are once more in need of music that girds them in uncertain times. Arriving at the dawn of a period of nationwide sickness and seclusion, "Murder," and the suggestion that peace is a song away, was a timely word. On the surface, the followup, "I Contain Multitudes," is a wry bit of peacocking and literary allegory from a famously prickly cultural figure, but look a little deeper, and the act of pitching lyrics about respecting duality into a moment in history defined by its divisive entrenchment looks a lot like a message about the virtue of balance.
Rough and Rowdy Ways, the album these singles heralded, shares the dual-mindedness of "Multitudes." As much as it is a song cycle about the experience of being Dylan, a public intellectual nearing 80 who has always used the rich and weird culture and history of America to glean fresh understanding about its present, it is also a framework for how to stand tall in the face of the nearness of mortality. Death is ever present in "Goodbye Jimmy Reed," a love song disguised as an elegy to the titular Mississippi blues guitarist; in "Crossing the Rubicon," which references the last days of Julius Caesar and the assassination of Abraham Lincoln in its celebration of fearlessness in the face of what looks to be certain doom; and even in "My Own Version of You," part murder ballad, part love song, and part Frankenstein story.
These aren't new topics for Bob Dylan; his self-titled 1962 debut featured covers of grim gospel and blues tunes like "In My Time of Dyin'," "Fixin to Die," and "See That My Grave Is Kept Clean." But on that album, he was using the music of the past to conjure an air of mystery and agelessness, as a young folkie less interested in recounting the story of his own quintessential middle-American childhood than in shining a mirror on the country itself in all of its flaws and virtues. On this album, the blues are his own; the mystery is gone. Here, there's an elderly man surveying an unusual ride and bracing himself for what comes next, thanking his many muses and influences for accompanying him on his journey and imparting wisdom for anyone who looks up to him as he looked up to the likes of Woody Guthrie and Blind Lemon Jefferson.
Guiding Dylan in this mission is a loyal and limber band, capable of both delicacy and hardness, often at once. "Murder Most Foul" is 17 minutes of gorgeous, shimmering interplay, a band walking its leader up and down a slow-burning crescendo. In "False Prophet" and My Own Version of You," the singer's morbid subject matter is matched by devilish blues. "Black Rider" is all tremolos on acoustic string instruments. "I've Made Up My Mind to Give Myself to You," one of the great sort of noncommittal Dylan songs about love — see "Most Likely You'll Go Your Way (And I'll Go Mine)" and "One of Us Must Know (Sooner or Later)" — is light and tender, like a lullaby. The amalgam of folk, rock, blues, gospel, and country music Rough and Rowdy Ways displays is one the legend has been building and tweaking since the rocky '60s. His music and his message are every bit as poignant now as they were two generations of unrest ago.
*A version of this article appears in the July 6, 2020, issue of New York Magazine. Subscribe Now!