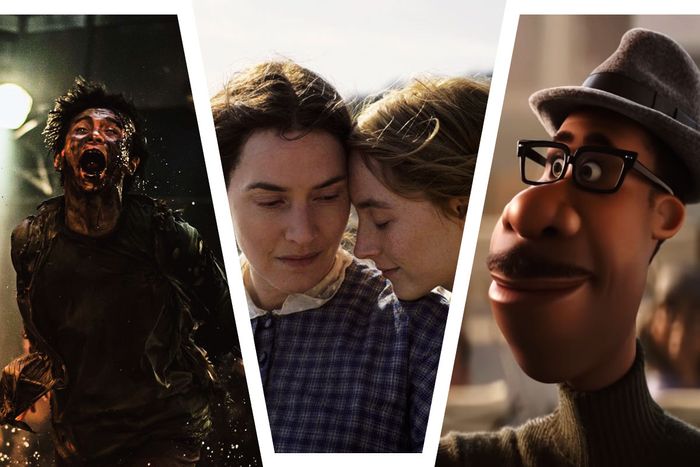 Peninsula
,
Ammonite
, and
Soul
.
Photo-Illustration: Vulture, Next Entertainment World, Lionsgate and Pixar
Vulture didn't do a list of our most anticipated movies at Cannes this year, for the simple reason that the festival itself is not happening. However, on Wednesday afternoon, Cannes artistic director Thierry Frémaux announced the dozens of films that would have played the Croisette in May, many of which are expected to debut with the "Cannes 2020" label at other festivals or in theaters later in the year. (Coronavirus permitting, of course.) Here are the movies we're most excited to see, no matter how and when that can happen.
The French Dispatch
Wes Anderson's first live-action film since The Grand Budapest Hotel was expected to be one of the biggest draws of this year's festival, bringing the director's usual stable of stars (Bill Murray, Owen Wilson, Adrien Brody) and newcomers like Timothée Chalamet for a selection of stories about (and, it seems, by) American foreign correspondents in postwar France. Anderson says the film was inspired by his love of old New Yorker issues, and the Venn diagram of those two aesthetics might as well be a circle. The French Dispatch is now expected to premiere at TIFF before hitting theaters in October.
Peninsula
Bong Joon Ho's Parasite won the Palme d'Or last year, its first step on a road that eventually led to Oscar glory. Now, this year's selection brings another crackerjack piece of Korean genre cinema: Yeon Sang-ho's sequel to his 2016 zombie thriller Train to Busan, which follows a squad of marines patrolling a post-apocalyptic wasteland. What gruesome spectacle will they encounter? Two words: zombie spider.
Ammonite
Another gorgeous period piece, Ammonite stars Kate Winslet as 19th-century fossil hunter Mary Anning, who develops an "intense bond" with a wealthy young visitor (Saoirse Ronan). If you've ever read a film-festival blurb before, you know what that means. Director Francis Lee previously made the critically acclaimed romance God's Own Country — can he do for Lyme Regis what Luca Guadagnino did for Crema?
Lover's Rock and Mangrove
On Wednesday, British director Steve McQueen dedicated his two films in the official selection to the memory of George Floyd, "and all the other black people that have been murdered, seen or unseen, because of who they are, in the U.S., U.K. and elsewhere." Both films are installments from McQueen's upcoming BBC anthology Small Axe, which tells stories set in London's West Indian diaspora from the '60s to the '80s. Mangrove follows the Mangrove Nine, activists who protested police raids on an immigrant-owned restaurant in Notting Hill; Lovers Rock is a fictional romance set in the early '80s music scene. (It clocks in at a relatively brief 64 minutes.) The entire Small Axe project will get a theatrical release in France, but will be streaming on Amazon Prime in the U.S.
Soul
Pixar's first movie with a black lead — though this being Pixar, he spends most of the film as an inchoate blob. Jamie Foxx voices a jazz musician whose soul gets separated from his body and must traverse the spiritual waiting room where consciences get ready for life on Earth. The trailer plays up the similarities to Inside Out and Coco, and this looks like another heady mix of feel-good emotion and complicated ontological arguments. Soul was originally due out in July, but Disney has since pushed back its release to November.
Summer 85
The last time François Ozon was at Cannes, he shocked the festival with a graphic gynecological match cut. Who knows how he'll top himself? His latest follows three teens at a beach resort in Normandy in the 1980s, and before you can say "what a fun, sexy time," know that early reports say this is a more existential affair, possibly about the looming specter of death. Sounds pretty French!
Septet: The Story of Hong Kong
Seven of Hong Kong's top directors — Tsui Hark, Ann Hui, Sammo Hung, Johnnie To, Patrick Tam, Yuen Woo-Ping, and Ringo Lam, who for some reason was left off the release — join forces for a collection of sketches about the history of the city-state. As Hong Kong balances on the edge of a perilous future, this sounds like part art project, part time capsule.
Aya and the Witch
The first CGI film from Studio Ghibli turns out to be another adaptation of Howl's Moving Castle author Diana Wynne Jones. It's a reworking of Jones's YA novel Earwig and the Witch, about a young orphan adopted by a dark sorceress. Hayao Miyazaki's son Gorō directs, and we'll see if this is the one where he finally reaches the heights of dad's best stuff.
Last Words
Frémaux promised this film, by American director Jonathan Nossiter, would "resonate with the peculiar time we're experiencing." In a dystopian desert future, survivors are drawn to Athens, among them an African teen carrying the planet's last reel of film. For a festival hoping that movies remain vital in the post-pandemic world, you can understand the appeal.
Enfant Terrible
A biopic of German filmmaker Rainer Werner Fassbinder, with Oliver Masucci of Dark in the lead role. Movies about legendary directors don't always have the best track record, but if any of them could be the subject of a great film of their own, it would be Fassbinder, who packed more into his 37 turbulent years than most of us can manage in double the time.
Limbo
The second film from British director Ben Sharrock follows a young Syrian refugee stuck on a remote island while waiting for his application for asylum to be approved. According to Frémaux, it's Wes Anderson by way of Scotland.
Pleasure
When you win a shorts prize at Cannes, you often get to come back with the feature version of the same movie. Thus Sweden's Ninja Thyberg returns to the territory she covered in her award-winning 2013 short about the porn industry. "Very contemporary," raved Frémaux. "Very unsettling."