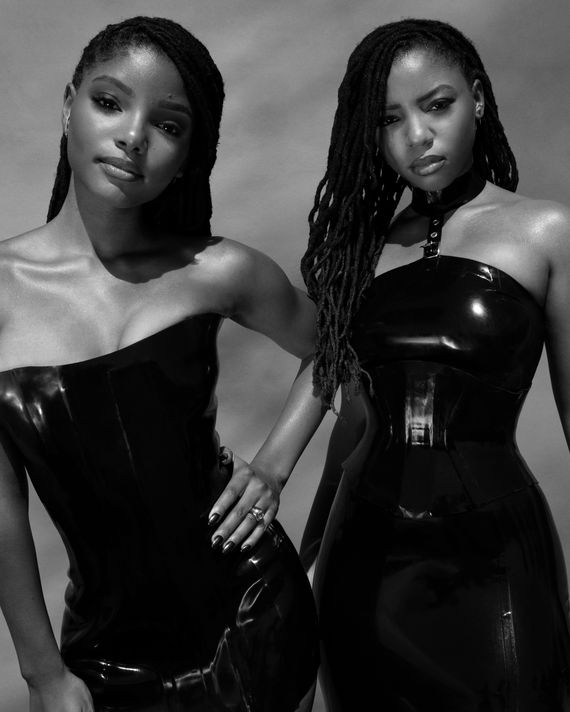 On their 2018 debut album The Kids Are Alright and on Freeform's Grown-ish, a 19- and 17-year-old Chloe and Halle Bailey sang "Watch out world, I'm grown now." So you'll have to forgive them for acting out a little on their new sophomore record — they warned us. While Ungodly Hour might sound like a pivot to the grown 'n' sexy side of R&B similar to plenty of their peers, trading TKAA's colorful doodles for chrome angel wings and skin-tight latex, they're really just living the same truths they preached up and down TKAA: Own your insecurities, work hard, don't get distracted by drama. "When we created this album, we said, Okay, we want to show all the different sides and layers of us," Chloe tells me, sitting side by side with her sister, over Zoom from their family home in Los Angeles. "We don't just want to show this one side. A lot of people still think we're teenagers."
Now 22 and 20, the former child stars are ready to explore the topics they've been singing about since they were kids making covers on YouTube, the ones that landed them a record deal with music royalty before they were old enough to vote. The new album calls out former flings, seethes with jealousy, and apologizes when necessary. Lyrics like "It's four o'clock / you sendin' me too many pictures of your …" and "No drama, no baby mamas" immediately started dating rumors online, roping in their Grown-ish co-star Diggy Simmons. While most fans are having fun with it, those a little, um, outside of the Baileys' age demographic are still struggling (try to get through this Breakfast Club questioning without cringing). In case you missed it: They no longer have to change Beyoncé lyrics from "You showed your ass" to "You showed your butt" — on "Do It," they proudly sing "I'm a bad girl, shake a li'l ass." Alongside all the perks of growing up, the album makes sure to normalize the struggles, too.
When the coronavirus pandemic sent Halle home to L.A. from The Little Mermaid rehearsals in London, their house (complete with mom, dad, and younger brother, Branson) became their album rollout headquarters. One of the few albums to not be pushed due to the coronavirus, Ungodly Hour was originally planned for June 5, but the deaths of George Floyd in Minnesota, Breonna Taylor in Kentucky, and far too many others across the country, created a moment that Chloe and Halle felt they couldn't ignore. They pushed the album one week, to June 12, and continued to use their platform to share petitions, funds, and awareness, while also personally signing petitions and making donations. As both an escape and work, they've been focusing their energy on the album, diving into elaborate DIY remote performances and mashing up songs, but making sure to leave Sundays for rest. After a busy weekend tearing up the BET Awards and Global Citizen virtual stages, channeling Aaliyah in one performance and going full rock and roll in the other, they'll be back on Instagram Live this Thursday for Ungodly Hour Tea Time, where they often chill out in Snuggies, try to remember what day of quarantine it is, and update their supporters on their lives.
Ahead of their packed weekend, Chloe x Halle talked about the vision behind Ungodly Hour and how they're handling life on lockdown.
How has it been, emotionally, to have to sing and dance while all of this turmoil is happening?
Halle Bailey: Emotionally, what's keeping us afloat is music and feeling better through the art. I think that's why we love music so much because even though we create it and we sing it, we use it as our healer, too. Everything going on really makes you reflect. But we're young black women, this hasn't been anything new to us. Our community has known about this for a very long time, and it's constantly upsetting. But what I'm appreciating about technology and social media is that our voices can't be silenced anymore. And the things that they used to try to hide, they can't any longer. We're seeing these injustices happen over video, and [so is] the rest of the world who's usually ignorant to the racism that's been underlying in this community. They're seeing it and they're upset as well. So it's good because change can only happen when we're all working towards a common goal. I can't wait to see what comes out of this.
I feel like every time we have one of these moments where everyone is just mourning so publicly in such a communal way, there's also music that uplifts us. Talk me through deciding to postpone the album.
HB:  During the height of the George Floyd protests, emotionally, we just were not right to release a project. Our little brother and our father — when we see a video of George Floyd getting killed in the street, we think that could be them tomorrow. And we wanted to shine the light on what needs to be seen. That George Floyd video, Breonna Taylor, all of the other brothers and sisters that we have lost to police brutality — that is what needed to be at the forefront and what still needs to be at the forefront.
And when The Kids Are Alright came out that was right around March for Our Lives, the Women's March was happening. How does this moment compare for you?
Chloe Bailey: Wow, now that I'm thinking about it, this time, it feels a bit more like change is really going to happen. Around The Kids Are Alright, we went to the March for Our Lives and we were around that incredible energy; it was really positive and uplifting because we were all banding together. But for some reason, this time right now … I feel like we have the entire world's attention. Actual change is going to come out of what's been happening. So, it feels the same but different, right?
HB: Yeah, I definitely think this one feels more massive. Feels like, Okay, maybe we're getting somewhere this time. Maybe it won't just go away a week after all of this is over, you know?
In the early stages of Ungodly Hour, did you go in wanting it to be something that showcased your maturity? Or did that come out as you were going with it?
HB: We absolutely knew that we wanted it to showcase our growth, the evolution of us into young women. Because I feel like The Kids Are Alright was very much us finding ourselves and that project took three years to make. So with that length, you can kind of go through and see like, Oh, wow, they must have been really shifting through and figuring out what's wrong and what's right. So, for this project, it was like, Yes, we are here. We are now grown women. I'm 20. My sister's about to be 22 this week.
CB: Hey!
HB: So we took that and we were just like, Let's show who we've become. And let's show the side of us that people don't see whether it's the naughtier side of us or the insecure side of us, or the part that picks every single thing apart about ourselves out. We wanted to show all the layers of us as young women, once you kind of know who you are, but also you're still learning.
You'll never be a finished product.
CB: Never, constantly evolving. And that's the goal.
There have always been glimpses at your boss-bitch attitudes, hints of it in your music and on Grown-ish. Do you ever get the sense that you're waiting for the industry and fans to sort of open their eyes and catch up to where you're at?
CB: I'm not gonna lie, there are some moments. And I remember when we were even creating this album we were putting a certain pressure on ourselves. Because we were thinking, What do we want the world to hear from us? What do we think the world wants us to sound like? What would make people become more receptive to us? I remember we were creating for, like, one to two months in that mind-set, and we were creating some of the worst music we ever have.
HB: Yeah, it was. It was trash.
CB: It was because we weren't creating from our hearts. We weren't being honest with ourselves, and as a musician, you gotta be vulnerable and share that true part of yourself or the music isn't going to be very good. Once we threw that out the window and said, You know what, let's create a good body of art, the album continued to write itself. But that main lesson for us was never change yourself; the world will catch up to you when it's ready. I feel like they're kinda ready now for this project. It's older and more mature than The Kids Are Alright because we're older and more mature than who we were when we created that.
In making a more vulnerable album, were you nervous about expanding your image in that way? Was there anything that you debated not including or things that didn't make the cut?
HB: Wow, so, I will say that our parents kind of had a hard time … well, not a hard time, but just like opening their eyes to the fact that, Okay, these are the topics that we've decided to talk about. This is what's happening. It was really fun for us to watch them. I completely understand how they feel because, you know, we've been just little babies to them and now we're growing and they're hearing [about] certain things that we've been through, or that we just wrote in the music. They have been like, "Oh, okay, so that's that."
Fans tweet collabs at you all the time, but what's your actual approach to choosing who you work with? (Ungodly Hour features just two major collaborations: Swae Lee on "Catch Up" and the title track with Disclosure.)
CB: Definitely we have to be fans of them, number one. Even though we make music, we are such big music fans and music lovers. Two, we have to feel like the person can sonically fit the song. We don't want to throw just anyone on a song just because they have a big name, which is really cool too. It's really great to get big features. But it's so funny because we have a big wish list of who we hear on which songs and some people bite, some people don't. It's always fun to see what the end result will be. And I know we'll start putting out remixes and stuff soon, which will be fun.
HB: It's very interesting because it's hard during the creative process. You kind of have to open yourself up to somebody you do not know when you make music; it's a part of your heart that you're sharing. So, it's a very intimate thing to do with a stranger. Which is why with my sister it's really easy. But when it comes to us working with new people, we gravitate towards the ones who have very open spirits and souls, nice people.
Chloe, would you ever produce for other artists?
CB: Absolutely, 1,000 percent. That would be so much fun. I would be getting out of my comfort zone, because the only person who I can comfortably produce in front of is my sister and blast it loud over the speakers. Whenever we have other sessions with other producers and we're collaborating, I'll put my headphones in, I won't blast it on the aux with theirs. I have my little computer on my lap because I like using weird sounds and samples and chopping them up in a weird way. Sometimes it's trial and error, so I don't want people to hear my mistakes.
HB: She's amazing and she should just blast it everywhere she goes, okay?
CB: I would definitely love, love, love to do that.
Yes, we want to hear you everywhere! So, when shelter in place started, you guys very flawlessly transitioned to doing these home covers and incredible remote performances. What's the process of coming up with these concepts, especially the more elaborate ones?
HB: Oh my gosh, it's really just a bunch of play. When we're coming up with concepts, our creative director Andrew Makadsi is really amazing at seeing our vision for the songs before we actually perform them live. It's been really interesting and exciting to have new songs to play with. But as far as the covers, you know, those are easy. We can do those in our sleep; we just love singing other people's songs.
How long does it take to pull together a remote performance like the Today show one for example?
CB: Our amazing creative director came up with that and it took him a day. He just kept sending us a bunch of references and photo ideas he thought of and we picked the backdrop we wanted. The song arrangement, because we always like to switch it up every time, takes —
HB: Like a day.
CB: It takes us like ten minutes to arrange the songs. But then we took some of the choreography [by Kendra Bracy and Ashanti Ledon] that we learned during the music video shoot, and we added new choreography ourselves for the Today show performance. We were like on the floor and stuff — we did that the night before we filmed it. That took us like 30 minutes because we wanted to make sure the moves weren't awkward because we're not choreographers, so we would prop up our iPhone and that would be our little dance-studio mirror.
You guys are really doing it by yourselves in quarantine. So, what's the tennis court situation? Has that always been there?
HB: Yeah, it has actually, we just haven't really used it. I mean, we've been where we live for about two years now. We never really thought to use it until quarantine happened 'cause we always go somewhere else to shoot performances. That's been a beautiful evolution — using what we have. We feel so blessed to just be able to do what we love and also do it somewhere nice.
The tennis court performances have been life-giving.
CB: It's been so useful, from the at-home photo shoots we have to do and then the performances, like I'm so grateful. We don't actually know how to play tennis, but there are basketball hoops on each side so our little brother Branson's usually out there. So, when we do have to do these things, I feel bad because he's always out there shooting hoops, but he's like, "Okay, you can have it for two hours …"
This interview has been edited and condensed for clarity.