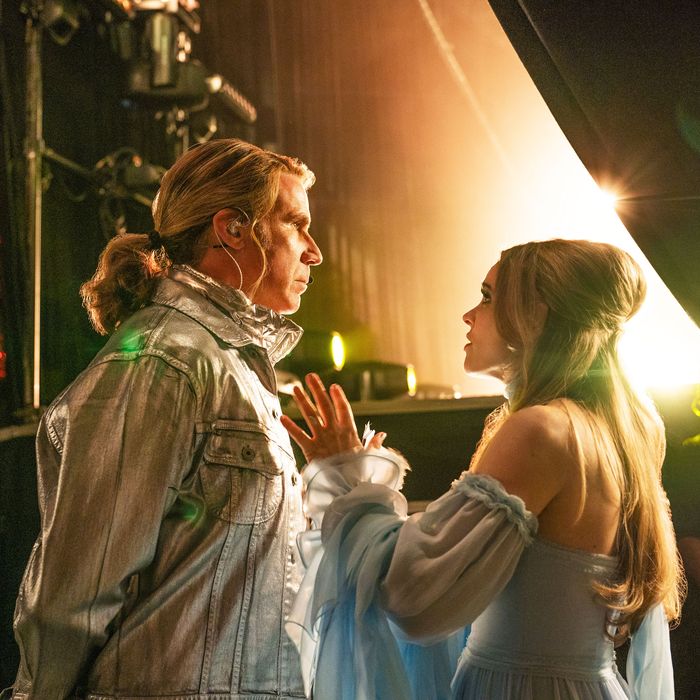 Will Ferrell and
Rachel McAdams
in
Eurovision Song Contest: The Story of Fire Saga.
Photo: John Wilson/Netflilx
Fans clearly made Eurovision: The Story of Fire Saga. In fact, Will Ferrell — who plays one half of the titular group and fictional competitor Fire Saga — has said he's been following the song competition for more than 20 years, which works out to approximately 17,356,472 hours worth of spandex costumery and glorious onstage spectacle. The Netflix parody is, therefore, more a glorious tribute to the real-life international song contest that grew from 7 countries in 1956 to more than 50 last year, launching the careers of superstars like ABBA, Celine Dion, and Conchita Wurst in the process. (It's also somehow managed to create one of the most incomprehensible voting systems outside the Electoral College.) Throughout the movie's 123 minutes, director David Dobkin and crew take pains to honor the annual celebration of camp and international unity — one that marries the pride of the Olympics with the unhinged passion of theater kids, has become a massive event in the global queer community (viewing parties in Hell's Kitchen are always filled to capacity), and sparked a gold mine for deranged YouTube clips, as anyone I've sent a Verka Seduchka or Dschingis Khan video can attest.
Unsurprisingly, Eurovision the movie arrives packed with appearances from and references to actual former Eurovision Song Contest winners and commentators. And it couldn't be better timed: Eurovision 2020 was canceled due to COVID-19 concerns, leaving a giant hamster wheel-size hole in the entertainment world. Some of the movie's cameos and homages, however, are so quick you might miss them amid the utter glut of outlandish pageantry. So we've compiled a quick guide to all the appearances and references that lend Eurovision a sense of authentic drama. (Note: For some reason, Hatari, the "anti-capitalist, BDSM, techno-dystopian, performance art collective" who Iceland sent to Tel Aviv in 2019, does not appear in the film. Apologies to those fans.)
The Cameos
Demi Lovato
Although not affiliated with the Eurovision Song Contest previous to this, Lovato plays Katiana Lindsdottir, the artist Icelandic Public Television initially wants to send to the Eurovision competition. The blond wig isn't great, but in her early performance, she nails the vibe of dozens of former contestants who tried the big, inspirational ballad route to victory.
Salvador Sobral (Portugal)
Sobral appears as a street pianist in Edinburgh, the host city for the film's song contest, who enchants Lars and Sigrit with "Amar Pelos Dois," which won Eurovision in 2017.
John Lundvik (Sweden)
Lundvik is one of the participants in the "song-along" at a party hosted by Dan Stevens's character, favored Russian competitor Alexander Lemtov. Lundvik finished fifth in Tel Aviv's 2019 competition with Too Late for Love." His backing singers, The Mamas, were set to represent Sweden in 2020.
Anna Odobescu (Moldova)
Anna Odobescu performed for Moldova in 2019 and sang "Stay," though she didn't qualify for the final. In the film, she joins Lundvik on "Believe" in the song-along.
Bilal Hassani (France)
Bilal Hassani is a French singer-songwriter and YouTube star. He performed "Roi" in Tel Aviv and finished 16th. He's the blonde in the glasses and fringe in the song-along.
Loreen (Sweden)
Loreen won the 2012 contest with the techno dance song "Euphoria," and walks down the stairs during the song-along.
Jessy Matador (France)
Jessy Matador finished 12th at the 2010 Eurovision contest in Oslo, singing "Allez Ola Olé." He joins Loreen as she walks out into the garden during the song-along.
Alexander Rybak (Norway)
Rybak has represented Norway twice, once as a teen in 2009, where he won for "Fairytale," and again in 2018. "That's How You Write a Song" placed 15th (which is, in my opinion, higher than it deserved). He plays the fiddle as everyone starts singing "Ray of Light" in the song-along.
Jamala (Ukraine)
Jamala had a controversial win in 2016 thanks to "1944," which told the story of Stalin's persecution of Crimean Tatars. Some supporters of Russia believed it broke Eurovision's rule against explicitly political songs, but the unsubtle reference to Russia's recent invasion of Crimea received a record 534 points in the contest. She gets a happier cameo in the movie, starting "Waterloo" in the song-along.
Elina Nechayeva (Estonia)
Nechayeva finished eighth in 2018 with her operatic ballad "La Forza." She's the singer in the white dress (without a beard) in the song-along.
Conchita Wurst (Austria)
Conchita Wurst is an international icon and drag queen who won in 2014 for "Rise Like a Phoenix," which sounds like it should have been a Shirley Bassey song. Conchita, her beard, and her abs team up with Elina Nechayeva in the song-along.
Netta (Israel)
Netta is an Israeli singer whose song "Toy" won in 2018, despite some pretty racist stage props. She can be seen exiting a car and starting off "I Gotta Feeling" in the song-along.
Graham Norton
When he's not hosting a cheeky BBC talk show, Graham Norton does brilliant Eurovision commentary for the channel. He plays himself in the press box and throughout the movie's competition.
William Lee Adams
Adams is a Vietnamese-American journalist who currently works for the BBC and who founded the Eurovision blog Wiwibloggs. He's at the end of the row of commentators reporting on the semifinals in the movie.
The Homages and References
At times, Fire Saga feels like a feature-length version of "Love Love Peace Peace," a comedic bit performed by 2015 Eurovision winner Måns Zelmerlöw and his co-host Petra Mede at the 2016 Stockholm contest. Most of the film's songs, including "Double Trouble" and "Lion of Love," would fit in perfectly at an actual Eurovision contest, and Fire Saga honors some of its most beloved traditions with even more overt nods to the competition. It's easy to finish the movie thinking that the performers and their stage productions are all clever parody, but almost all of them are actually loving homages or references to very real Eurovision performers and tropes of the contest.
ABBA
Before the musical, before the museum, the foursome won Eurovision in 1974 with "Waterloo." You can see them on TV at the beginning of the movie, distracting Lars after his mother's funeral. They are heavily referenced throughout the story.
Moon Fang/Lordi
Yes, there was once a band at Eurovision full of dudes who looked like GWAR superfans. Lordi, the first Finnish winner in the contest's history, answered the question, "What if KISS were just friendly metalheads with socialized medicine?" with "Hard Rock Hallelujah" in 2006. In the film, Moon Fang, from Belarus, pays homage to Lordi in the first semifinal.
Alexander Lemtov/Sergey Lazarev
If Downton Abbey star Dan Stevens didn't base his character Alexander Lemtov (whose range is, notably, lower) off of two-time Russian competitor Sergey Lazarev, he must have gotten character notes from Icelandic Elves. Lazarev was a favorite to win in 2016, and he returned to represent Russia in Tel Aviv in 2019. (Russia's official policy of homophobia doesn't extend to exploiting queer communities for Eurovision glory.) Unfortunately, he couldn't overcome Russia's massive unpopularity for doing things like persecuting its LGBTQIA residents and invading Crimea. In addition to openly advocating for LGBT rights in Russia, at one point he owned and ran Poodle Strudel, an online bakery for dogs.
Mita Xenakis/Eleni Foureira
Mita Xenakis (Melissanthi Mahut) should have been from Cyprus, not Greece. Why? This is Eleni Foureira.
21st Century Viking/The Singing Viking
"21st Century Viking" is a Eurovision movie act that would translate perfectly to Eurovision the show, which gets a Viking-inflected act every few years. Sometimes it involves an obscure traditional instrument or horn, sometimes it's an act like Denmark's Rasmussen. Global pop music has Robyn, so the Eurovision universe gets the Vikings. It's part of the deal made long ago in the fjords.
San Marino Gets Emotional
In the movie, San Marino's Dalibor Jinsky (played by Junior Delius) moves himself to tears as he dances through "Hit My Itch," an upbeat number more likely to come from a country like Switzerland or Austria in an actual competition. The micronation has only qualified for the Grand Final twice, most recently when Serhat, a singer, trained dentist, and producer of the Turkish version of Jeopardy!, finished 19th in Tel Aviv.
The Hamster Wheel
In 2014, while Ukrainian singer Mariya Yaremchuk sang "Tick-Tock," a man ran on the stage in a giant hamster wheel. This performance was enough for sixth place. The hamster wheel doesn't have the same lucky effect when Fire Saga performs in the movie's semifinal though.
Fire!
In the movie, Sigrit is startled by fire shooting from the stage during a technical rehearsal, but she should have expected it. If sparks aren't erupting during a live performance, there's probably fire in the official video. More than one act has brought out a burning piano.
Sexy Men in Tight Pants
Lemtov's backup dancers are but one breed of the species of Eurovision Backup Man (see: Lazarev's video above). Sometimes they're in gold lamé, sometimes it's leather, and every so often there's a suit (usually track, but occasionally formal). There may be vests, but they don't stay on for long.
Questionable Rap Skills
There have been rapping contestants at Eurovision since 1995, and a rapping 75-year old from Croatia took the stage in 2008. But even the real-life winning acts have been about as ridiculous as Johnny John John (Christopher Jeffers) performing "Coolin' with the Homies." Eurovision hasn't evolved very far beyond what older millennials probably heard at roller skating rinks. Poland tried something hip-hop inflected in 2014 when it sent Donatan & Cleo, but in retrospect, "We Are Slavic" works better as an anthem for the country's current far-right government than a dance tune.
The Eastern Bloc Votes Together
This is a very real thing, but it used to break down into mini-alliances (Estonia votes for Latvia and Lithuania for Estonia) or full-blown Stockholm syndrome (Belarus votes for Russia, Azerbaijan votes for Russia, and so on down the USSR line). In the film, it was nice to see the former prisoners of the Iron Curtain vote a good-hearted underdog like Fire Saga into the Grand Final rather than pledging votes to Russia in voices that suggest there are tanks waiting outside the state broadcasting center.
Feisty Elders
Fire Saga's elderly bassist and accordion player would have been useful additions to the act in Edinburgh. Despite global pop music's reputation as music by and for youth, Eurovision loves old people. A human cannot feel anything but love for Buranovskiye Babushki.
England Sucks
Somehow the country that brought us Adele, the Beatles, and Sade is the new punching bag of Eurovision, and the writers of this movie know it. If they weren't one of the five nations guaranteed a spot in the final every year, it would be impossible to know they were actually competing because their would never make it out of the semis. How bad have they been? Michael Rice, a soggy Sam Smith clone sent to slaughter in Tel Aviv, is actually one of their better acts of the last decade. He had the good sense to not perform swing in the 21st century.