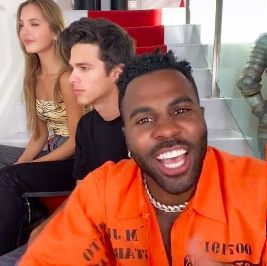 Jason Derulo's already hopped on the trend but of course.
Photo: Jason Durelo/TikTok
The next time you go to a social-distance cookout and someone hands you the aux cord, you gotta play "Hood Baby" by KBFR. The rap, laced with an infectious hi-hat beat, doubles as a chill summer bop and a party-starting dance callout song. "Down South / Hood baby / Make all the boys go crazy / Look up down to the side / Wok got me feeling lil lazy / Shuffle / Shuffle / Flex one hand show the muscle / Bring it round town / Hit it out the park / two hands on her mouth like a muzzle," he raps. The dance breakdown, the ad-libs ("Go stupid!"), and the length (coming in at a cool 1:50) all add up to the perfect TikTok bait. The song, which dropped in April, has already had a viral dance challenge, but this past week it came back in full force with another trend, pushing the interest off-app and onto Spotify, Apple Music, and YouTube, where it's only seeing more success.
On April 8, five days after KBFR dropped "Hood Baby" through Distrokid, a platform that uploads and sells independent music to streaming services, his friend 21-year-old @b.thomp10 and @jaycoop24 posted TikToks of the official #HoodBabyShuffle. Some moves follow KB's instructions, but, of course, they threw in irresistible TikTok-trendy moves. Even after TikTokers @captainjorjor and @poofdaddy simplified the choreography about a week later, the dance is still one of the harder TikTok challenges. That didn't stop anyone. TikToks tagged #HoodBabyShuffle have earned over 3 million views. Nearly three months later, people are posting videos shuffling and flexing. But they also found something new to do.
In early June, the song resurfaced with a much simpler challenge. It started as the #HoodBabyTrio by @racksonkriss, @taeenextdoor, and @jrtoofye, and thank goodness, because we also cannot get the shuffling move right. In the new trend, each person lip-syncs one line of the song at a time, including ad-libs, then everyone turns their head "up, down, to the side," and sings "Got me feeling a lil lazy." With only like four moves, it's so easy people got their dogs to do it. Yeah, that TikTok has 3 million likes, and the dog deserves every one.
The rapper already had a decent following on Instagram and Triller, where he posts mini-music videos to comedic raps. Between that and a little choreography from his friends, his debut was bound to go viral. While "Hood Baby" hasn't reached overnight stardom levels (yet), it's another song that went straight to internet fame, bypassing all the corporate mumbo-jumbo it typically requires to break out in the music industry. TikTok puts songs directly into the hands of millions, including celebrities like Jason Derulo, and gets them to do the promo for you; truly, it's only a matter of time before he does an entire album of TikTok remixes.
This post was updated to include the creators of the #HoodBabyTrio trend.