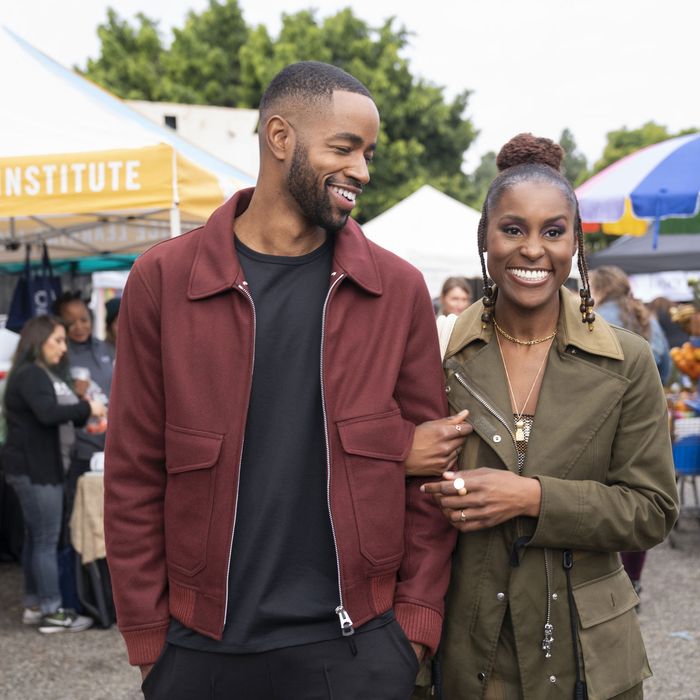 Jay Ellis and Issa Rae in
Insecure.
Photo: Courtesy of HBO
On Sunday night, the 19-year old Tallahassee activist Oluwatoyin "Toyin" Salau, who went missing on June 6 after sharing a wrenching Twitter thread about her sexual assault, was found dead. The loss of Salau has burnished conversations about the ways black women, especially dark-skinned black women, are abused, discarded, and ultimately lost. Her death makes clear not just the danger of home instability and misogyny, but the fact that what's on the line with this current uprising against anti-black racism is black life itself. Salau's death is tragic news compounded in a time marked by great horror (the continuous loss of life and reshaping of our culture by COVID-19) and beauty (the swell of protests across the globe, including the mammoth crowd outside Brooklyn Museum yesterday in support of an action for black trans lives). Every day I wake to news that leaves me both emboldened by my anger over the present conditions of black life and heartbroken as a black woman.
Perhaps that's why Insecure feels like such a balm. The HBO series, which closed out its fourth season Sunday evening, lingers on the joys of blackness, giving us a succor that is often missing in depictions of black life. There's something moving about being able to escape into a vibrant series populated by beautiful and beautifully rendered black and brown folks that allows them to just be. The problems these characters are mired in lack the urgency and heartbreak of the current state of the world, for which I am thankful. It's the kind of show you slip into like a warm bath, as its aesthetic, narrative, and sonic prowess work to create a series that is wildly engaging even when it frustrates occasionally.
This season felt more mature than its predecessors, adding a heaviness to its typically gossamer-light proceedings through its exploration of the love stories at its center, especially the friendship between Issa (co-creator and star Issa Rae) and Molly (Yvonne Orji). Insecure has never been a wholly perfect series — it's touched by a classism that can be frustrating and the finale has a markedly odd moment with cops — but season four felt like solace, bristling with mature storytelling and beguiling aesthetic dimensions. Even in an uneven finale that doubled down on the show's worst impulses, there's enough wondrous about the series, particularly in its aesthetic beauty, to keep me intrigued.
Insecure's greatest strength since its very beginning has been the vibrant aesthetic and sonic dimensions that are essential to its portrayal of black life. The style set by director and producer Melina Matsoukas is charmingly easygoing, colorful, and rich. Actors are lit with a care that demonstrates the beauty of a wide variety of black skin tones. Characters are dressed gorgeously. The music this season by artists like Rico Nasty, Raphael Saadiq, and Jucee Froot did more than set a mood; it added to the lyrical splendor of the series, evocatively creating a warm hangout vibe. Some gambits in aesthetic experimentation didn't quite work: When the season first started, I was cool on how the series played with time to tease out Issa's block party, which proved to be a turning point in her life both professionally and personally. Yet one of the season's most intriguing threads was wholly visual: a motif in which two characters are separated within the frame and look at one another head on, communicating the distance between them. We see this yet again in the finale between Nathan (Kendrick Sampson) and Issa, as she visits him in the space that will become his own barbershop. Each of them reflected in a different mirror and holding each other's gaze is ripe with meaning. This season, the grace of Insecure's aesthetics finally matched the maturity of its storytelling.
This was never more true than when the show turned to its beating heart, Molly and Issa's friendship. What has been intriguing to me is how, even in the beginning, the fissures between them were evident. In many ways, Issa and Molly have always been dramatically different people, but their fight at the block party was a turning point in which their finally long-held issues boiled to the surface. That was tragic, but not surprising. While I have a lot of tender feelings toward Molly, she's often stubborn and unable to see her own selfishness and issues despite pointing them out effortlessly in others. Issa isn't perfect either. How couldn't she see Molly was growing distant? How didn't she realize Molly would feel betrayed by her asking Andrew (Alexander Hodge) to book Vince Staples for her block party? Watching the split in their friendship was both emotionally poignant and evocative, bringing up memories of my own fraught platonic relationships with women. Yet even as Insecure handled such a knotty, ambitious narrative about a withering friendship, it retained its light, airy touch and an interest in the pleasure principle — visuals of the show feel ripe enough to eat — that allowed it to still work as a salve, an escape, a balm.
What followed after Molly and Issa's argument at the block party was silence, then an awkward, hollow attempt at reconciliation engendered by Issa reaching out. Molly seemed incapable of meeting Issa halfway, as Andrew suggested. She can only see relationships in terms of who has the power and control, rather than an even playing field of mutual care. Their friendship was further harmed when Issa, during an impromptu night with Molly, Andrew, and Nathan, got an accidental text from Molly: "See? I'm trying with her." This opened the two up to at least be somewhat honest with each other, as Molly noted that perhaps they no longer fit together. I ultimately see this as the truth: These characters are no longer compatible as friends and perhaps they never were. Their relationship has often felt defined by convenience and a history together rather than a wholly healthy love. While I expect the show to work toward bringing them together next season, what has most interested me in this story line is how it speaks to the fact that some people are only in our lives for a specific period of time. There is heartbreak in such a loss, even if it feels right.
And what about an old relationship reborn anew? The dynamic between Issa and Lawrence this season initially had me very wary. The two tentatively navigated around one another as they shared Condola (Christina Elmore), who had grown into a friendship with Issa as they worked on the block party only for it to be revealed that she was seeing Lawrence. This nascent friendship between Issa and Lawrence, buoyed by their long history, bloomed into something full of pluratities and potency in episode eight, "Lowkey Happy," when they met up for something that was evident from its swooning romanticism to be a date. There was something especially moving about slipping into a world where former lovers could reconnect, where people could grow, where change could be made. It was easy to get lost within the simple beauty of their coming together. I'll be honest, I have never seen it for Lawrence. But "Lowkey Happy" acted as a good argument for why he and Issa have a bond in the first place and may be right for each other more than ever because they've grown. (Although, has Lawrence really grown, or did he just get a shape up and a job?)
In many ways, the writers — including showrunner Prentice Penny, Natasha Rothwell, Issa Rae herself, and their collaborators — did some of their most elegant work this season, braiding together threads about the limits of desire, hustling for professional success in the face of possible failure, and navigating interpersonal bonds with aplomb. It felt as if the show was building toward a defining moment that would shape our understanding of the story and where these characters were set to go in the future. Questions swirled in my mind. Would Issa be forced to choose between life in Los Angeles and her rekindled romance, if Lawrence got the job in San Francisco? How would Molly and Issa's lives look in the face of the fracturing of their friendship? Would Andrew and Molly survive, given the issues between them she didn't seem to notice? Amid such emotional bramble, the show remained a blissful escape. It wasn't just the glamorous rush of the aesthetics, but the writing too that allowed space for the beauty of black life.
That defining moment didn't arrive in the season finale, or at least not in the form I expected. A third of the episode "Lowkey Lost" was spent searching for Tiffany (Amanda Seales), the bougie mutual friend of Issa, Molly, and Kelli (Rothwell) who is mired in postpartum depression and decides to escape her life momentarily. Exploring the way black women navigate postpartum depression and the weight of motherhood is a potentially powerful story. But this story line, while hinted at earlier in the season, unfortunately lacks enough actorly finesse and narrative development to hit home. We aren't really privy to much of the marriage between Tiffany and Derek (Wade Allain-Marcus), which makes their reconciliation hollow. Did this really make sense as such a large focus of the finale, considering how thinly constructed their relationship happens to be? The frantic search for Tiffany did allow for some awkward moments with Molly and Issa, which demonstrated the ocean of tangled emotions between them, but even that felt less important than other developments. When Issa and Molly finally meet up in an Ethiopian restaurant to hash things out — perhaps to end the season on a softer note among all the attending chaos — we're not privy to their conversation, but the mood suggests a sense of them coming together. Whether they actually reconnect or decide their friendship no longer serves them is left to be answered next season.
But by far, the great work done this season was most undercut by the revelation that Condola is pregnant with Lawrence's child and has decided to keep the baby. This decision turns the writing away from its knotty complexity. Where to start? I will say the way this revelation is handled aesthetically is masterful. As the editing cuts between Condola's revelation to Lawrence and Issa finding out the next day, the tension mounts. All actors involved are giving it their level best, but they can't surmount how cheap and obvious this narrative turn feels. Even the grandeur of the cinematography and soundtrack aren't enough to distract from how pedestrian this narrative turn happens to be.
Twitter was bubbling with theories that Condola kept blowing up Lawrence's phone episodes earlier because she was pregnant. I didn't want to believe Insecure would make such an obvious soap operatic turn, but here we are. Why is the show, like many others, so afraid to even mention the word abortion? Why would Condola decide to keep a child with a man with whom she had a brief relationship and who doesn't want anything to do with it? The show gestures to Condola's emotions, as she notes she didn't want to have a child when she was married, but feels ready now. Unfortunately, this decision doesn't track with how the character was previously framed throughout the season. It's the kind of narrative turn predicated on setting Twitter aflame rather than engendering intriguing, rich, properly built storytelling. This twist didn't wholly undo the show, of course. Season four was still engaging and worthwhile, even if Condola's pregnancy now portends a question — can Lawrence and Issa survive in the face of such a radical, life-altering shift? — that I don't think is as rich as what has come before. It's a messy situation, but one I will definitely continue watching if only to escape from the mounting heartbreak of everyday black life in order to be reminded of its beauty.