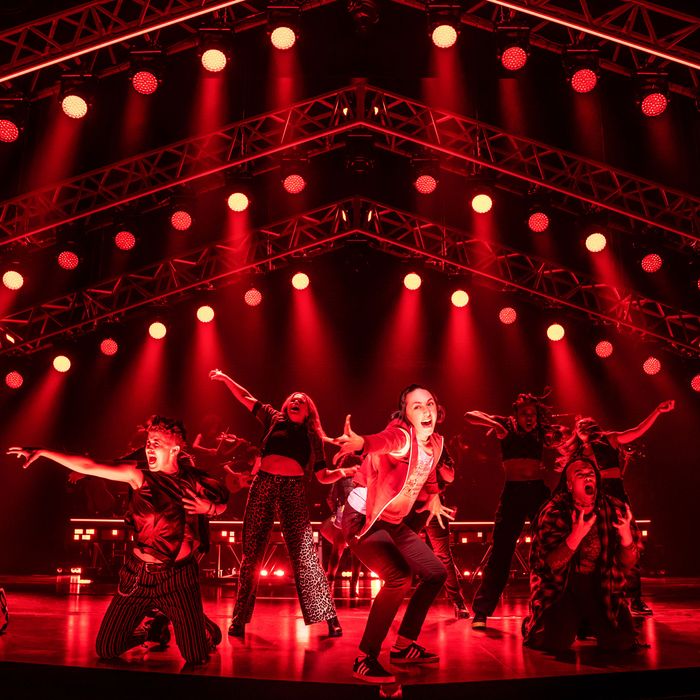 Lauren Patten, in mid-belt.
Photo: Matthew Murphy
On Broadway, Jagged Little Pill is actually a pretty big pill. The plot, which touches on rape culture, the opioid crisis, race, feminism, and classism, just to name a few topics, is a little bit of a grab bag. Among all that, the show's best moments come from Jo, the out, gay character played by Lauren Patten. (On Saturday night, Patten took home the Drama Desk Award for Outstanding Featured Actress in a Musical.) Jo's relationship with her best friend, Frankie, is more than just platonic, which Jo feels particularly acutely when she discovers Frankie in bed with one of their male classmates. It's the moment that prompts Patten, as Jo, to give a barn-burner performance of "You Oughta Know" that often brings the audience to its feet before she even gets to that final hanging note. Vulture talked with her about working with Alanis Morissette, her previous work in Fun Home and playing queer Broadway roles, and Jagged's most baffling setpiece, Brooklyn's Connecticut Muffin transported to suburban Connecticut.
Hi! How are your vocal cords?
It doesn't hurt to sing that way, for me. When I started developing the role, I have a vocal coach, who I've worked with for a long time and I brought him all the songs. I said, "Here's how I'm singing it. Let's make sure I'm not killing myself singing it."
"It," of course, being the Alanis Morissette songbook, including "You Oughta Know." Were you familiar with her work before the show? 
Not super-familiar. I obviously knew her hits and stuff, but I had never listened to the album all the way through.
Really? How old are you?
I'm 27.
Me too. I feel like that's an age window where you needed to have somebody older, like a parent, who really dug it to play it for you.
My older sister loved it. But we're seven years apart, so at that time it wasn't … We weren't close enough in age for her to be like, "Listen to my album." She was more like, "Get out of my room." Really the first time that I actually just listened top to bottom was before I did the very first reading of the show. Then I realized how many songs I actually knew—"Ironic" and "You Oughta Know," of course. I had forgotten "Hand in My Pocket" was her song, and "You Learn," and all these songs that were just in my brain. I think it shielded me from the pressure, because I didn't have that extremely deep attachment—I could sort of just go in and sing.
When was the first time you sang for Alanis?
We met her for the first time our very first workshop. She's amazing. She is a deeply special person. She is one of those people who walk into a room and her energy just immediately precedes her. Whenever she's been around, it renews our spirit.
Are any inside jokes onstage that we can't see?
We do a lot of silly stuff offstage, a lot of nonsense, because the show is very emotionally intense. One of my favorites right now is with me and Celia, who plays Frankie. We enter together at the top of Act Two. We're all sort of milling about on the stage before Act Two places. Then when we get the "standing by" call, Celia and I just start yelling, "standing bis," because we're both bisexual and we're both … standing. So we both go, "Standing bi? Where's my standing bi?"
You identify as bisexual and queer, right?
Bisexual and queer. Yes.
The early coverage of the show reported that your character, who is gay, used they/them pronouns. 
Jo never was written as anything other than cis. I know the creative team did a lot of work with GLAAD and the New York City Anti-Violence Project in between the run in Cambridge and now. I think it's the most clear iteration of what Diablo [Cody] and Diane [Paulus] and I always worked with and intended.
I was listening to an episode of the podcast Thank You for Coming Out where you talked about what it was like to come out while also starring in Fun Home. I'm curious what it's like to play a queer character while not also rejiggering your self-identity. Not that identity isn't something we reevaluate daily.
Right, that's a constant process. With Fun Home, when I first started the job I saw myself as straight. The show opened me up to understanding why I emulated my lesbian colleagues so deeply and why I connected with them. It took time to really understand that for myself. It was not long after that that I started developing Jo. So I was still very newly out, I suppose.
Don't you love how simple coming out is?
Once you say, "I'm out," the process is over. [Both laugh.]
If only. 
When we were in Cambridge, we marched as a cast in the Boston Pride parade. That was my first as an out queer person.
Come to Dyke March next year — it's even better. 
Oh my God, I want to go so bad, and I couldn't this year.
There's definitely still a fear for out queer folks who play queer characters that they're going to pigeonhole themselves. 
For sure. I — put this in quotes — "worry" about that, because I think it's an ingrained fear, like the ingrained fear as a woman: "Will anybody hire me after I'm 40?" You literally grow up learning and hearing [these things]. But I also feel confident that I am very believable. To me it would be ludicrous to be playing a character like Jo and also hide the fact that I'm queer. So it was also never a question of, "Oh, should I not talk about it?" These really amazing, intricate, complex, incredible queer roles are coming my way — I'm not going to go, "Oh wait, but they're all queer."
A very important question. Have you ever been to a Connecticut Muffin?
No. I didn't realize it was real until recently. I thought that was a thing Diablo made up.
They are real, and the muffins are pretty middling, I have to tell you.
What's funny is that that line where MJ waits for the drug dealer [outside the Connecticut Muffin] has gone through so many iterations. It's so funny — when you go through the entire development of the show, how sometimes huge things stay exactly the same and then tiny little details change so many times that it's mind-boggling.
The night I saw the show you got a standing ovation mid-song during "You Oughta Know." What do you do in that moment? Where does your brain go?
It's not something you ever expect, because it's insane. It's exciting because it's a real communion with the audience to know that … because, of course, we're putting 110 percent of our energy out on the stage … to have that come back in such a rare and huge way, it feels like there's just this energy radiating from the theater. It's the hardest one [I have to sing] — a lot of her songs are challenging in ways that you don't expect. You can look at the notes, but the way that she writes is often not according to expectation. They're very catchy, but her rhythms, her scansion of words is often really weird and not normal. Which obviously makes the song so great. But you have to be on your toes.
A favorite moment for me was realizing a queer person was going to do "You Oughta Know" solo, which — have you seen Lady Bird? — I consider to be the TI-TU-LAR ROLE.
I remember thinking, "Okay, I'm a supporting character, but I get to sing 'You Oughta Know' and 'Hand in My Pocket' and I have all this amazing witty humor from Diablo Cody." It felt like this embarrassment of riches that I was not expecting.
You do have the best role in the show.
It is an ensemble piece. It is a deeply ensemble piece.
Okay, in my opinion you have the best role in the show.
I could accept an opinion.
Update June 13, 9:45 p.m.: This interview has been updated to reflect Patten's Drama Desk Award win.