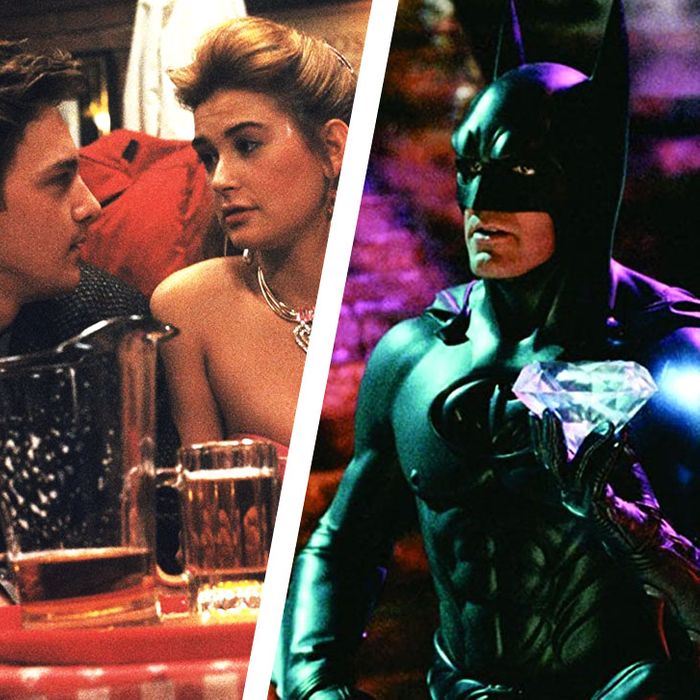 From
The Lost Boys
to
Batman Forever
and beyond.
Photo-Illustration: Vulture and Courtesy of the Studios
Director Joel Schumacher died on June 22 at age 80, but like Batman, his work will live on Forever. If you've been moved by the shows of appreciation across social media following the genre giant's passing, and you're curious to discover or revisit more of his filmography, here is where you can stream his films, from The Wiz to Trespass.
Car Wash (1976)
Joel Schumacher was chosen to write Car Wash based on his work writing Sparkle (which is available to purchase or rent on various platforms). Unsurprisingly, given Schumacher's career arc, it was originally meant to be a musical. Where to stream: Starz.
The Wiz (1978)
Schumacher didn't direct The Wiz either, but he did write the screenplay (loosely based on the 1974 Broadway musical of the same name, itself a re-imagination of L. Frank Baum's 1900 children's novel The Wonderful Wizard of Oz), using exactly zero percent of the original stage production's libretto. Schumacher opted instead to forge his own adaptation-of-an-adaptation, infused with plenty of the New Age self-help jargon that he was into at the time. We respect a screenwriter who makes choices. A precursor of dodgy musical adaptations to come, but still monumental for its all-star cast. Where to stream: Starz.
St. Elmo's Fire (1985)
A Brat Pack essential with a David Foster soundtrack and a title song that sounds like pure cocaine. Where to stream: Showtime, fuboTV.
The Lost Boys (1987) and Other "Lost" Films
Not "lost," exactly, but not available as part of any current subscription streaming services. The seminal '80s vampire movie and other Schumacher-directed movies like The Incredible Shrinking Woman, D.C. Cab, A Time to Kill, Tigerland, Bad Company, Veronica Guerin, and The Number 23 can be rented or purchased wherever you do your renting or purchasing. Dying Young and Twelve, however, will be harder to find.
Cousins (1989)
Ted Danson and Isabella Rossellini star in the American remake of a French film that I can only assume is "Les Cousins Dangereux" from Arrested Development. Where to stream: Prime Video.
Flatliners (1990)
It's kind of surprising that the doctors of Grey's Anatomy haven't engaged in Flatliners behavior yet. A wasted opportunity. Where to stream: CBS All Access.
Falling Down (1993)
Remember: Michael Douglas is the villain. Where to stream: Vudu.
The Client (1994)
A Grisham adaptation from the golden age of Grisham adaptations. Where to stream: HBO Max.
Batman Forever (1995)
Nicole Kidman as Dr. Chase Meridian. A cultural reset. Where to stream: HBO Max.
Batman & Robin (1997)
The nipple suit. The ice puns. Uma Thurman. Alicia Silverstone. To the critics who put this movie at 11 percent on Rotten Tomatoes: it's not for you. Because you have everything. Eeeeeverything is for you. And this one thing is for us. Where to stream: HBO Max.
8mm (1999)
Nicolas Cage, Joaquin Phoenix, and James Gandolfini in one movie. Where to stream: Shudder.
Flawless (1999)
Philip Seymour Hoffman, not listed above, is in this film. Where to stream: HBO Max, HBO Go.
Phone Booth (2002)
Schumacher made this tense thriller at the tail-end of phone booths being a relevant, recognizable concept, let alone the center of action for an entire movie. Probably syncs up nicely, "Dark Side of Oz" style, with Maroon 5's "Pay Phone." Where to stream: Hulu.
The Phantom of the Opera (2005)
Adapting an Andrew Lloyd Webber musical for the screen is a fool's errand because the source material is usually, in a word, stinky. Give Schumacher credit for infusing voguing into the "Masquerade" scene. Inspired. Where to stream: HBO Max.
Blood Creek (2009)
Decades into his career, Schumacher had earned the right to make a Nazi horror film starring Henry Cavill. Where to stream: Starz.
Trespass (2011)
Schumacher's final feature length film starred Nicolas Cage and Nicole Kidman as a couple who's held hostage by criminals. Where to stream: Tubi and Vudu.