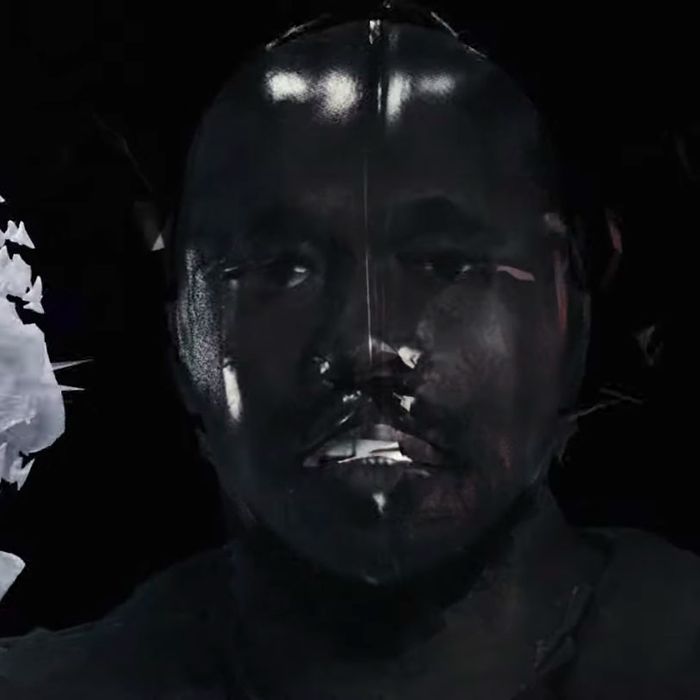 The sneaker man does not want you so free that you stop wanting sneakers.
Photo: YouTube
What is Kanye West selling now? The Chicago rapper and entrepreneur broke a lengthy social-media fast last week to announce a flurry of business endeavors, signaling a shoe launch, a clothing collaboration, a new single and album, an animated show, and a documentary. As fans noted all over social media, Kanye's "West Day Ever" campaign brings his career full circle: A ten-year collaboration with the Gap brand makes a onetime employee of the clothing retailer a business partner, seemingly in less than 20 years' time. West celebrated by releasing the deleted official video for The College Dropout's "Spaceship," where he raps about working at a Gap store and feeling like the company had used him to maintain the appearance of representation and fair hiring practices without paying him his worth. Now the tables have finally turned.
Commercialism and activism have long been intertwined in West's sociopolitical praxis. From the Lo-head reappropriation of preppy fashion that Dropout inherited from hip-hop style icons like Wu-Tang's Raekwon and pushed to a mainstream tipping point in the mid-aughts, to the volatile weeks of lobbying to be taken seriously by haute couture houses during the Yeezus era, to the creative farming and building projects West has been exploring in Wyoming and Los Angeles over the past year, the belief in the ladder as the path to prosperity, in the necessity of toiling to get to a place where you can then buy and build the world you want to see, is a constant. This ethos colors Mr. West's ideas about slavery, for better or worse.
Yeezus's "New Slaves" drew parallels between America in the 18th and 21st centuries, observing the extent to which the country was built on and continues to rely on the labor of an oppressed underclass to prop up its upper and middle classes, a more cogent phrasing of ideas he had batted around in "Spaceship." His focus in recent years on the language of the Constitution's 13th Amendment, which disallows slavery and involuntary servitude except as punitive measures for criminals, and his peculiar relationship with the sitting American president have, on a certain level, led him back to the tokenization he sought to escape on his first album. Once more, West finds himself in a position where his white benefactors put him on display when asked to prove they advocate for people of color, though this time he does so with agency.
Lobbying Donald Trump for prison reform has had mixed results: In 2018, the administration signed the First Step Act, a criminal-justice bill aiming to chip away at the exorbitant sentencing for drug charges held over from Ronald Reagan's 1980s War on Drugs and imploring the Bureau of Prisons to honor existing commitments to incarcerated citizens' rights, such as placing inmates within 500 miles of their primary residence. Some of these measures brought people home, a detail Trump has used to counter accusations of racism against him only to later demonize, threaten, dox, and even gas Black Lives Matter protesters, some of whom have spent nights packed in jail cells without protective gear in the middle of a pandemic. Without accountability, a trust in business and in government to aid true change is faith in things not seen.
Today Kanye West released his first formal artistic statement of the pandemic and the nationwide movement for racial justice. "Wash Us in the Blood," the lead single from the "forthcoming" God's Country, ponders faith and captivity in the same idealistic terms as Jesus Is King's "God Is," marrying gospel samples to abrasive electronics and percussion as the rapper criticizes the American prison-industrial complex and suggests that the death penalty runs counter to the sixth biblical commandment, "Thou shalt not kill." (It's a novel sentiment since the Bible is chock-full of executions. In the Old Testament book of Judges, the hero Ehud guts the king of the slaver state of Moab like a pig, freeing the captive Israelites, slaughtering 10,000 Moabites, and making subjects of the rest.) On one level, the song is a return to form and a smoother pairing of West's newfound faith and existing politics. It's also motivational boilerplate. But that's to be expected. The sneaker man does not want you so free that you stop wanting sneakers.
"Wash Us in the Blood" comes with a music video from award-winning cinematographer Arthur Jafa (Daughters of the Dust, Crooklyn, Knowles-Carter family music videos including "Don't Touch My Hair," "4:44," and "Formation"). The clip is Jafa's second collaboration with West if you count 2017's Love Is the Message, The Message Is Death, a seven-minute collage of scenes from speeches, performances, parties, and arrests set to The Life of Pablo's "Ultralight Beam," which, by juxtaposing images of figures like Barack Obama and Nina Simone with those of Ferguson protests and American police using excessive force, tells a story of a community shining in the face of seemingly insurmountable odds.
The "Wash Us in the Blood" clip reimagines Love Is the Message for the summer of coronavirus, splicing archival Kanye footage with scenes of people dancing, fighting, protesting, worshipping, and struggling to breathe. The song and the video are compelling together, even if both artists are recycling ideas they've already perfected elsewhere. The question of whether this signals the end of Evangelical Ye's crossed-up Republican ideologies and the resurrection of the loud, challenging Yeezus, or if this is another astute aesthetic embrace of pro-Blackness from a corporate entity we hear from only when there's new product, will have to wait until more of God's Country is charted. For now, Kanye did a thing, and for once, it's fine.