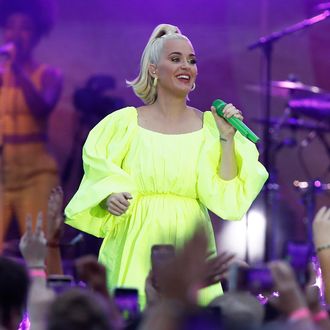 Photo: Daniel Pockett/Getty Images
With everything that's been going on the last few months, and for all of American history, you can be forgiven for letting your focus slip slightly from the fact 2020 is an election year. If the entirety of the nation's current events aren't enough to get you to the polls, however, Rock the Vote is hoping their upcoming Democracy Summer 2020 concert will be. Katy Perry and the Black Eyed Peas will reportedly headline the two-hour event, which you can watch at democracysummer.org, or on the organization's YouTube and Facebook.
The two acts will be introduced by hosts Rosario Dawson and Logan Browning, and joined by a cadre of musical guests and speakers, including Chuck D, Big Freedia, Saweetie, Ne-Yo, and Eve, along with politicians like Elizabeth Warren, Cory Booker, and Julian Castro. You can livestream Democracy Summer Thursday, June 18 at 8 p.m. EST/5 p.m. PST., and register to vote anytime you can make the time.