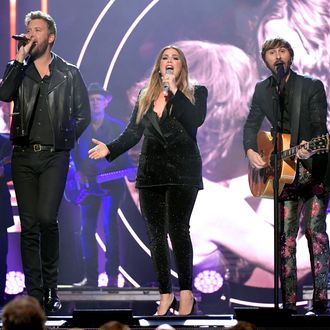 Lady A, period.
Photo: Jason Kempin/Getty Images for CMT/Viacom
Lady Antebellum is no more. After a week of watching, listening, reflecting, learning, looking within, and all those other things the music industry promised to do, the country band has announced an official name change. They're now simply … Lady A, the nickname their fans have been calling them "almost from the start." "When we set out together almost 14 years ago, we named our band after the Southern 'Antebellum' style home where we took our first photos," the Nashville trio explained in a statement. "But we are regretful and embarrassed to say that we did not take into account the associations that weigh down this word referring to the period of history before the Civil War, which includes slavery. We are deeply sorry for the hurt this has caused and for anyone who has felt unsafe, unseen, or unvalued."
Frankly, Lady A is an objectively cooler name. It sounds like a spy character Lupita Nyong'o should play or a club you could not get into wearing cowboy boots. On the other hand, it also sounds like a celebrity perfume. But a little less racism in the world doesn't hurt, especially since the band is opening its purse. Lady A plans to donate to the Equal Justice Initiative, a nonprofit that provides legal representation to prisoners, through LadyAID, the band's philanthropic effort. The band isn't the only one that's looked hard at itself and the messages it sends. One Little Indian Records changed its name to One Little Independent on Tuesday. Gestures like this are long overdue, but who's next?
Update, Friday, June 12 at 2:52 p.m.: A Seattle blues singer named Lady A talked to Rolling Stone about her new name competitors today, saying, "I'm not about to stop using my name." Anita White, a black woman who has performed under the name "for over 20 years," said the band didn't contact her before the decision, which she also criticized. "They're using the name because of a Black Lives Matter incident that, for them, is just a moment in time," she said. "If it mattered, it would have mattered to them before. It shouldn't have taken George Floyd to die for them to realize that their name had a slave reference to it." A rep for the band now known as Lady A told Rolling Stone they would reach out to White and weren't previously aware of her name and career. "You found me on Spotify easily — why couldn't they?" White told the magazine. She will release a new album as Lady A, Live in New Orleans, on July 18 and is readying new music that addresses the police killing of George Floyd.
Update, Wednesday, June 17 at 1:20 p.m.: What problem can't be solved over a Zoom call? After speaking with the band formerly known as Lady Antebellum over Zoom on June 15, the original Lady A has forgiven them and kindly agreed to let them be Lady A, too. A publicist for the band confirmed to CBS News that both will continue under the same name. "I accepted that apology and forgive them for that misstep, but at the same time, we need to work to make a better change," the blues singer told CBS News in an interview published June 16. Now, there are no hard feelings between the two Lady As (Ladies A?) "I don't want people out there spewing hate just because they made a misstep," she continued. "And yes, I was angry about it, but I'm over it now." The band was also looking toward the future in a tweet they posted June 15. "Today, we connected privately with the artist Lady A," they wrote. "Transparent, honest, and authentic conversations were had. We are excited to share we are moving forward with positive solutions and common ground."