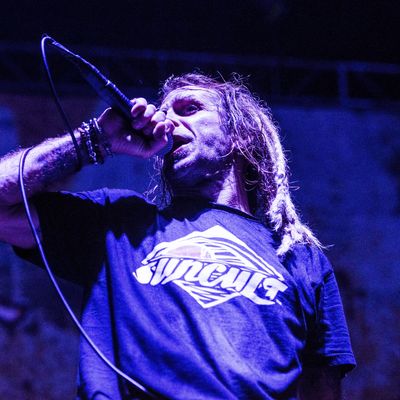 The Grammy-nominated metal band's lead singer on his career — and why math rock sounds better in Virginia.
Photo: Timothy Norris/Getty Images
Randy Blythe can confirm: The Cookie Monster is metal.
"He's a fairly apt descriptor for screaming vocals, particularly of the deeper nature," Blythe says over the phone from Richmond, Virginia, where he and the rest of Lamb of God — a metal band so popular that they almost dethroned Fearless-era Taylor Swift from the Billboard 200 charts — still call home. As the band's lead singer, he's on good authority to talk about "Cookie Monster metal" — the gluttonous Muppet admittedly helped Blythe develop his approach to screaming. More than 25 years into his band's career, Blythe takes the comparison as a compliment: "It's pretty funny, and I say that stuff in a sort of poking-fun-at-myself kind of way, which I love to do, because I'm a pretty ridiculous person."
Lamb of God's self-titled new album, their first LP in five years if you don't count their great covers album under their original band name, might be the best introduction to the band, known for their more inclusive approach to metal; Blythe, also a writer, passionate surfer, and photographer, is as much a fan of math rock, Dischord Records, and Sade as he is a fan of the metal that influenced his singing with LoG across multiple decades. As the band waits for the day they can tour the new record — "I don't see us doing a show until herd immunity is developed, or a vaccine," he notes. "The idea of social distancing at a Lamb of God show is ludicrous" — Blythe spoke to Vulture about their new album and all the highs and lows of Lamb of God.
Lamb of God song that sounds the most like Richmond
"Omerta." There's some real heavy Richmond influence in the riffing from some of the older bands from Richmond that certainly influenced us, like Sliang Laos. And it's slower at times … there's a flavor to it.
Richmond, at least in the late '80s into the early '90s, was kind of the bastion of what was referred to as math rock, which is different from what they call math rock now. It goes back to the hardcore scene in Richmond. There's a band called Honor Role, which had weird time signatures. Some of those guys, particularly the guitar player Pen Rollings, who is a legend, turned into a band called Butterglove, where it got heavier. Then they turned into an instrumental band called Breadwinner. Steve Albini produced a couple of their EPs; it's collected on a CD called Burner. Breadwinner was highly influential on all of us, even me, even though they're instrumental.
Best song off Lamb of God
Overall, that would be "Reality Bath." I took the name from my friend Mark Twight, who is a world-renowned Alpine-style ice climber and has on record many first ascents. Not expedition-style with all the Sherpas and everything where you can pay someone to carry oxygen — he's one of these dudes who goes up with nothing but what he can carry in his backpack. He did a first ascent, him and another dude up in Canada, and since he did it first, he got to name it. "Reality Bath" is what he called it, and it has not been repeated to this day.
Twight's a writer, as well. He wrote a book called Kiss or Kill. I'm not a climber, but his writing about climbing is fascinating, and he's a fascinating person in general. He took the name "Reality Bath" from the title of some obscure Canadian punk rock band, I think. Music fed this weird ice-climbing route, which fed a song title for my band. It's a neat cyclical thing.
Mark Morton, my guitar player, gave me a really good compliment the other day. He goes, "You know, we've been working 20-something years together, and I think your writing and performance on 'Reality Bath' may be my favorite thing you've done with me in these decades."
Lamb of God's most punk rock moment
"Routes," which has my friend Chuck Billy on the record. It's about my experiences going to Standing Rock during the No DAPL movement, and it's got a punk rock beat to it. It's fast. It's blam blam blam. It says what it has to say, and it gets in and out.
Most bizarre use of "Redneck"
I would guess at a strip club, back in the drinking days when I used to occasionally visit such sordid establishments. All credit where credit is due, I did not write a word of that song, [LoG guitarist] Mark wrote the lyrics to that one, so I kinda view it as his song. I wouldn't strip to it. If I was going to be a stripper, I'd be stripping to Sade or Marvin Gaye or something. I wouldn't strip to metal. I don't know. But I had a friend not too long ago who used to strip tell me about stripping to Slayer's Reign in Blood.
Lamb of God song best suited for surfing
Definitely "Embers," and particularly the end of "Embers." Mark and I wrote that song together. He's written about it, so I'm not speaking out of class, but he lost a daughter. I wrote the lyrics at the end of that song with his headspace in mind but also thinking about the ocean as a metaphor for loss. Chino Moreno from Deftones does guest vocals on that song, and it's a really epic, spacious, beautiful ending with his very distinctive vocals.
Lyric you're most proud of writing
I really like the lyrics from the new album, and I'm not just saying that because this is new-album time. I think it's a body of work that is the most cohesive lyrically, the most unified. Outside of that, I really like the lyrics to "King Me," which is the last song on [2012's Resolution]. There's a lot of poetic imagery, and the song is about me coming to terms with myself when I was newly sober, in the beginning of my sobriety some nine years ago. They're important to me, and I know they've helped a few people. I like the lyrics to "Contractor," too, because I just think they're clever.
[Lamb of God] is the first time I sat down and wrote out a list of topics, and an order to those topics, that I wanted to do. I wrote a skeleton this time. I just wrote "song about X, song about Y" or whatever, and I've never really done that before. I'd just kinda written lyrics as the topics came to mind. This time, it was much more thought out beforehand.
Lyric that makes you want to crawl into a ball and weep because you're so embarrassed
Not a single one.
Oh God, probably some earlier stuff. I will say, of the new record, the most Cookie Monster song would definitely have to be "Resurrection Man." At the beginning, a lot of the verse vocals are [does an actual Cookie Monster impression] super deep, death metal-y, growly stuff, and that's what I mean by Cookie Monster.
Most meaningful compliment on your singing
That's a difficult question for me because musically, as a vocalist, I don't really pay attention to the comments about my actual delivery. The best compliment I can get from a fan is, "Hey I was going through a really tough time in my life. I had a family member die, or I was struggling with alcoholism, or I was struggling with drugs or depression, or I was on the verge of suicide, or I was getting through chemotherapy" — whatever the difficulty may have been, they present this to me and say, "I just want you to know that this song you wrote helped me get through that."
A lot of times, it's a specific song, and that to me is just so gratifying. It makes me think I'm doing my job because that's what music did for me when I was younger and still does to this day. It picks me up and gives me a little more juice in the tank to march through the dark times, and we all have those dark times. For me, it's beyond gratifying … it gives me the feels, as they say.
This interview has been condensed and edited for clarity.