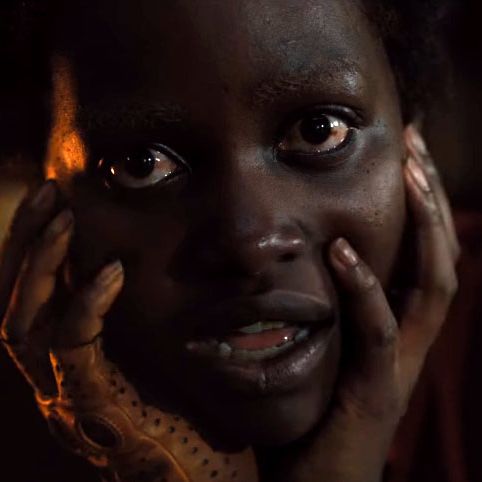 Lupita Nyong'o in
Us
.
Photo: Monkeypaw Productions/Blumhouse Productions
If not for a pandemic, we'd be in the midst of Hollywood's epic summer season, enjoying the nearly weekly unveiling of a major event movie, including Pixar's latest (Soul) and the improbable return of Tom Cruise's beloved 1980s hot shot (Top Gun: Maverick). Instead, you're cooped up trying to figure out what to watch while not going stir-crazy.
This is where we come in. On a regular basis, we'll be presenting "The Replacements": a list of five alternative choices for every big tentpole you were excited to see before COVID-19 changed our lives. We'll select movies that are thematically or narratively similar to the postponed blockbuster, offering picks that range from certifiable classics to forgotten gems. For the time being, event movies are on hold. But hopefully our alternatives will scratch that cinematic itch.
This week: Candyman, which is being advertised as a "spiritual sequel" to the 1992 horror classic and once again stars Tony Todd as the murderous title character. But the original wasn't just another slasher film: As Get Out Oscar winner Jordan Peele, who produced and co-wrote this sequel, explained in 2018, "The original was a landmark film for Black representation in the horror genre. Alongside Night of the Living Dead, Candyman was a major inspiration for me as a filmmaker." The new film, directed by relative newcomer Nia DaCosta, is once again set in Chicago's impoverished Cabrini Green neighborhood, which has been razed, but Candyman still haunts the now-gentrified community.
Exploring America's shameful legacy of slavery and economic inequality, the original Candyman still feels tragically pertinent in 2020, and no doubt Peele and his collaborators will continue to explore the story's racial underpinnings. We'll have to wait until September to see the new Candyman, but for now, here are five streamable replacements — including a forgotten horror anthology and a spooky Spike Lee joint.
Wes Craven's New Nightmare (1994)
Reportedly (and certainly the way it seems from the trailer), the new Candyman's premise revolves around investigating the legend of Candyman and seeing how much of it is real. That's in many ways the driving idea behind this meta-sequel to A Nightmare on Elm Street, written and directed by Wes Craven, in which the director and his Elm Street star Heather Langenkamp play themselves, in the real world, as the fictional Freddy Krueger somehow is conjured into existence by all the fear he's inspired. This leads to some inevitable in-jokes, but New Nightmare is the scariest film in the series other than the original, as Craven returns Krueger to the elemental nightmare figure he was meant to be. And much of the scariness is about that very idea: Does our fear of him make him real? Is he scarier because he's not?
Tales From the Hood (1995)
A few years after making Fear of a Black Hat, a very clever Spinal Tap-ish mockumentary about a gangster-rap group, director Rusty Cundieff turned his attention to another genre, the anthology horror series, for this funny/scary/insightful look at race relations, bad cops, and media depictions of Black America. "What we wanted to do with Tales From the Hood … [is] deal with problems in the African-American community and showing how the scariest things that happen to you are the human things that happen to you," Cundieff said in 2018. As you'd expect with a film like this, some segments are better than others, but "Hard-Core Convert" (about an unrepentant gang member, played by Lamont Bentley, who's about to see the err in his ways) suggests that smart horror-comedy commentary existed long before Get Out.
Da Sweet Blood of Jesus (2014)
Funded by Spike Lee entirely through Kickstarter — and let us all hope that is the last time Spike Lee ever has to fund a film through Kickstarter — this somewhat academic exercise is a remake of the 1973 black horror classic Ganja and Hess. Da Sweet Blood of Jesus follows an anthropologist (Stephen Tyrone Williams) who is stabbed by an ancient dagger and turns into a vampire, but the movie is, well, kinda bloodless. Lee purposely turns down the temperature and makes this into more of an art piece than a genre flick. It's Lee in minor key, but still hypnotic: He's playing with archetypes and ideas in a way that makes you wish, at some point, he'd get the budget to make a big sprawling horror film of his own.
Little Woods (2018)
On its surface, Nia DaCosta's feature debut wouldn't necessarily suggest she'd be the ideal choice to make a Candyman sequel. After all, Little Woods isn't a horror movie — rather, it's a modest slow-burn drama about Ollie (Tessa Thompson), a young North Dakotan just a few days from the end of her probation after being busted for hustling pills. But she may have to return to her old ways to help her sister Deb (Lily James), who doesn't have enough dough to keep the family home from being foreclosed on. Beyond its ability to demonstrate DaCosta's skill with actors and story, Little Woods has a real feel for place, showing how these working-class single women have few prospects in this macho, economically depressed community. Like Little Woods, Candyman is a movie in which genre conventions and societal commentary are equally important, and it'll be fun to see what this writer-director brings to the franchise.
Us (2019)
Jordan Peele's follow-up to Get Out is an obvious pick — Peele's a producer on Candyman, and his power and influence is one of the reason the new film exists in the first place — but it really should be pointed out once again how straight-up scary this thing is. Us might not have the locked-in, down-cold metaphor of Get Out, but it has a jaw-dropper of a performance by Lupita Nyong'o, some truly ghastly imagery, and enough twists to help you overlook any of the soft spots. And who ever thought Tim Heidecker could be terrifying?
Grierson & Leitch write about the movies regularly and host a podcast on film. Follow them on Twitter or visit their site.