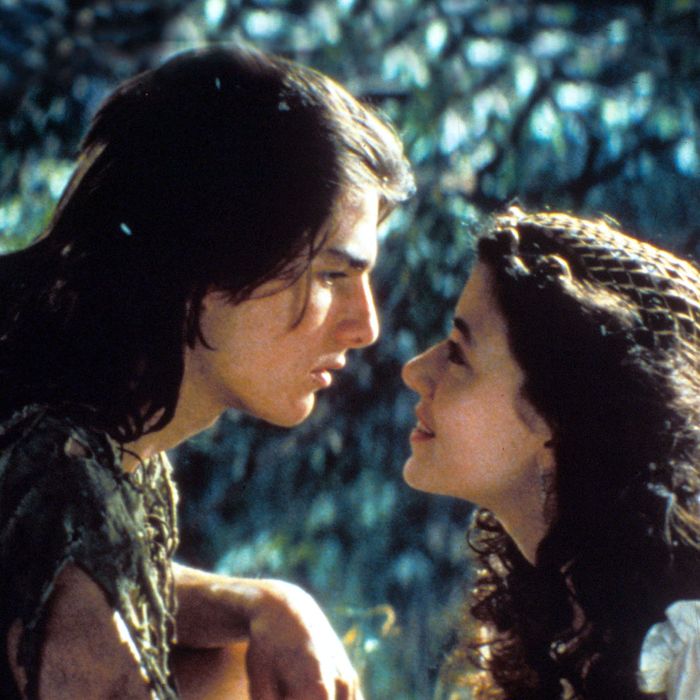 Tom Cruise and Mia Sara in Ridley Scott's
Legend
.
Photo: Moviestore/Shutterstock
In a different reality, you'd be in the midst of Hollywood's epic summer season, enjoying the nearly weekly unveiling of a major event movie, including much-anticipated sequels (Wonder Woman 1984) and the improbable return of Tom Cruise's beloved 1980s hotshot (Top Gun: Maverick). Instead, you're cooped up trying to figure out what to watch while not going stir-crazy.
This is where we come in. On a regular basis, we'll be presenting "The Replacements": a list of five alternative choices for every big tentpole we'd have been excited to see before COVID-19 changed our lives. We'll select movies that are thematically or narratively similar to the postponed blockbuster, offering picks that range from certifiable classics to forgotten gems. For the time being, event movies are on hold. But hopefully our alternatives will scratch that cinematic itch.
This past weekend was supposed to be see the release of The Green Knight, the extremely cool-looking new movie from writer-director David Lowery, the man behind The Old Man & the Gun and the Pete's Dragon remake. Set during medieval times, this fantasy-adventure stars Dev Patel as King Arthur's nephew Gawain, who sets out on a quest to battle the mythic Green Knight. He'll encounter ghosts and giants along the way — not to mention some incredibly flashy camera moves.
In our post–Game of Thrones world, The Green Knight has the potential to be an edgier, auteurist take on the world of sword and sorcery. Can the film live up to its promise? Is this another ace genre movie from A24, which gave us Midsommar and The Witch? Who knows, but in the meantime, let us recommend five replacements — including a movie in which some snooty French soldiers fart in your general direction.
Macbeth (1971)
Roman Polanski's Macbeth was never going to be conventional or easy to stomach — Polanski said he made it specifically as a way to deal with his grief and rage over the murder of his wife Sharon Tate — and his bloody, graphic interpretation of Shakespeare's tale is grueling, if undeniably powerful. The key to this adaptation is, in many ways, just how young Macbeth and Lady Macbeth are; actors Jon Finch and Francesca Annis were both in their 20s, which gave them a passion to their ambition and turned some of the play's themes on their head. The Green Knight's Dev Patel is just a little older than Finch and Annis were at the time, and his youth is foregrounded; this is Middle Ages mayhem from a more youthful perspective than we're accustomed to.
Monty Python and the Holy Grail (1975)
As Your Highness demonstrated, it isn't easy to merge laughs and a medieval setting. But the second film from Monty Python remains a classic, following King Arthur (Graham Chapman), Sir Lancelot (John Cleese), and the rest of the Idiots, er, Knights, of the Round Table as they go in search of the mythical grail. Anybody can quote from Airplane! or Ghostbusters — only true comedy nerds can recite full passages from Monty Python and the Holy Grail, whether it's during Arthur's battle with the Black Knight ("Look, you stupid bastard, you've got no arms left!") or his run-ins with unruly peasants ("Well, I didn't vote for you!"). This was Python's high-water mark, and to this day we never hear a horse's elegant clip-clopping feet without wondering if someone's playing a pair of coconuts nearby.
Legend (1985)
You can take your pick of old '80s fantasy tales — The Dark Crystal, Labyrinth, Willow — but ever since seeing the "director's cut" of this Ridley Scott film with Tom Cruise, this one has become our favorite. What was sluggish and aimless in the original version is now given more context, and the themes of lost morality emerge cleaner and clearer. The Green Knight has the same sort of visionary director — in a similar spot in his career, actually — as Scott was in 1985, which can make something in this vein either soar or sink. And in case you've forgotten what Tim Curry is up to in this movie:
Black Death (2010)
A straightforward, but deeply bloody, parable about the Black Plague and the desire to attribute suffering to the wrath of God, Black Death is both worthy of its title and a reimagining of it, presenting us with a plague that feels biblical, even justified, to those living through it. The movie, featuring a very young Eddie Redmayne, isn't particularly allegorical by design: To the characters, there is nothing historical or metaphorical about their misery and certainly nothing mystical. (Much like Patel's Sir Gawain, they're just trying to make their way through it.) Black Death's human dimension to the Middle Ages epic seems right up Lowery's alley.
A Ghost Story (2017)
The Green Knight is Lowery's sixth feature, and they don't have much in common except for his name in the credits. Our favorite, and also his most ambitious to this point, is this low-budget, surprisingly cosmic exploration of existence, mortality, love, and pie. (After the film's release, audiences became obsessed with the fact that Rooney Mara's grieving widow eats a whole pie in a single take.) Casey Affleck plays C, a Texan who dies and returns to Earth as a spectral figure — well, actually, he's just a dude in a ghost costume. Both profound and cheeky — it's impossible not to be simultaneously awed and tickled by the notion of Affleck (or whomever) under a sheet with eyeholes — A Ghost Story speaks to the loneliness of our lives, permanently separated from each other in some grand existential sense. The movie works disconcertingly well during a pandemic — and it's just the right table-setter for whenever we get to see Lowery's next cinematic gamble.
Grierson and Leitch write about the movies regularly and host a podcast on film. Follow them on Twitter or visit their site.