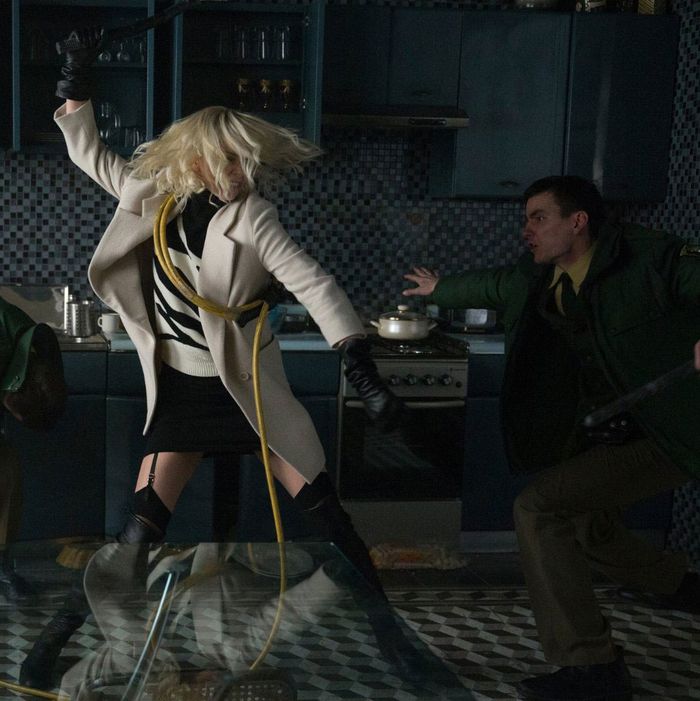 Charlize Theron in
Atomic Blonde
.
Photo: Focus Features
In a different reality, we'd be in the midst of Hollywood's epic summer season, enjoying the nearly weekly unveiling of a major event movie, including Pixar's latest (Soul) and the improbable return of Tom Cruise's beloved 1980s hot shot (Top Gun: Maverick). Instead, you're cooped up trying to figure out what to watch while not going stir-crazy.
This is where we come in. On a regular basis, we'll be presenting "The Replacements": a list of five alternative choices for every big tentpole you'd been excited to see before COVID-19 changed our lives. We'll select movies that are thematically or narratively similar to the postponed blockbuster, offering picks that range from certifiable classics to forgotten gems. For the time being, event movies are on hold. But hopefully our alternatives will scratch that cinematic itch.
This week: Wonder Woman 1984, a sequel to the 2017 smash that finds our favorite Amazonian, Diana Prince (Gal Gadot), leaving World War I behind for the Cold War. And, for some reason, Steve Trevor (Chris Pine) is still alive, although we won't complain too loudly since their chemistry was one of the best parts of the first film. It's funny to think how much has changed in comic-book movies since Wonder Woman: Three years ago, a female-driven superhero film seemed risky and the DC Extended Universe was in terrible shape. Well, Patty Jenkins's movie took care of both problems with style.
Can Wonder Woman 1984 live up to the original? Fingers crossed it will, but in the meantime, let us recommend five replacements — including Jenkins's feature debut and an "unstoppable" Pine action-thriller.
Superman II (1980)
Want the best-case scenario for Wonder Woman 1984? Try this unlikely classic, which is darker, scarier, more emotional, and more thrilling than the bloated (if still entertaining) first film. Famously, much of Superman II was reshot after Richard Donner was booted off the project, which must have made all those industry-news watchers in 1979 absolutely convinced it was going to bomb. What a shock, then, that Richard Lester's version turned out to be so rich and gripping. The main reasons, still today, are Terence Stamp's wonderful General Zod, a vulnerable (and never more human) Superman, and a New York City (sorry, "Metropolis") that's both realistic to the time period and yet impressively optimistic. This is one of the best superhero sequels of all time. No reason Wonder Woman 1984, which had a first film that was much more positively reviewed than the first Superman, shouldn't shoot for the moon.
Point Break (1991)
Officially released in 1991, but come on: This is the best '80s buddy-action movie of the era, cheesy, silly and completely awesome all at once, with Keanu Reeves still figuring out his action-movie bona fides and Patrick Swayze with that incredible hair. More to the point: It has three terrific action sequences directed by Kathryn Bigelow, who was one of the few women to ever direct this sort of action blockbuster. The raid on Anthony Kiedis and his drug compound is riveting, but the skydive sequence still holds up today: How did she do that? The primary criticism of the initial Wonder Woman was that its action scenes felt a little too Man of Steel-y. Patty Jenkins should have more freedom and power to make them her own this time.
Monster (2003)
Prior to directing Wonder Woman, Patty Jenkins hadn't released a feature in more than a decade. (In that span, she worked on TV shows like Arrested Development, Entourage, and The Killing — and, perhaps most crucially, walked away from Thor: The Dark World because she knew being associated with that critically reviled film would hurt her career.) Interestingly, her previous film was something completely different than superhero cinema, a dark look at serial killer Aileen Wuornos (Charlize Theron), who goes on the lam with her lover Selby (Christina Ricci). Theron won every award imaginable for her portrayal of the tortured, raging Wuornos, but Jenkins helped ensure that Monster was no ordinary antihero story. We feel a level of empathy for this abused murderer, but we also recognize what's monstrous within her. As uplifting as Wonder Woman is, Monster is its polar opposite: a portrait of despair that never blinks.
Unstoppable (2010)
Star Trek made Chris Pine a movie star, and in Wonder Woman he's the perfect romantic interest for our hero Diana. But in Unstoppable, he demonstrates a kind of old-fashioned Hollywood acting that adds grit to this very entertaining action-thriller. Yes, this is the movie about the runaway train — the one where Rosario Dawson says, "We're talking about a missile the size of the Chrysler Building!" — and the final film from director Tony Scott, who reunited with his frequent collaborator Denzel Washington to tell the story of two engineers who have to save the day. Unstoppable couldn't be more formulaic — Pine is the young hotshot, Washington is the old dude, and they don't like each other — but it's glorious fun, and also a lot smarter than you'd expect. Plus, Pine holds his own against his venerable co-star — not to mention that pesky locomotive.
Atomic Blonde (2017)
Charlize Theron's Lorraine isn't John Wick, even if she has the same director as he did (and, for that matter, as Deadpool now does), David Leitch. (No relation.) But she sure fights like he does, and, like Wick, it's messy and chaotic and absolutely thrilling. This Cold War action extravaganza isn't as streamlined and rigorously logical as any of the John Wick movies, but Theron is more than game as the former MI6 agent who takes down all comers (and there are many comers). Lorraine's never going to be as smooth (or as super-powered) as Wonder Woman, but if you're looking for a thrilling fighting machine, you can't do much better than her.
Grierson & Leitch write about the movies regularly and host a podcast on film. Follow them on Twitter or visit their site.