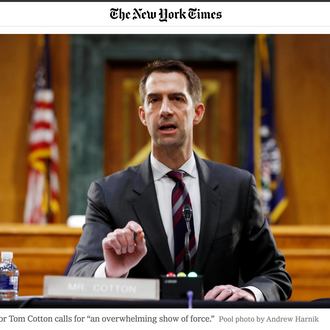 Photo: The New York Times
A.G. Sulzberger, publisher of the New York Times, condemned the recent op-ed from Arkansas senator Tom Cotton, imploring the government to use military force against protesters, to Times staff on Friday morning. According to Times cybersecurity reporter Sheera Frankel, he told the newsroom that the piece was "contemptuous" and "should not have been published," just one day after supporting it. "I believe in the principle of openness to a range of opinions, even those we may disagree with, and this piece was published in that spirit," he told staff in a June 4 email, below. His change of heart comes not after staff expressed their shame, but after an internal investigation revealed that the piece did not meet the Times's editorial "standards."
On Wednesday, June 3, the Times ran the piece, entitled "Send in the Troops," in which the Republican senator dangerously calls for "an overwhelming show of force to disperse, detain, and ultimately deter lawbreakers." It received backlash almost immediately. James Bennet, the editorial page editor at the New York Times, took to Twitter to defend the paper's decision to run Cotton's dangerous article. "I want to explain why we published the piece today by Senator Tom Cotton," Bennet began before defending his decision, in part, by sharing past opinion pieces from the paper that show support for the protest and the Black Lives Matter movement. "The Times editorial board has forcefully defended the protests as patriotic and criticized the use of force," writes Bennet, before linking to an Opinion piece titled "In America, Protest Is Patriotic." Bennet continues to try and justify running Cotton's op-ed, writing, "Times Opinion owes it to our readers to show them counter-arguments, particularly those made by people in a position to set policy. We understand that many readers find Senator Cotton's argument painful, even dangerous. We believe that is one reason it requires public scrutiny and debate."
For many, public scrutiny and debate were not reason enough to justify running Cotton's article. Nikole Hannah-Jones, recent Pulitzer Prize winner in Commentary for The 1619 Project and a New York Times Magazine correspondent, tweeted, "As a black woman, as a journalist, as an American, I am deeply ashamed that we ran this." A movement has begun on Twitter with journalists — many of whom are black and write for the Times — calling out how the Times put its black staff members, and all black people at risk, by running said op-ed, prompting the Times to write its own response piece to the controversy, "Senator's 'Send in the Troops' Op-Ed in the Times Draws Online Ire." "Running this puts black @nytimes writers, editors and other staff in danger," tweeted author and frequent Times opinion columnist Roxane Gay. On Wednesday night, the News Guild of New York published a statement in response to the Times' decision to run Cotton's op-ed, writing, "Though we understand the Op-Ed desk's responsibility to publish a diverse array of opinions, we find the publication of this essay to be an irresponsible choice. Its lack of context, inadequate vetting by editorial management, spread of misinformation, and the timing of its call to arms gravely undermine the work we do every day." You can see some of the fervent online response to Cotton's op-ed below:
New York Times publisher A.G. Sulzberger initially responded to the criticisms of Cotton's op-ed, led by Times staff, in an internal note sent out on June 4, according to CNN. Sulzberger said he would hold listening sessions with black Times staff "who are covering this story and living it at the same time," and that Bennet, executive editor Dean Baquet, and other newsroom leaders would do the same. He also said the staff would have a town hall on June 5 to answer questions about Cotton's essay.
Sulzberger, who oversees Bennet in his position, also defended the decision to publish the op-ed. "We don't publish just any argument — they need to be accurate, good-faith explorations of the issues of the day — and there are many reasons why Op-Eds are denied publication," Sulzberger wrote. "It is clear many believe this piece fell outside the realm of acceptability, representing dangerous commentary in an explosive moment that should not have found a home in The Times, even as a counterpoint to our own institutional view. I believe in the principle of openness to a range of opinions, even those we may disagree with, and this piece was published in that spirit." Sulzberger said he would listen to concerns about the essay, continuing, "But it's essential that we listen to and reflect on the concerns we're hearing, as we would with any piece that is the subject of significant criticism. I will do so with an open mind."
To that effort, the New York Times held an internal review of the process that led to the publishing of Senator Cotton's op-ed "Send In The Troops." Eileen Murphy, senior vice president of communications at the Times, issued a statement regarding the decision to publish Senator Cotton's op-ed on June 4. The statement cited a "rushed editorial process" that "did not meet our standards," and could lead to "short term and long term" changes to the Times op-ed page as well as a reduction in the number of pieces that will be published going forward. Murphy's full statement is as follows: "We've examined the piece and the process leading up to its publication. This review made clear that a rushed editorial process led to the publication of an Op-Ed that did not meet our standards. As a result, we're planning to examine both short term and long term changes, to include expanding our fact checking operation and reducing the number of Op-Eds we publish."
This post has been updated throughout.