Nicholas Galanin,
Shadow on the land, an excavation and bush burial,
2020.
Art: Nicholas Galanin
There is a much-hated statue of Captain James Cook, the 18th-century British Royal Navy captain who landed in what is now Australia (and later met his end in what is today Hawaii), in Sydney's Hyde Park, and artist Nicholas Galanin has dug it a grave. For the artist's new work, Shadow on the land, an excavation and bush burial (2020), made for the 2020 Biennale of Sydney, Galanin excavated the shadow cast by the statue. As he wrote in his artists statement: "By creating a hole large enough to bury the statue, the work's excavation (along with its title) suggests the burial of the Cook monument itself, along with the burial of destructive governance and treatment of Indigenous land, Indigenous people and Indigenous knowledge."
Galanin, who is Tlingit-Unangax̂ and lives and works in Sitka, Alaska, connected with Aboriginal artists and community members in Sydney while doing research for the Biennale last year. "We share similar colonial struggles with racism, erasure, and other disparities implemented and upheld by colonial governments," he told Vulture via email. "The conversation surrounding monuments and statues which today often represents one-sided history of mainly white men responsible for genocide, rape, slave trade, etc., has been ongoing amongst our communitites." Shadow on the land can be applied to almost every major colonial statue on Indigenous or Aboriginal lands, he said, and sits right in with larger social movements happening across the world.
Earlier this week, two Cook statues in Sydney were reportedly defaced, including one in Hyde Park, which was spray-painted with "sovereignty never ceded" and "no pride in genocide." The calls for removal and protests around these monuments are not only about sculptural representation in the public community. "It is about acknowledging and changing social norms that normalize violence towards BIPOC while 'honoring' these figures who historically committed such acts," Galanin said.
For Shadow on the land, Galanin told Vulture that he originally intended to excavate the on-site shadow of the monument in Hyde Park. "This became impossible with the local municipality," he said. "I'd say that worked out though, to me, it is best showing this work without the statue, demonstrating a future where we can listen to our communities affected by continued colonial violence."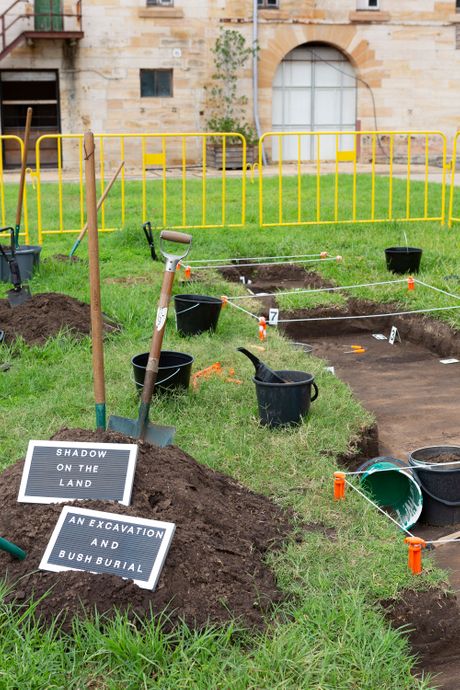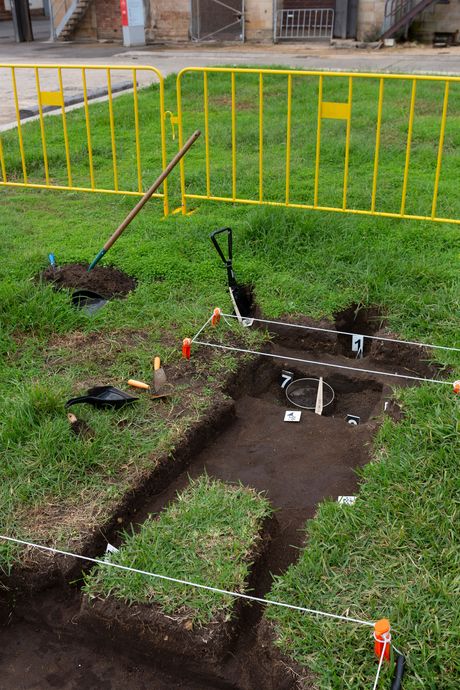 Galanin's work often centers on erasure. In 2019, he was one of eight artists who pulled his work from the 2019 Whitney Biennial until Warren B. Kanders, a then-museum board member and owner of Safariland, which manufactures tear-gas canisters that have been used against protesters around the world, resigned. "The Whitney, like so many other institutions of its kind, has historically continued the long American tradition of erasure by way of a lack of Indigenous artists represented in exhibitions and collections," he wrote in an essay about the experience. His decision to protest and subsequently remain in the exhibition was about fighting erasure.
This year marks the 250th anniversary of Cook's voyage to and "discovery" of Australia. "Historically speaking, anthropology and archaeology has been a mechanism and tool to uphold ideas of white supremacy," he said in a video interview about the work. In using archaeology as an art medium, Galanin is contradicting that definition of discovery.
Still, there's more work to be done. "Yes, remove these markers of white supremacy, act on and change all forms of violence aimed unproportionally at our communities," he said. "Don't just change the Redskins name, contribute economically to the same communities these corporations or institutions have historically oppressed. We are living through one of the most important civil rights movements of our time, how will your children see your actions lived out today?"
Shadow on the land is open on Cockatoo Island through September 6.