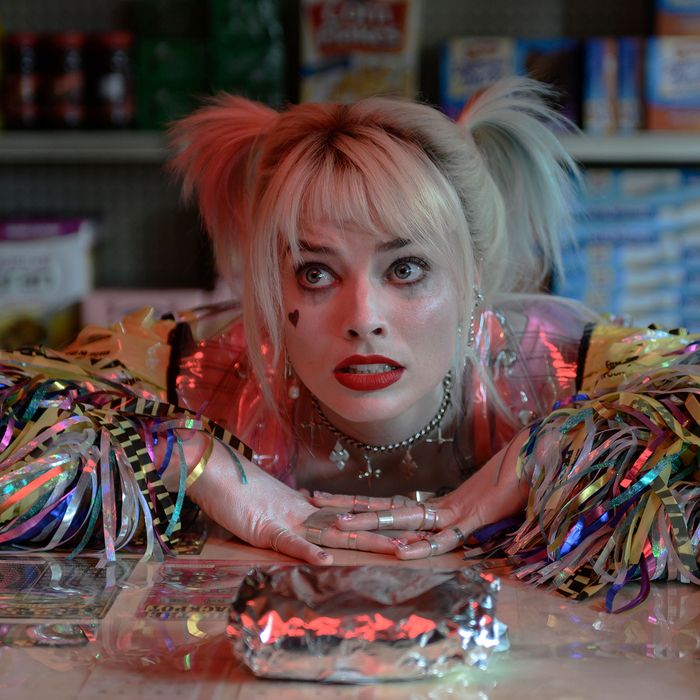 In choosing to extend the Academy's eligibility window for the 2021 ceremony, it missed out on the chance to do something really special.
Photo: Courtesy of Warner Bros.
The Oscars, it seems, are never not in a tough spot. Today, the Academy of Motion Picture Arts & Sciences announced that owing to the coronavirus pandemic, they are moving the show's date to April 25 and extending films' eligibility period by two months, meaning that next year's awards show will honor films released between January 1, 2020, and February 28, 2021 (the latter being the original broadcast date). It's understandable that AMPAS would want to extend the eligibility period. Tons of major motion pictures had to move their opening dates this spring and summer, and this will give more of those films a chance to actually open and be considered for this current Oscars season. And let's be fair: Unlike the whack-a-mole-like clown show that has become Hollywood's theatrical release schedule prior to COVID-19, these changes do actually come with a hope that things will have returned to something resembling normal by then. By April, we might have a vaccine. Or an effective treatment. Or at least a non-psychopath as president. (Or not. We live in uncertain times.)
But in choosing to extend the eligibility window, the Oscars missed out on the chance to do something really special this year. And that would have been to not do anything at all. Not move any dates. Keep the eligibility period as usual. They had already made the (correct) decision to allow films that didn't get their scheduled seven-day-minimum run at a Los Angeles County theater to compete this year. And those movies did come out (mostly digitally, though some released in drive-in theaters around the country, too). Some of them are very good. Most are the kinds of movies that would have had a hard time standing out in the high-stakes cacophony of a traditional Oscars race — not because they don't rate, but because they don't come from capital-A auteurs and/or aren't backed by big studio spending sprees. The Academy's decision seems, in some ways, like a slap in the face to those films, as if the Oscars were saying to them that even though they're technically eligible, they should sit back and wait for the big boys to come out and grab their trophies.
Which is a shame. Because right now, if I wanted to assemble ten films that have already opened this year that could compete for Best Picture, I'd have no trouble doing so: Da 5 Bloods, Never Rarely Sometimes Always, First Cow, Bacurau, Beanpole, The Wild Goose Lake, Sorry We Missed You, Emma, Shirley, and The Assistant. (And there are at least five other titles that just missed out, including Birds of Prey, a better movie than noted Best Picture nominee Joker — and hell, I liked Joker.) Yes, this list has three foreign-language films on it, but a foreign-language film won Best Picture last year, so whatever. Of course, this list also includes five films directed by women, which would mean that if these were the actual nominees, a good chunk of AMPAS would combust in rage, presumably not before banking their hilariously sexist Anonymous Oscar Voter interviews to run in January and February.
Such a list of nominees would also go some ways toward organically accomplishing the elusive task of diversifying the Best Picture field (a goal AMPAS has been struggling to realize for years). Admittedly, you might not have seen or even heard of some of these films. (And if you have, you may not like all of them. That's okay. I didn't like Vice, and that didn't seem to stop it from getting nominated.) But Oscars are supposed to be about quality, and nowadays they seem so rarely to be about quality. In fact, all too often now, awards season devolves into a weird, silly kind of tribal warfare in which the potential victory of certain films is transformed into existential threats. (Think Joker, think Jojo Rabbit, think La La Land.) This devolution doesn't happen naturally. It happens because we all get sucked into the constantly hyperventilating, big-money, high-glamour vortex of awards season, and — as they put it in Hollywood — we raise the stakes, and decide that a victory for the movie we don't like will be a victory for fascism.
An Oscars built around smaller releases that are nevertheless great movies might actually serve as a necessary reset for AMPAS, and return the awards back to what they should be about in the first place: honoring excellence. It would also serve as a great platform to help people discover amazing new films. Imagine that: An Oscars season that is not about glitz and glamour but about quality. An Oscars season that's not overloaded with bloated biopics or self-important CGI spectacles. An Oscars season where we get to see a Best Actor race between Delroy Lindo (for Da 5 Bloods), Ben Affleck (for The Way Back), and the late Brian Dennehy (for Driveways). Admittedly, it always seemed too good to be true. But for a moment there, the Oscars had the chance to make this world a reality, and whiffed.